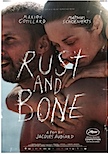 It's no dis­grace to come second at Cannes to Michael Haneke's Amour, espe­cially so when your film is Rust and Bone. Writer-director Jacques Audiard has a track record of unset­tling and con­front­ing dra­mas, start­ing (for New Zealand audi­ences) with Read My Lips in 2001 and – most recently – pris­on drama A Prophet in 2009. Rust and Bone is equally rugged but with some beauty to bal­ance the viol­ence and despair.
Acadamy Award-winner Marion Cotillard is the big name on the mar­quee but the film really belongs to Matthias Schoenaerts who lays down a por­trait of wounded mas­culin­ity as riv­et­ing as any of De Niro's clas­sic per­form­ances. He's Alain, a drift­er and waster who lands in pic­tur­esque Antibes with his young son. He's use­ful in a scrap but use­less as a par­ent and some of the most dif­fi­cult scenes in the film are of him fail­ing to look after the boy.
Working secur­ity doesn't really pay the bills – topped-up by barek­nuckle box­ing – but it does intro­duce him to Cotillard, a train­er of killer whales at the loc­al mar­ine park. When she suf­fers a hor­rendous acci­dent and with­draws into lonely self-pity these two wounded and stub­born char­ac­ters find a way to con­nect that may sur­prise you. I'm a suck­er for films about redemp­tion and you may be sur­prised to find out – after watch­ing the couple of hours – that redemp­tion is what's on the menu here.
You can argue about the end­ing. I feel that the film would be bor­der­line unwatch­able without it but I've spoken to oth­ers who feel that it's a cop out. All I can say is that you should go along and see if these unlikely char­ac­ters can ingra­ti­ate them­selves into your hearts they way they finally man­aged to get into mine.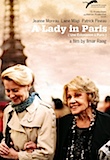 Much less chal­len­ging – and much more for­get­table – is A Lady in Paris , an English title that has been neutered from the ori­gin­al An Estonian in Paris for mar­ket­ing reas­ons. But it's an Estonian film more than it is French – des­pite the loc­a­tion – as co-writer/director Ilma Raag is inter­ested in two gen­er­a­tions of dia­spora, abandon­ing east­ern Europe for a bet­ter life in Paris.
Laine Mägi's Anne is offered an escape from grim and snowy Tallinn with a job as a live-in carer for an eld­erly Estonian emigré. She arrives to dis­cov­er that des­pite increas­ing frailty, her charge is incor­ri­gibly inde­pend­ent and that look­ing after her is going to be extremely dif­fi­cut when she's not wanted. Elderly Frida is played with gusto by legend Jeanne Moreau in her 140th screen role. She dom­in­ates as char­ac­ter and actress.
It's a pleas­ant enough excur­sion, I sup­pose, but accordion-haters will have to suf­fer through the usu­al aur­al sig­ni­fi­ers of the loc­a­tion. There's not an enorm­ous amount at stake – for any of the char­ac­ters – and the film gets where it is going without much urgency but with some nice moments.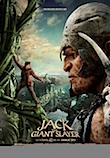 Until the adapt­a­tion of Stephen Sondheim's Into the Woods (fea­tur­ing Meryl Streep) arrives some time in 2014, Bryan Singer's Jack the Giant Slayer tops the table as the defin­it­ive ver­sion of the beloved bean­stalk fairytale. For what that's worth. Despite the source mater­i­al being best-suited to under 5's this ver­sion seems to be inspired by the Lord of the Rings in more ways than one. A glow­ing met­al circle (a crown instead of a ring) bestow­ing powers upon the wear­er, a Howard Shore-like score with a famil­i­ar four note motif, plenty of digitally-enhanced but blood­less fantasy carnage, even the typeface is familiar.
It's only at the end that the reas­on for all these con­nec­tions become clear – the first cred­it reads "New Line Cinema presents". Jack the Giant Slayer has the look of some­thing green­lit by New Line/Warners while The Hobbit was in Guillermo Del Toro (rather than Union-inspired) limbo. That's not say that the film is unen­ter­tain­ing or poorly executed, it's just ill-conceived.
Nicholas Hoult plays a hoody-wearing day­dreamy youth, full of stor­ies told by his deceased dad: legends of giants, bean­stalks, kings, derring-do. But instead of adven­ture he's on the way to mar­ket to sell a horse and cart. Unwittingly (or dim-wittingly) trad­ing the horse for some (magic) beans, the lad sets in motion the revenge of the human-eating giants in the clouds, the usurp­ing of the throne of Cloister by Stanley Tucci, a romance with Princess Isabelle (Eleanor Tomlinson) and the destruc­tion of prop­erty by giant vines.
The film also fea­tures a few British screen not­ables includ­ing Ewan McGregor remind­ing us of the effort­less screen charm he once dis­played on a reg­u­lar basis, as well as his Trainspotting off-sider Ewen Bremner. Kids who can handle the fact that there's a lot of unmourned death will enjoy Jack the Giant Slayer. Younger ones, not so much.
Printed in Wellington's Capital Times on Wednesday 27 March, 2013.