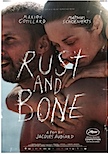 It's no disgrace to come second at Cannes to Michael Haneke's Amour, especially so when your film is Rust and Bone. Writer-director Jacques Audiard has a track record of unsettling and confronting dramas, starting (for New Zealand audiences) with Read My Lips in 2001 and — most recently — prison drama A Prophet in 2009. Rust and Bone is equally rugged but with some beauty to balance the violence and despair.
Acadamy Award-winner Marion Cotillard is the big name on the marquee but the film really belongs to Matthias Schoenaerts who lays down a portrait of wounded masculinity as riveting as any of De Niro's classic performances. He's Alain, a drifter and waster who lands in picturesque Antibes with his young son. He's useful in a scrap but useless as a parent and some of the most difficult scenes in the film are of him failing to look after the boy.
Working security doesn't really pay the bills — topped-up by bareknuckle boxing — but it does introduce him to Cotillard, a trainer of killer whales at the local marine park. When she suffers a horrendous accident and withdraws into lonely self-pity these two wounded and stubborn characters find a way to connect that may surprise you. I'm a sucker for films about redemption and you may be surprised to find out — after watching the couple of hours — that redemption is what's on the menu here.
You can argue about the ending. I feel that the film would be borderline unwatchable without it but I've spoken to others who feel that it's a cop out. All I can say is that you should go along and see if these unlikely characters can ingratiate themselves into your hearts they way they finally managed to get into mine.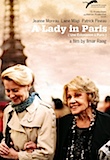 Much less challenging — and much more forgettable — is A Lady in Paris , an English title that has been neutered from the original An Estonian in Paris for marketing reasons. But it's an Estonian film more than it is French — despite the location — as co-writer/director Ilma Raag is interested in two generations of diaspora, abandoning eastern Europe for a better life in Paris.
Laine Mägi's Anne is offered an escape from grim and snowy Tallinn with a job as a live-in carer for an elderly Estonian emigré. She arrives to discover that despite increasing frailty, her charge is incorrigibly independent and that looking after her is going to be extremely difficut when she's not wanted. Elderly Frida is played with gusto by legend Jeanne Moreau in her 140th screen role. She dominates as character and actress.
It's a pleasant enough excursion, I suppose, but accordion-haters will have to suffer through the usual aural signifiers of the location. There's not an enormous amount at stake — for any of the characters — and the film gets where it is going without much urgency but with some nice moments.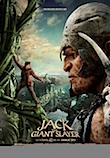 Until the adaptation of Stephen Sondheim's Into the Woods (featuring Meryl Streep) arrives some time in 2014, Bryan Singer's Jack the Giant Slayer tops the table as the definitive version of the beloved beanstalk fairytale. For what that's worth. Despite the source material being best-suited to under 5's this version seems to be inspired by the Lord of the Rings in more ways than one. A glowing metal circle (a crown instead of a ring) bestowing powers upon the wearer, a Howard Shore-like score with a familiar four note motif, plenty of digitally-enhanced but bloodless fantasy carnage, even the typeface is familiar.
It's only at the end that the reason for all these connections become clear — the first credit reads "New Line Cinema presents". Jack the Giant Slayer has the look of something greenlit by New Line/Warners while The Hobbit was in Guillermo Del Toro (rather than Union-inspired) limbo. That's not say that the film is unentertaining or poorly executed, it's just ill-conceived.
Nicholas Hoult plays a hoody-wearing daydreamy youth, full of stories told by his deceased dad: legends of giants, beanstalks, kings, derring-do. But instead of adventure he's on the way to market to sell a horse and cart. Unwittingly (or dim-wittingly) trading the horse for some (magic) beans, the lad sets in motion the revenge of the human-eating giants in the clouds, the usurping of the throne of Cloister by Stanley Tucci, a romance with Princess Isabelle (Eleanor Tomlinson) and the destruction of property by giant vines.
The film also features a few British screen notables including Ewan McGregor reminding us of the effortless screen charm he once displayed on a regular basis, as well as his Trainspotting off-sider Ewen Bremner. Kids who can handle the fact that there's a lot of unmourned death will enjoy Jack the Giant Slayer. Younger ones, not so much.
Printed in Wellington's Capital Times on Wednesday 27 March, 2013.