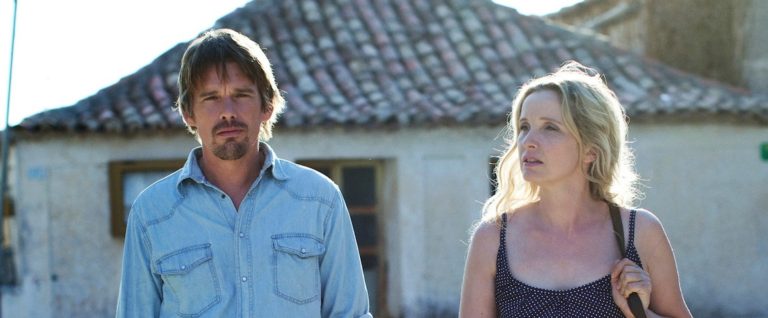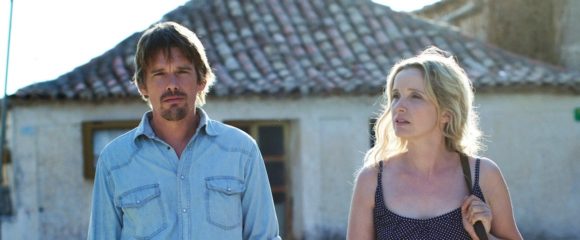 As is so often the case at this time of year (usually related to 48 Hours commitments) I am a little behind on my reviewing. This weekend I caught up on a lot the actual watching (although apologies to John Davies who sent me a screener of Remembrance that I haven't yet sat down and watched) so now I will try and rustle up another one of my trademark collections of "Capsule Reviews of Questionable Utility".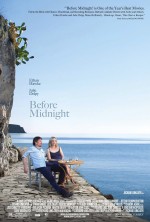 Of all the movies I've seen so far this year, Linklater, Delpy and Hawke's Before Midnight (after three movies I think it's fair to credit authorship severally) is the one that has stuck in my brain the longest. In it, we catch up with the lovers from Before Sunrise (1995) and Before Sunset (2004) as they reach the end of an idyllic vacation in Greece. Hawke's Jesse is wondering whether he should try and spend more time with his teenage son who lives with his mother in the States. Delpy's Celine is about to start a dream job back in Paris where they currently reside with their two adorable daughters.
They are at a crossroads but, as the film makes clear, when are we ever not? Delpy is magnificent, creating a wondrous, beautiful, insecure, infuriating and righteous woman who is simultaneously proud and frustrated at the role she has found herself playing. Watching her I was thinking about a couple of relationships of mine that I ended. Maybe I was a little bit hasty. Maybe I wasn't really listening.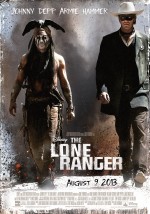 I've no idea how much The Lone Ranger actually cost to make but a reviewer can only judge value-for-ticket-money not value-for-budget-money and I think audiences on, say, Cheap Tuesday can feel confident at getting their money's worth. Johnny Depp plays an aged Tonto in a carnival sideshow telling a wide-eyed young kid (Mason Elston Cook) the "truth" about the adventures he shared with a masked man when the West was still a lawless frontier.
The Ranger himself (Armie Hammer) is a reluctant hero, a lawyer who prefers non-violent forms of justice but who soon gets the hang of things. The film relies heavily on Depp, as it has to when Hammer is so bland and the supporting cast — including the always overrated Tom Wilkinson — are so clearly outgunned. For a major Hollywood blockbuster, this film tries to do the right thing by Native American politics. The bad guys are pretty clearly the money-mad railroad tycoons and the psychopathic mineral exploiters, while the indigenous people are portrayed as the inevitable victims of a colonial and corporate structure bent on destroying their way of life. Hard to do that in a family comedy but I felt they got close enough.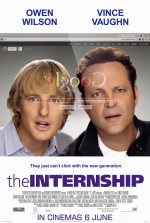 In The Internship, two middle-aged men (Owen Wilson and co-writer Vince Vaughan) are made redundant due to changing technology and decide that if they can't beat 'em they should join 'em — they sign on for the summer internship program at Google. Some fairly tame fish-out-of-water hijinks then ensue as the two amiable sales guys learn to navigate the mysterious ways of today's young people as well as the information super-highway. The funniest scene is when Google tries to pretend that they have a call centre where customers who are having trouble getting into their email can ring and talk to someone. That was hilarious.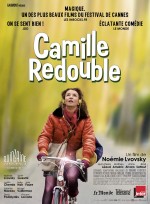 What else have we got? Is this useful? Camille Rewinds is a body-swap comedy in which a heavy-drinking actress (played by co-writer and director Noémie Lvovsky) blacks out at a party and magically returns to her teenage years to try and fix the mistakes of the past. There's plenty of 80s nostalgia but the drama leans towards the mawkish side of sentimental.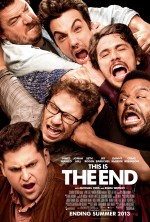 In This Is the End a bunch of pampered movie stars discover they have been left behind after the Apocalypse and have to deal with a smouldering Hollywood inhabited by demons, as well as their own repellent narcissism and entitlement. Having fun playing versions of themselves (or in James Franco's case playing a version of his slightly eccentric public persona) are Seth Rogen, Jay Baruchel, Jonah Hill, Danny McBride (thoroughly and intentionally unpleasant) and Craig Robinson. Best of the many celebrity cameos comes from the great Emma Watson who shows, once again, that she was the most talented of that Harry Potter trio.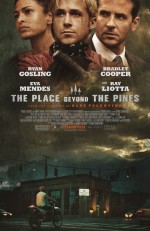 Derek Cianfrance's The Place Beyond the Pines takes itself very seriously indeed but doesn't bring enough big guns to justify the swagger. A manipulative screenplay that fails to hide its workings is the biggest problem, almost undoing the fine work Cianfrance does with his actors and his cinematographer (Sean Bobbitt). Ryan Gosling relies heavily on his soulful eyes and smirk to portray a young motorcycle stunt rider who, returning to an upstate New York town one year on, discovers he has a baby that he didn't know about.
Quitting the circus, he finds new employment as a bank robber until the law, in the shape of nervous Bradley Cooper, intervenes. The repercussions from their fateful meeting will be felt for another fifteen years and it is the self-conscious tying up of the many strands — it's like Dickens for all the coincidences — that this reviewer found so frustrating. Final observation: Mr Gosling should keep an eye out over his shoulder for young Emory Cohen who plays Cooper's teenage son, A.J. He looks like the real deal, getting under the skin of a character the way that Gosling used to do before he discovered cool.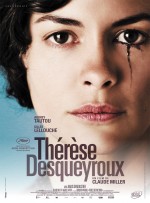 There's another set of pines looming over Claude Miller's Thérèse Desqueyroux, a melodramatic adaptation of a well-known (in France ) French novel. Audrey Tautou plays Thérèse, content to be married to another local landowner (Gilles Lellouche) so their two families can be enriched even further. When her sister-in-law (and best friend) falls head-over-heels in love with a handsome but unworthy local, Thérèse helps break them up but falls into a deep depression, perhaps realising that the her friend's passion is well beyond anything that she has ever experienced.
This is the kind of thing that I usually hate — worthy, literary, French, Tautou — but somehow, against my better judgement, I was engaged with it to the very end. I think because it never strays from a healthy ambiguity, and because Tautou's opaque and unknowable countenance actually seemed like a choice rather than rubbish acting. Worth having an argument about afterwards.
[Portions of this review first appeared in
FishHead Magazine
.]