It has been nearly four months since I posted something other than a podcast to this site and two years since I posted one of my "Best of the Year" film roundups. I haven't seen enough this year to justify one of those but, seeing as the year is reaching its conclusion, I feel I ought to prove to myself that I can still produce a few words every now and then.
If all you knew of me was my output here at F&S then you could be forgiven for thinking that I had gone off the boil a bit. After all, the site became popular for my regular film reviews and the audio content that now dominates was simply an added bonus. I have taken to calling 2014 a sabbatical year, a palate cleanser, but that means that at some point I need to get back on the horse and start riding. I have every intention of doing that in 2015 but — if it proves anything like the last 12 months my wishes might not matter a damn.
So, what have I been up to? How do I justify calling 2014 a great year?
This time last year I had just given up a lucrative fixed-term contract doing something that bored me for a less lucrative indeterminate contract doing something that I really wanted to do. I was interim editor for Wellington's lifestyle magazine, FishHead, and hoping like heck that I was proving to the publishers that I could do the job on a permanent basis. My only previous print editing experience had been with the late and semi-lamented ONFILM magazine, a tenure that lasted only two issues before it collapsed in a mess of bad debts and recriminations. I was just one of many that ended up out of pocket.
But I was hooked. Agreed, I picked a bad time to fall in love with print, but the heart wants what it wants.
It took a few months – and some false starts – but eventually I was given the helm on a permanent basis and the process of reinventing FishHead began in earnest. A redesign in April changed many people's perceptions of us and a steady improvement in distribution, marketing, publicity helped bring more readers. The quality of the writing, the photography, the illustration and – the one area I can claim credit for myself – the story choices, all helped them stay.
At the last Nielsen survey FishHead readership had grown 30 percent sincer I took charge and was officially the fastest growing magazine in the country. Advertising sales are up. Circulation is up. Subscriptions are up. Profits exist. By almost every metric that we use to judge these things it has been an extremely succesful eight months. Also, extremely hard work but what isn't?
In March, I was given the opportunity to spend ten days in Kuala Lumpur on a project for Education New Zealand, managing a small 48 Hour film competition. I travelled with four New Zealand filmmakers who would all be embedded with local film schools and provide them with mentoring and support through the event. Aidee Walker, Johnny Barker, Annie Duckworth and Hayden Weal were my companions and compadres and I couldn't have asked for a better bunch of people to travel and work with. Malaysia was fascinating, exciting, hot and inspiring. We arrived while the search for the missing Malaysia Air flight MH370 was at its height and every day there were raised and thwarted hopes of a breakthrough or discovery.
In June, I got sick. A week of heavy flu at first (fever, shivering), then a week feeling better and then another week of flu. "Odd", I thought, "Flu doesn't usually work like that." The first doctor told me I had the flu and to rest. When things didn't improve the second doctor (my usual GP) made me get some blood tests which showed the presence of the Epstein-Barr virus – glandular fever. If you've ever suffered from this, you will know that there is no cure as such, you just have to ride it out with rest, good nutrition, lack of stress, etc. and hope for the best. In most cases, six weeks to two months of not doing anything strenuous should get rid of the worst. After that, you can feel the effects for up to a year afterwards.
I still had a magazine to put out every month – those deadlines don't go anywhere – so I had to reduce all my extra activities to the minimum to preserve the tiny amounts of energy that I had at my disposal. I said no to almost every social invitation, resigned from the various boards and committees I had found myself on, quit the gym and, it seemed, slept whenever I wasn't working on the magazine.
It's the first time in my life that I've found myself constrained by health, the first time that I haven't been able to get through something with sheer willpower. I used to slog through or just make myself get up earlier in the morning or work later at night. That's just not possible with glandular fever and my nagging worry is that I might never be quite right again. Even now, I have spent most of the last five weeks on antibiotics for secondary bacterial infections in my sinuses and throat. My immune system just isn't strong enough to fight that stuff off like it used to. Every time I feel well enough to go back to the gym and fight for my fitness once again, something turns up to set me back.
There was, of course, one event coming up that no amount of glandular fever was going to keep me from getting into: the 2014 Football United tour organised by the Wellington Phoenix and featuring Premier League teams West Ham United and Newcastle United. Regular readers and listeners will know that I am a chronic West Ham fan and I wasn't going to miss a moment of this. Thanks to FishHead I could get media accreditation which meant access to press conferences (I watched the Eden Park game from the media centre) and I also made sure that I was around all the open training sessions that were organised.
The West Ham and Phoenix people were all brilliant to work with and I got to meet a few of the behind-the scenes staff as well as West Ham co-chairman David Gold and – eventually – players Winston Reid, Kevin Nolan and manager Big Sam Allardyce. From a footballing point of view the tour was a disaster for West Ham, losing both games and injuring star striker Andy Carroll, but this season's form – and their position in the league – surely means it was all worthwhile. For me, it was one of the great experiences of my life.
At the beginning of the year, due to old-fashioned creative differences, we pulled the pin on Cinematica, the weekly movie podcast, and I started plotting what I could do to replace it. Thanks to the generosity of a few dozen fans of the site and the old podcast, Kailey Carruthers and I were able to raise some PledgeMe funds to buy some gear and get a new show underway. If you are a regular visitor here, you'll know this already as it is all we talk about now. Rancho Notorious has become more than a podcast, though, for me. Thanks to the support of my wonderful and generous partner, Kaarin, we have been able to turn the show into a weekly social event allowing us to hang out with friends old and new, eat, drink and have fun.
I always wanted to have the kind of home where people were always welcome to visit and the door was always open. Thanks to Kaarin that is now a reality and it is her skills at hosting that have allowed me to come out of my shell a bit and live a little. We make a great team. This Christmas has seen almost no let up in the socialising as we have hosted the FishHead Christmas Party, "A Very Rancho Christmas" and a family Christmas party, all in about a week. No wonder I've ended the year so tired…
This is also an opportunity for me to thank all the supporters that contributed to the PledgeMe campaign, to Phil G for the audio engineering lessons and to all the film companies and publicists who have helped get us some great guests: Cliff Curtis, Peter Hambleton, Eddie Izzard, James Cameron (sort of), Martin Kemp, Toa Fraser, Peter Mullan, Rene Naufahu, Glenn Kenny and more… We've got plans for more fun and games in 2015.
All of which should help make clear why the writing part of the deal has been so hard to do – let alone the watching of all the films which takes so much time.
I'm trying to work out a schedule that allows me to do all the things that I want and love to do. The magazine comes first, of course, because they pay all the bills. But I want to continue podcasting, I want to get back into writing about film because I enjoyed it (and was good at it) even though it's the hardest of all of these things to actually do, I want to improve this site so that it is a worthy repository for all my work and has an audience that appreciates it. And, you know, I've got a couple of other schemes up my sleeve that I want to get launched in the next few months too.
So, all of that, plus watching West Ham and the 'Nix every week, reading a few magazines, maybe even reading a book once in a while; making a dent in all the unwatched great television that's out there (next stop True Detective); finally getting around to watching everything by Bresson or everything Brando appeared in (both long-standing unfinished projects).
And to do all of that while paying maximum attention to my family and friends. It's a challenge that I finally feel up for after feeling so tired for so long. I hope you'll be with me for the ride.
Happy New Year!
(Oh, and by the way, this also happened…)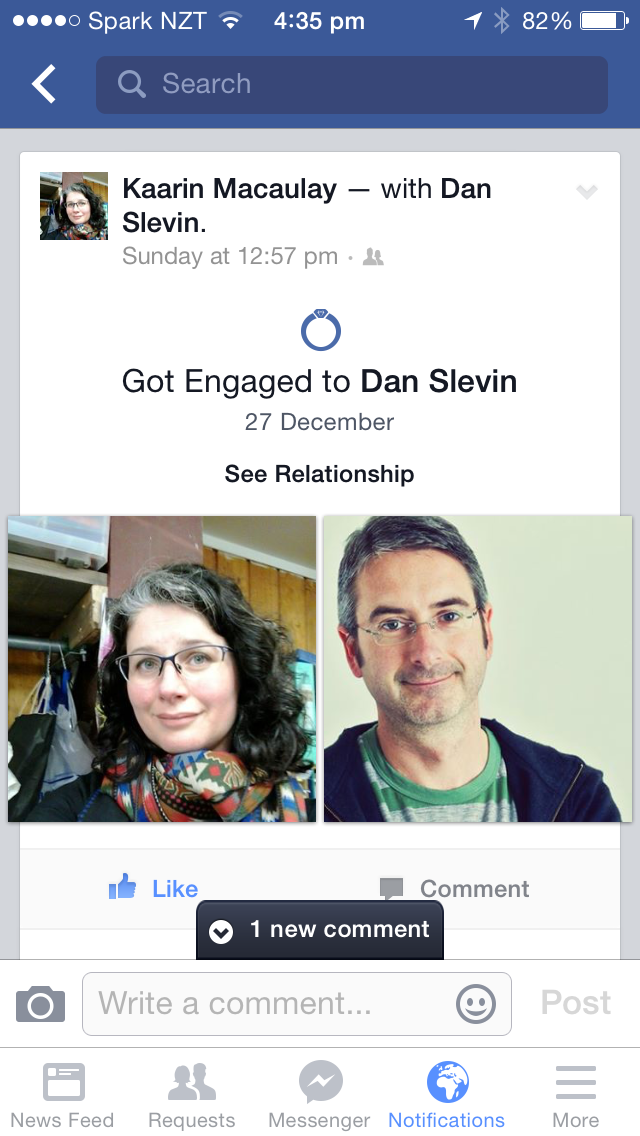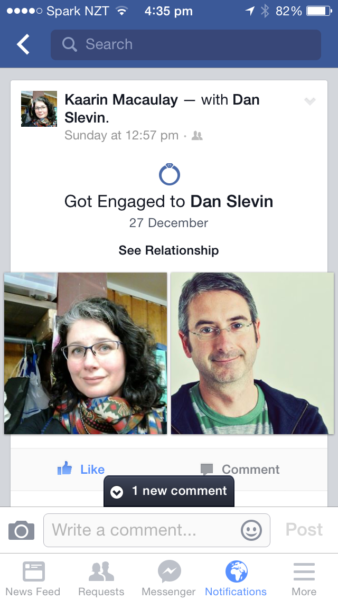 A few more photos from this year follow.