Update (2 Aug 2012): The unfinished screener of Song of the Kauri that I watched had a caption that stated that New Zealand imported more timber than it exported. It turns out that this isn't actually true and that the caption doesn't appear in the finished version of the film that screens in NZFF. Director Mathurin Molgat emailed me last night:
This was a fact that my research proved to be incorrect. We import exotic hardwoods but our exports of Pinus Radiata far outstrip our total imports. In the finished film that statement is not included.
Funerals & Snakes apologies for any inconvenience the error might have caused.
End of update.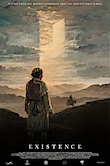 In a bleak and windswept environment, high in the hills surrounded by forbidding wind turbines, a ragged band of outcasts work tirelessy together to make something out of almost nothing. They are resourceful and determined — battling extreme conditions and overcoming impossible odds. I'm talking about the characters in new Wellington feature film Existence which gets its premiere in Wellington on Friday night, but I might as well be describing the filmmakers themselves who shot the film in the hills around Belmont and Makara in 2011. Existence is the first product of the NZ Film Commission's low budget Escalator programme and is a testament to the depth of talent in the industry here.