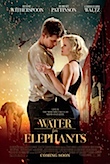 Someone described melodrama to me the other day as "unearned emotion" and that's a helpful way to look at a few of this week's offerings. Firstly the glossy adaptation of Sara Gruen's bestselling novel of romance and tragedy at the circus, Water for Elephants. Twilight's Robert Pattinson plays veterinary student Jacob who, after the death of his parents, runs away to join Christoph Waltz's struggling Depression-era circus. There he falls in love with Waltz's downtrodden but beautiful wife Reese Witherspoon (and also Rosie the downtrodden but beautiful new elephant).
Director Francis Lawrence makes a token attempt to show us the gritty and desperate side of Depression life but in the end the high fructose corn syrup of traditional Hollywood romance smothers everything. Pattinson remains dead behind the eyes as always, Witherspoon fails to convince as an acrobat and Waltz repeats his Oscar-winning psychopathic Nazi from Inglourious Basterds only without the great Tarantino dialogue.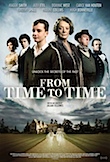 Julian Fellowes won an Oscar for writing Gosford Park back in 2001 and his new tv series "Downton Abbey" seems to be screaming at us from every bus shelter at the moment so someone has cannily decided to cash-in by bringing out From Time to Time, an earlier film of his that is also set in the Fellowes-ian milieu of early 20th century English country houses.
It's a ghost story I think intended for older children, like a Sunday afternoon TV serial condensed to feature length. 13 year old Tolly (Alex Etel) is sent to his grandmother's house in the country to see out the final months of WWII — his father is missing in action and his mother is conveniently not up to looking after him. There he discovers a family mystery dating back to the very early 19th century and a few dead family members to help him solve it.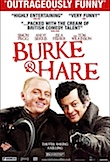 From Time to Time is a production of the newly revived Ealing Studios, a long-cherished brand given new life with the help of British lottery funding. Burke & Hare (also released this week) is another and I enjoyed it a lot. Hollywood legend John Landis (Animal House, An American Werewolf in London) returns from television obscurity to direct with a light touch but the real strength is the screenplay (by Piers Ashworth and Nick Moorcroft) which while steering clear of a great many inconvenient "facts" gets the vibe of 1820s Edinburgh and the Scottish enthusiasm for scientific progress dead right.
Simon Pegg and Andy Serkis play the two likely lads who make a gruesome living selling corpses they find (and then, er, manufacture) to Tom Wilkinson's Medical College. There are plenty of amusing cameos from well-known film and tv faces, most notably the best work Ronnie Corbett has done in decades.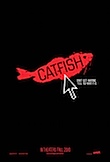 While we've known for years that "on the Internet no one knows you are a dog", documentary Catfish manages to take that truism and make it interesting and moving. Nev Shulman is a young New York photographer who strikes up a Facebook relationship with a remarkable Mid-Western family when eight year old Abby turns one of his photographs into a painting. It would appear that she is a gifted child but her beautiful but troubled half-sister Megan soon becomes the focus of Nev's virtual attentions and things get quite intense.
When some of the family details don't quite add up Nev is encouraged by his filmmaker brother Rel to pay the family a visit and what they discover is both less and more than they were expecting. Much more sensitive and humane than I was expecting from it's (online) reputation, Catfish is absorbing and cleverly constructed.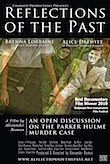 Reflections of the Past is a documentary about the famous Parker-Hulme murders in 1950s Christchurch, already immortalised in Peter Jackson's Heavenly Creatures, at least two stage plays and several books. Writer-Director Alexander Roman makes some strange choices in terms of interviews — lots of informed and semi-informed speculation but not much actual first-hand knowledge — and some of the stylistic devices become wearisome even before they are over-used.
Looking no better than an animation school graduation project, Hoodwinked Too! Hood vs. Evil is the first 3D movie that I've actually fallen asleep in front of. A cast of fairy tale characters wisecracks noisily through a tale of a missing magic truffle recipe. While there is some talent in the voice department (Glenn Close!) it just looks terribly out of date compared with films like Rango and even the awful Mars Needs Moms.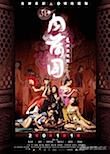 But nothing in decades has been any worse than 3D Sex and Zen: Extreme Ecstasy, the stupidest, nastiest, ugliest piece of trash I've seen since I started this gig in 2006. I won't even dignify it with a plot summary as the film itself isn't much interested in dignity. Promoted here as having the biggest box office receipts in Asia since Avatar, I'd say that lots of people have been ripped off: there isn't much zen and the sex is as far from erotic as you might think possible. Ghastly.
A slightly truncated version was printed in Wellington's Capital Times on Wednesday 18 May, 2011.