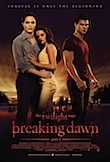 There are now four films in the Twilight "saga" which means I've spent 493 minutes in the Twilight universe, at least 492 of them wishing I was somewhere else. The latest episode, Breaking Dawn Part 1 follows the Harry Potter strategy of not separating uncomplaining fools from their money once when you can do so twice, and thankfully is the least rotten of the four films.
All of the "will they, won't they" nonsense has been leading to this so — at least narratively speaking — they are finally getting on with it. After the longest wedding scene in cinema history — of films that don't have the word 'wedding' in the title — Bella (Kristen Stewart) and Edward (Robert Pattinson) head off to a remote Brazilian island to play chess on the beach and consumate their relationship.
After three films worth of mooning over whether they could even be, ahem, physical with each other without Edward losing the plot and doing that vampire bitey thing, he manages to keep himself mostly in check and turns in a creditable boudoir performance. The good news doesn't last long, however, and it turns out that his madly powerful vampire seed has unexpectedly made poor Bella pregnant and she is now carrying something that even know-it-all Carlisle Cullen (Peter Facinelli) hasn't seen before.
I shouldn't be so glib I suppose. These films are made for fans of the books who have become fans of the films. An opening weekend of over $283 million US bucks is not to be sneezed at and all of these films have proved over and over again to be critic and reviewer-proof. But what am I supposed to say? That it doesn't matter that the writing is dreary, the acting is flat, the effects are cheesy and the message is dubious?
Breaking Dawn at least moves the story on a bit — while still being the shortest of the four films so far — and manages to incorporate some knowing gags into the largely po-faced material so there is hope that next year's final instalment might make the long tedious journey worthwhile.
One high point of the Breaking Dawn screening was enjoying the new Titan XC screen at Readings. The new faux-leather seats are very comfortable, the drapes and carpets have all been replaced, there are extra speakers dotted all around and the technical presentation exceeds Readings usual high standards. I don't think Wellingtonians realise how lucky we are to have so many high quality cinema experiences right on our doorstep.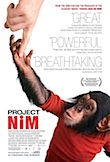 Project Nim is a documentary about a famous (or notorious) experiment to teach human sign language to a chimpanzee and see what happened next. What followed that brainwave was a series of decisions (starting with the forced removal of baby Nim from his mother) that manage to illuminate cruel human behaviour rather more than the interior life of the chimp.
The Columbia University study was well-documented — by the academics as well as a curious media — so there's a lot of fascinating material for the filmmakers to draw on. I'm not as convinced by the shadowy recreations that are sometimes used to fill in the gaps.
Your correspondent saw Project Nim not long after the excellent Rise of the Planet of the Apes which covered similar, yet more fantastical, territory. They would make a good double feature.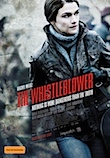 In Larysa Kondracki's true story The Whistleblower, Rachel Weisz plays a dedicated Nebraskan cop who takes on a training and observation role in war-torn Kosovo. There she discovers that many of her colleagues (including UN officials, peacekeepers and private contractors) are complicit in people-trafficking and prostitution and that they also have diplomatic immunity.
It's a shocking story and the high-level political maneuvering and avoidance of responsibility seems all too genuine. The film itself, for all its sincerity, doesn't all work though. Benedict Cumberbatch's character — a rogueish American officer — threatens to be important but doesn't go anywhere and the constantly moving camera was more distracting than helpful.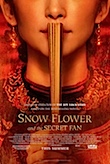 Snow Flower and the Secret Fan was produced by Rupert Murdoch's wife Wendi and apparently he ordered Fox Searchlight (one of his News Corp companies) to release it in the US. So what we appear to have here is a vanity project for the wife of an old tyrant and the result is almost exactly as inessential as that implies.
Based on a novel by Lisa See and directed by once-interesting director Wayne Wang, Snow Flower tells the stories of two pairs of female friends and attempts to find parallels between their lives, centuries apart. To help make the point the two couples are played by the same actresses (Gianna Jun and Bingbing Li) and while the restrictions and constraints on 19th century Chinese women have the potential for drama, the contemporary versions come across as whiny — their lack of confidence in the mostly English contemporary dialogue doesn't help. The result is tepid at best and no amount of Hugh Jackman awkwardly singing and dancing can warm it up.
Printed in Wellington's Capital Times on Wednesday 23 November, 2011.