Update (2 Aug 2012): The unfin­ished screen­er of Song of the Kauri that I watched had a cap­tion that stated that New Zealand impor­ted more tim­ber than it expor­ted. It turns out that this isn't actu­ally true and that the cap­tion does­n't appear in the fin­ished ver­sion of the film that screens in NZFF. Director Mathurin Molgat emailed me last night:
This was a fact that my research proved to be incor­rect. We import exot­ic hard­woods but our exports of Pinus Radiata far out­strip our total imports. In the fin­ished film that state­ment is not included.
Funerals & Snakes apo­lo­gies for any incon­veni­ence the error might have caused.
End of update.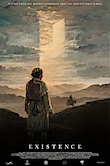 In a bleak and windswept envir­on­ment, high in the hills sur­roun­ded by for­bid­ding wind tur­bines, a ragged band of out­casts work tire­lessy togeth­er to make some­thing out of almost noth­ing. They are resource­ful and determ­ined – bat­tling extreme con­di­tions and over­com­ing impossible odds. I'm talk­ing about the char­ac­ters in new Wellington fea­ture film Existence which gets its première in Wellington on Friday night, but I might as well be describ­ing the film­makers them­selves who shot the film in the hills around Belmont and Makara in 2011. Existence is the first product of the NZ Film Commission's low budget Escalator pro­gramme and is a test­a­ment to the depth of tal­ent in the industry here.
Set in a future where envir­on­ment­al dis­aster has doomed the remain­ing pop­u­la­tion to live off scraps – and where a fence guarded by mys­ter­i­ous "riders" prom­ises a bet­ter future on the oth­er side – Existence focuses on one woman (played by Loren Taylor from Eagle vs. Shark) and the sac­ri­fice that she is pre­pared to make for a bet­ter life for her fam­ily. Existence is an art­house movie in genre cloth­ing. Writer-director Juliet Bergh has her cast under­play­ing when they could have chosen to chew scenery – and the film is the bet­ter for it. Matthew Sunderland – as one of the riders – is par­tic­u­larly effect­ive, the still­ness of his per­form­ance allow­ing the audi­ence to read so much into the crags and lines in his face.

Did you know that New Zealand imports more wood than we export? I didn't. That's just one of the inter­est­ing facts in Song of the Kauri, anoth­er title screen­ing in the final week of the Film Festival. Northland luth­i­er Laurie Williams makes beau­ti­ful instru­ments out of kauri – either dredged from swamps or cut sus­tain­ably from old growth forests – and Mathurin Molgat's doc­u­ment­ary uses Williams' exper­i­ence as a way in to a dis­cus­sion of why we aren't mak­ing bet­ter use of one of New Zealand's most remark­able nat­ur­al resources. The argu­ments for kauri are per­suas­ive, but who is listening?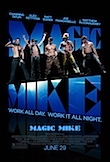 Back at the mul­ti­plex, two of Hollywood's hand­somest young stars are stretch­ing out – one more suc­cess­fully than the oth­er. I'll admit that I have been some­what scorn­ful of the tal­ents of Channing Tatum in these pages – I once described him as hav­ing "the poten­tial to be a Steve McQueen for the gen­er­a­tion whose under­pants are fall­ing out of the top of their trousers" – but with 21 Jump Street and Magic Mike he looks to be find­ing a kind of star­dom that he can call his own.
It's vital that movie stars appear to be effort­lessly com­fort­able in their own skin and we get to see pre­cisely how com­fort­able Tatum is as he spends a great deal wear­ing not much more. He plays the Magic Mike of the title, an age­ing Florida male strip­per look­ing to cash out. Alex Pettyfer – anoth­er young stud­let I've been rude about in the past – is "The Kid", learn­ing the ropes and going off the rails. Magic Mike is an extremely sat­is­fy­ing update of All About Eve : it feels authen­t­ic, the char­ac­ters are easy to warm to and Steven Soderbergh's dir­ec­tion is cus­tom­ar­ily effi­cient and decept­ively relaxed. A quick final note about Matthew McConaughey – nice bongos.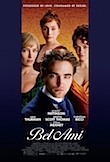 Robert Pattinson attempts to tran­scend his Twilight per­sona once more in Bel Ami, Nick Ormerod and Declan Donnellan's adapt­a­tion of Guy de Maupassant's fam­ous nov­el about a Parisian social climber. Pattinson is Georges Duroy, former sol­dier on the Algerian front in one of France's colo­ni­al wars, now back in the cap­it­al and at a loose end. Despite hav­ing no edu­ca­tion to speak of, no exper­i­ence and very few social graces he man­ages to use his (lim­ited) charm on the influ­en­tial women of Paris and build a career des­pite nev­er quite fit­ting in.
Pattinson's lim­ited range is well-suited to a char­ac­ter who is fun­da­ment­ally out of his depth but he nev­er man­ages to make Duroy like­able. The best per­form­ances – and the most inter­est­ing char­ac­ters – are the women. Kristin Scott Thomas, Uma Thurman and Christina Ricci play intel­li­gent women forced by society's miso­gyny to use intrigue and manip­u­la­tion to get what they want.
In 1992, Ormerod and Donnellan's Cheek By Jowl theatre com­pany wowed the Arts Festival with an auda­cious all male "As You Like It". There's noth­ing quite that excit­ing to be found in Bel Ami.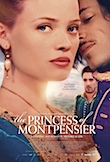 French cinema legend Bertrand Tavernier has a new film out and it's a tale of pas­sion set against a grand his­tor­ic back­drop. It's the mid-16th cen­tury and France is being torn asun­der by reli­gious civil war. Marie de Mezières (Mélanie Thierry) is a beau­ti­ful young woman whose teen­age pas­sion for rogue-ish Guise (Gaspard Ulliel) is thwarted when her fam­ily betrothes her to the Prince of Montpensier, mak­ing her The Princess of Montpensier. Guise nev­er gives up, how­ever, and Marie finds her­self caught in the middle of a power struggle as well as the battle for her heart. Everything about this film is hand­some and deserves some big screen atten­tion – it's the kind of thing we don't see that much of any more.
Printed in Wellington's Capital Times on Wednesday 1 August, 2012.