Update (2 Aug 2012): The unfinished screener of Song of the Kauri that I watched had a caption that stated that New Zealand imported more timber than it exported. It turns out that this isn't actually true and that the caption doesn't appear in the finished version of the film that screens in NZFF. Director Mathurin Molgat emailed me last night:
This was a fact that my research proved to be incorrect. We import exotic hardwoods but our exports of Pinus Radiata far outstrip our total imports. In the finished film that statement is not included.
Funerals & Snakes apologies for any inconvenience the error might have caused.
End of update.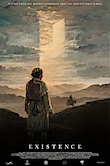 In a bleak and windswept environment, high in the hills surrounded by forbidding wind turbines, a ragged band of outcasts work tirelessy together to make something out of almost nothing. They are resourceful and determined — battling extreme conditions and overcoming impossible odds. I'm talking about the characters in new Wellington feature film Existence which gets its premiere in Wellington on Friday night, but I might as well be describing the filmmakers themselves who shot the film in the hills around Belmont and Makara in 2011. Existence is the first product of the NZ Film Commission's low budget Escalator programme and is a testament to the depth of talent in the industry here.
Set in a future where environmental disaster has doomed the remaining population to live off scraps — and where a fence guarded by mysterious "riders" promises a better future on the other side — Existence focuses on one woman (played by Loren Taylor from Eagle vs. Shark) and the sacrifice that she is prepared to make for a better life for her family. Existence is an arthouse movie in genre clothing. Writer-director Juliet Bergh has her cast underplaying when they could have chosen to chew scenery — and the film is the better for it. Matthew Sunderland — as one of the riders — is particularly effective, the stillness of his performance allowing the audience to read so much into the crags and lines in his face.

Did you know that New Zealand imports more wood than we export? I didn't. That's just one of the interesting facts in Song of the Kauri, another title screening in the final week of the Film Festival. Northland luthier Laurie Williams makes beautiful instruments out of kauri — either dredged from swamps or cut sustainably from old growth forests — and Mathurin Molgat's documentary uses Williams' experience as a way in to a discussion of why we aren't making better use of one of New Zealand's most remarkable natural resources. The arguments for kauri are persuasive, but who is listening?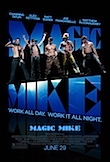 Back at the multiplex, two of Hollywood's handsomest young stars are stretching out — one more successfully than the other. I'll admit that I have been somewhat scornful of the talents of Channing Tatum in these pages — I once described him as having "the potential to be a Steve McQueen for the generation whose underpants are falling out of the top of their trousers" — but with 21 Jump Street and Magic Mike he looks to be finding a kind of stardom that he can call his own.
It's vital that movie stars appear to be effortlessly comfortable in their own skin and we get to see precisely how comfortable Tatum is as he spends a great deal wearing not much more. He plays the Magic Mike of the title, an ageing Florida male stripper looking to cash out. Alex Pettyfer — another young studlet I've been rude about in the past — is "The Kid", learning the ropes and going off the rails. Magic Mike is an extremely satisfying update of All About Eve : it feels authentic, the characters are easy to warm to and Steven Soderbergh's direction is customarily efficient and deceptively relaxed. A quick final note about Matthew McConaughey — nice bongos.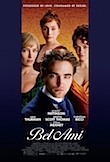 Robert Pattinson attempts to transcend his Twilight persona once more in Bel Ami, Nick Ormerod and Declan Donnellan's adaptation of Guy de Maupassant's famous novel about a Parisian social climber. Pattinson is Georges Duroy, former soldier on the Algerian front in one of France's colonial wars, now back in the capital and at a loose end. Despite having no education to speak of, no experience and very few social graces he manages to use his (limited) charm on the influential women of Paris and build a career despite never quite fitting in.
Pattinson's limited range is well-suited to a character who is fundamentally out of his depth but he never manages to make Duroy likeable. The best performances — and the most interesting characters — are the women. Kristin Scott Thomas, Uma Thurman and Christina Ricci play intelligent women forced by society's misogyny to use intrigue and manipulation to get what they want.
In 1992, Ormerod and Donnellan's Cheek By Jowl theatre company wowed the Arts Festival with an audacious all male "As You Like It". There's nothing quite that exciting to be found in Bel Ami.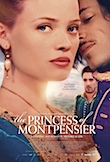 French cinema legend Bertrand Tavernier has a new film out and it's a tale of passion set against a grand historic backdrop. It's the mid-16th century and France is being torn asunder by religious civil war. Marie de Mezières (Mélanie Thierry) is a beautiful young woman whose teenage passion for rogue-ish Guise (Gaspard Ulliel) is thwarted when her family betrothes her to the Prince of Montpensier, making her The Princess of Montpensier. Guise never gives up, however, and Marie finds herself caught in the middle of a power struggle as well as the battle for her heart. Everything about this film is handsome and deserves some big screen attention — it's the kind of thing we don't see that much of any more.
Printed in Wellington's Capital Times on Wednesday 1 August, 2012.