Bear with me for a moment while I get used to the capaciousness of Mr Tuckett's footwear. Hmmn, roomy ‑But comfortable, so let's get in to it.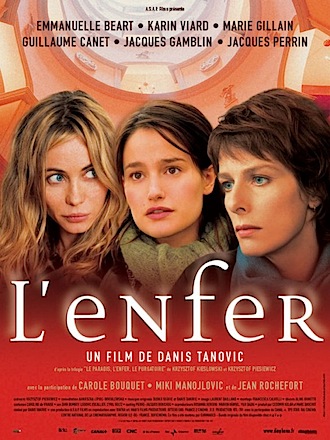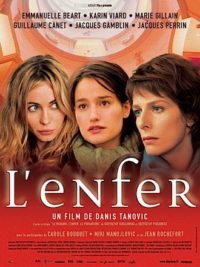 When Krzysztof Kieslowski died of a heart attack in 1996 the world of cinema lost a visionary and humane artist and arthouse cinemas the world over lost a meal-ticket. Films like the Three Colours Trilogy were so successful and so beloved that it is not surprising that KK's unproduced scenarios would attract attention. The latest to arrive is L'enfer, the second part of another proposed heavyweight trilogy (following the Cate Blanchett-Giovanni Ribisi shambles Heaven a couple of years ago).
Three sisters are estranged from each other and, seemingly, from life itself. Sophie (Emmanuelle Béart) discovers her husband is having an affair; Anne (Marie Gillain), the youngest, has just been dumped by her University professor lover and Céline (Karin Viard) seems doomed to a lonely existence running errands for her neighbours and visiting their mute mother (Carole Bouquet) until a handsome stranger reads some philosophy to her in a bar. The three women's stories run parallel to each other until the truth is revealed about the family tragedy that traumatised them all.
The acting is first rate. The often icy Béart digs very deep for a change and Viard has one heartbreaking scene where she finally opens up to someone and then soon wishes she hasn't. Oscar-winner Danis Tanovic (No Man's Land) directs with a sympathetic eye on Kieslowski's legacy, though the fact that every image seems to have to carry significant metaphoric weight can get a little wearing.
Satisfying and moving, L'enfer is Kieslowski-lite (Clayton's Kieslowski if you prefer). For the real thing, don't miss The Double-Life of Véronique when it returns in a few weeks. Trivia: Marie Gillain played Saffy in the French version of Absolutely Fabulous. Who knew such a thing existed?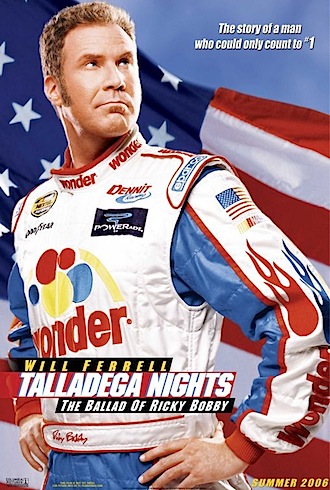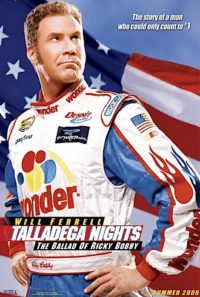 Also this week: The perplexing (and slightly pasty) charms of Will Ferrell are on full display in Talladega Nights: The Ballad of Ricky Bobby. Ferrell plays another of his loveable man-children, the eponymous NASCAR driver who is forced to re-evaluate his life and values when challenged by macchiato-drinking Formula 1 driver Jean Girrard (a scene-stealing Sacha Baron Cohen). It's pretty funny but it's no Dodgeball.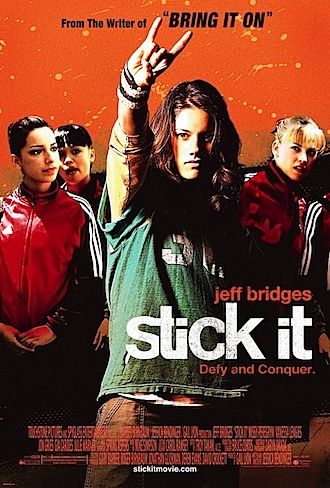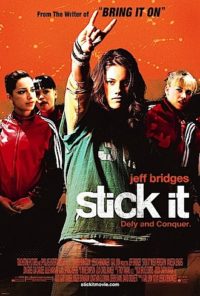 Stick It is a girl-power gymnastics fantasy starring someone called Missy Peregrym and a decrepit-looking Jeff Bridges. Bridges appears to have some kind of speech impediment which may be due to the constant presence of chewing gum in his mouth or to a mild stroke, but I'm no expert. In one scene Peregrym's maverick gymnast flaunts her rebel credentials by wearing a Black Flag t‑shirt. I'm not sure how much a real-life 17 year old champion gymnast should know about the 80's punk scene but she could learn a lot by watching Paul Rachman's thorough history of the times, American Hardcore.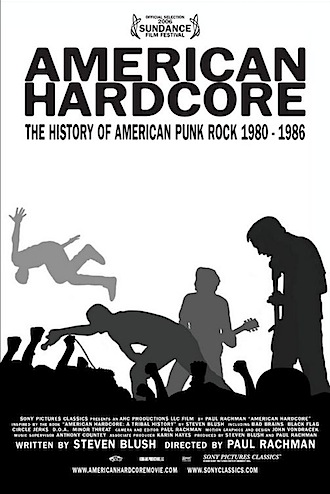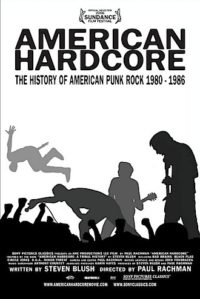 Of course the mindless violence, narcissism, nihilism, crypto-fascism and bloody awful music will probably cure her of any romance she might have about the era. Me, I couldn't wait to get home and listen to "Jessie's Girl" over and over again to give myself a pop music exorcism.
Printed in Wellington's Capital Times on Wednesday 4 October, 2006.
Notes on screening conditions: I'm pleased to see The Penthouse has fixed that annoying problem with the shutter timing in Cinema Two but the coffee had a horrible detergent flavour and was, sadly, undrinkable (L'enfer); Cinema Three (the only one I have sat in so far) at The Empire in Island Bay may well have the best sound of any cinema in Wellington (Talladega Nights); Cinema Four at Regent-on-Manners has no digital sound which doesn't really matter when your speakers have blown (Stick It); and The Brooks at The Paramount is a lovely little room but is it really too much trouble to clear the bottles and glasses from the previous session? (American Hardcore).
Nature of conflict of interest: L'Enfer is also playing at the Academy Cinemas in Auckland whose website I designed and maintain.