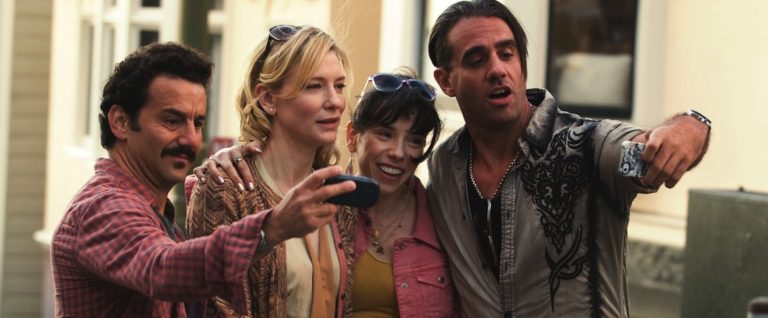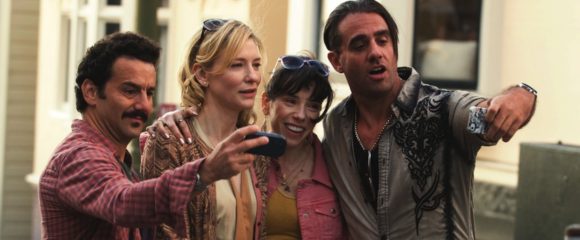 When did "late-period: Woody Allen start? Was it with Match Point (when he finally left New York for some new scenery)? Or should we con­sider these last ten, globe-trotting, years as late‑r Woody? The last ten years have cer­tainly been up and down in terms of qual­ity. Scoop was all-but diabol­ic­al. Vicky Cristina Barcelona was robust and sur­pris­ing. Midnight in Paris was gen­i­al but dis­pos­able (des­pite being a massive hit) and You Will Meet a Tall Dark Stranger was barely even a film.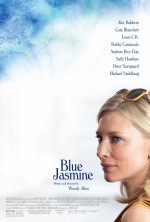 Now, Blue Jasmine, in which Mr. Allen uses the notori­ous Bernie Madoff's Ponzi crimes as inspir­a­tion for a story about the fraud's vic­tims as well as the col­lat­er­al dam­age inflic­ted on a woman obli­vi­ous of her own com­pli­city. As the eponym­ous Jasmine, Cate Blanchett plays the wife of Alec Baldwin's shonky NY busi­ness­man, their rela­tion­ship told in flash­back while she tries to rebuild her life in her adop­ted half-sister's (or some­thing – the rela­tion­ship seems unne­ces­sar­ily com­plic­ated for some­thing that has no mater­i­al impact on the story) apart­ment in an unfash­ion­able area of San Francisco.
[pullquote]As they used to say on tele­vi­sion about kit­tens, "a child isn't just for Christmas, a child is forever."[/pullquote]Blanchett unravels beau­ti­fully and almost main­tains our sym­pathy des­pite the repeated evid­ence that she does­n't really deserve it. In sup­port,
Sally Hawkins
as the sis­ter is more watch­able than usu­al and oth­ers – not­ably Andrew Dice Clay,
Michael Stuhlbarg
and Louis C.K. – get moments to shine even though some of those moments can seem a bit repet­it­ive. Mr. Allen's ear for dia­logue seems to have entirely deser­ted him – these people talk like they're being quoted in New Yorker art­icles rather than con­vers­ing like liv­ing, breath­ing humans – but the struc­ture is sat­is­fy­ing and Blanchett takes the entire pro­ject by the scruff of the neck and makes it her own.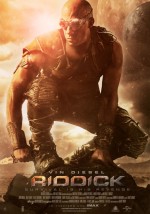 There are some sur­pris­ing pleas­ures to be had in the third attemp­ted re-working of Vin Diesel's Riddick fran­chise, mainly the choice to take it back to its gritty Pitch Black roots. Disposing of the over­blown myth­o­logy of The Chronicles of Riddick (2004) in less than 90 seconds of awk­ward expos­i­tion fea­tur­ing Karl Urban, we soon find ourselves back on a deser­ted desert plan­et in which Mr. Diesel's wanted man proves him­self to be Bear Grylls in space.
A dis­tress beacon only serves to bring two gangs of bounty hunters who then fight over who gets to take Riddick home while the approach­ing storm brings with it some ugly creatures who don't much care whose side any­one is on. The oth­er chief pleas­ure in the film is a per­form­ance by Australian (and former League star) Matt Nable who has a great face and an encour­aging stillness.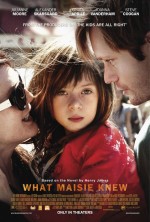 As they used to say on tele­vi­sion about kit­tens, "a child isn't just for Christmas, a child is forever." If only the utterly self-absorbed par­ents in What Maisie Knew had even seen that warn­ing, let alone heeded it. Played with not­able lack of per­son­al ego, Julianne Moore and Steve Coogan are the bat­tling par­ents of seven-year-old Maisie (Onata Aprile).
She is a fad­ing rock star and he is an inter­na­tion­al art deal­er. Shown almost exclus­ively from little Maisie's eye level, their bick­er­ing and bili­ous­ness can only end one way – the divorce court. Shuttled between Mum's instant new bar­tender hus­band (Alexander Skarsgård) and Dad's new wife, the former nanny played by Joanna Vanderham, Maisie's nat­ur­al robust­ness and good nature is severely put to the test and audi­ences with any kind of sens­it­iv­ity will be on the edge of their seat as the par­ent­ing gets worse and worse.
I ima­gined What Maisie Knew as a kind of Before Midnight from the twin girls' point of view. What hap­pens to kids who grow up sur­roun­ded by mean­ness, aggres­sion, verbal viol­ence, selfish­ness with the occa­sion­al unex­pec­ted blurt­ings of love and affec­tion in the form of spoil­age. Adapted and updated bril­liantly by Nancy Doyne and Carroll Cartwright from the nov­el by Henry James, this is a mar­vel­lous film that only occa­sion­ally tip­toes into melo­drama but nev­er loses sight of who the most import­ant char­ac­ter is. You will care even if the par­ents don't.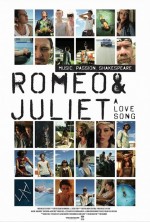 Probably already dis­ap­peared from loc­al screens but worth keep­ing on your radar nev­er­the­less, Romeo and Juliet: A Love Song is a rock opera ver­sion of the great tragedy, set in a Kiwi hol­i­day park and dir­ec­ted with con­sid­er­able music video pan­ache by Tim van Dammen. If you appre­ci­ate Michael O'Neill and Peter Van Der Fluit's songs as witty par­od­ies of mod­ern pop styles of the past 30 years you might get as much pleas­ure out of the film as I did. At least, I hope they were parodies.
We have men­tioned Jess Feast's doc­u­ment­ary Gardening With Soul on a couple of pre­vi­ous occa­sions in these pages so it will come as no sur­prise to find that I am offer­ing a hearty, but belated, endorse­ment here now. A year in the life of witty, wise and won­der­ful Sister Loyola Galvin, the nun who runs the large garden for the Sisters of Compassion in Island Bay, this film makes a ter­rif­ic com­pan­ion piece to Christopher Pryor and Miriam Smith's How Far Is Heaven which looked at anoth­er side of the sis­ters' work last year.
Sister Loyola is a treas­ure and this is what loc­al cinema can do so well – cel­eb­rat­ing our her­oes and our role mod­els because if we don't do it nobody from over­seas is going to do it for us. A quiet triumph.
When I wrote my 2013 Film Festival Preview, Behind the Candelabra was not going to return to cinemas. Now it has, so I dir­ect you to what I wrote back then which remains true today.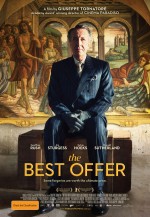 Giuseppe Tornatore once made Cinema Paradiso, a film beloved of cinephiles because it some­how trans­formed how we all feel about going to the movies into pic­tures. His high points since then have both been puzzles – in A Pure Formality (1994) Depardieu and Polanski spar dur­ing a mys­ter­i­ous police inter­rog­a­tion and, more recently, in The Unknown Woman a Ukrainian immig­rant in Rome dis­cov­ers the truth about her enig­mat­ic past.
His latest, The Best Offer, is sim­il­arly con­struc­ted and char­ac­ter­ist­ic­ally clas­sic­ally pho­to­graphed. Geoffrey Rush plays a kind of rock star auc­tion­eer and art/antiquities expert drawn against his instincts into an intrigue fea­tur­ing a villa full of old things and their own­er, an agora­phobic author of romantic fic­tion. Rush has his own little psy­cho­lo­gic­al idio­syn­crasies, though, but as he loosens up he fails to won­der wheth­er he is let­ting his curi­os­ity gets the bet­ter of him. Diverting and attract­ive but less than meets the eye.
[Portions of this review first appeared in Wellington's
FishHead magazine
in September 2013.]