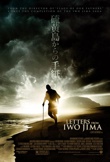 Two significant candidates for a 2007 Top Ten have appeared this week and are both fine examples of what modern, mature, dramatic film-making can be — either independently or via the studio system. While the splendid and fearless Notes on a Scandal is essentially an indie product, distributed by a major, Clint Eastwood's majestic Letters from Iwo Jima simply wouldn't exist without tens of millions of dollars of corporate investment. Sometimes the system works.
Iwo Jima is a companion piece to last year's Flags of Our Fathers and the two films are so closely related that together they form a considerably greater whole. By February 1945 the Allies had advanced successfully across the Pacific and Iwo Jima was the first (tiny, volcanic) territory of the Japanese homeland to be fought over. Tactically and emotionally significant beyond its size, Iwo Jima was defended by a hopelessly outgunned and outnumbered collection of Japanese who tried to defend the island from caves and tunnels as supplies and ammunition quickly ran dry.
Moving and elegiacal, Eastwood's Iwo Jima duet is in the very top drawer of anti-war films: essential viewing.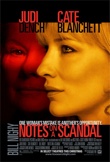 Judi Dench raises the bar for screen acting once again with her performance as the bitter, lonely, lesbian teacher Barbara Covett in Notes on a Scandal. All involved (including luminous Cate Blanchett and unimpeachable Bill Nighy) are brilliant in support of a great script by Patrick Marber (Closer), adapted from the novel by Zoe Heller.
Blanchett plays art teacher Sheba Hart, a middle-class fish out of water in an inner city comprehensive school. Her foolish and impulsive affair with a 15 year old pupil puts her in the power of the manipulative older woman who discovers her secret and uses it to advance her own infatuation. Philip Glass's excellent music helps ratchet up the tension nicely.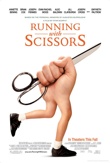 Running With Scissors is about coping with mental health issues in the same way that Weekend At Bernie's is about dealing with death. Based on Augusten Burrough's Burroughs' best-selling memoir of a childhood surrounded by wacky eccentrics after his mother had him adopted by her therapist, it's yet another portrait of psychotherapy as comedy — and therapists as charlatans and frauds or buffoons.

In the affable French drama Orchestra Seats, half a dozen successful but unhappy people have their lives gently improved by one unsuccessful but happy person — like a less metaphysical Amélie — the message being, basically, "get over yourselves" and we can't hear that enough, can we?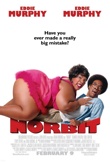 Eddie Murphy proves his Oscar nomination was no fluke by playing three characters in his latest film, an extended fat and fart joke called Norbit. It's as bad and as good as that description makes it sound – if you are in the market for inane and insulting you'll be well served by Norbit.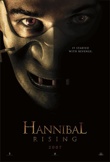 Finally, in Hannibal Rising the young Hannibal Lecter escapes from his post-war Lithuanian work camp/orphanage and trudges across Europe to learn the way of the Samurai from his Aunt in a French chateau. So far, so ludicrous. He uses these new found skillz to wreak revenge on the sadistic thugs who killed his parents and ate his sister. Hannibal Rising is so wrong on so many levels and poor Gaspard Ulliel is hopelessly miscast as the young Lecter, but you might get a laugh or two out of Thomas Harris' moronic script.
Printed in the Capital Times, Wellington, Wednesday 28 February 2007.