From The Spin, The Guardian's occasional cricket e‑mail:
New Zealand

Suddenly, you quite fancy them. A lower-middle order of Jacob Oram and Brendon McCullum means they are never out of the game; Shane Bond — assuming he doesn't break down — could be the fastest man in the competition; and Stephen Fleming has regained the reputation he lost in England in 2004 as the smartest captain in the game. Lack of bowling depth and the occasional tendency of the top order to go awol are both concerns, but the off-spinner Jeetan Patel could be one of the competition's unsung heroes. And they will field like Lou Vincents. Very backable dark horses.

One-day record since last World Cup: P88 W44 L39 T0 NR5
Last 10 matches: W5 L5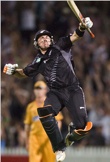 The stats are very interesting. I've always said that in One Day cricket the best NZ can ever really expect is to win as many as we lose and we are just ahead of that over the last four years.
"All I ask for is a little consistency" say the pundits. Well, you can only be consistently winning or consistently losing and the first one isn't realistic so I'll take the glorious inconsistency thanks.
But then again, all we need is seven wins in a row from March 17 and we are home free.
And the TAB has us at $7.00 with Australia at $2.75; South Africa $5.00 and India $8.50. I might get a piece of those odds come pay day.