From The Spin, The Guardian's occa­sion­al crick­et e‑mail:
New Zealand

Suddenly, you quite fancy them. A lower-middle order of Jacob Oram and Brendon McCullum means they are nev­er out of the game; Shane Bond – assum­ing he does­n't break down – could be the fast­est man in the com­pet­i­tion; and Stephen Fleming has regained the repu­ta­tion he lost in England in 2004 as the smartest cap­tain in the game. Lack of bowl­ing depth and the occa­sion­al tend­ency of the top order to go awol are both con­cerns, but the off-spinner Jeetan Patel could be one of the com­pet­i­tion's unsung her­oes. And they will field like Lou Vincents. Very back­able dark horses.

One-day record since last World Cup: P88 W44 L39 T0 NR5
Last 10 matches: W5 L5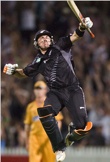 The stats are very inter­est­ing. I've always said that in One Day crick­et the best NZ can ever really expect is to win as many as we lose and we are just ahead of that over the last four years.
"All I ask for is a little con­sist­ency" say the pun­dits. Well, you can only be con­sist­ently win­ning or con­sist­ently los­ing and the first one isn't real­ist­ic so I'll take the glor­i­ous incon­sist­ency thanks.
But then again, all we need is sev­en wins in a row from March 17 and we are home free.
And the TAB has us at $7.00 with Australia at $2.75; South Africa $5.00 and India $8.50. I might get a piece of those odds come pay day.