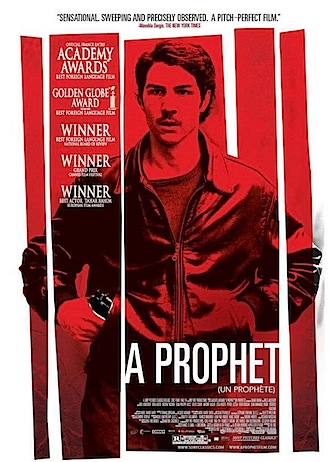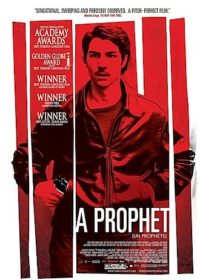 In a week when film fans are mourning the passing of the French great Claude Chabrol (80 year old co-pioneer of the French New Wave) it's pleasing to report that there's still someone in France making watchable movies. In fact, Jacques Audiard's last two films have been absolute crackers (Read My Lips, The Beat My Heart Skipped) and his latest is easily one of the best you will see this or any year.
In Un prophète (A Prophet), Audiard has managed to make an intimate epic, a film about grand themes while (for the most part) never leaving the confines of the French prison where our hero is incarcerated. He is Malik El Djabena (newcomer Tahar Rahim) and he's a nineteen year old petty criminal inside for assaulting a cop. In exchange for the protection of the Corsican mob leader who runs the joint (Niels Arestrup) he murders an Arab informer, an incident that will literally haunt him throughout the film.
Our man is a fast learner and while he is doing the Corsican dirty work he is also winning the trust of the muslim prisoners and (when he gets his shot at day release) building a nice little hash business on the side. I've heard comparisons being made with "The Wire" and they are apt (like the great tv show there were plenty of moments where I wanted to rewind so I could understand exactly what I just saw) but Audiard's film is explosively cinematic — a genuine big screen experience.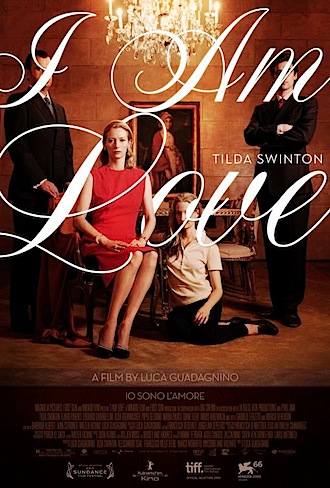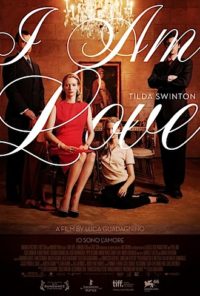 Also returning from this year's festival is Tilda Swinton in I Am Love, a film garlanded with praise by all and sundry, but I've got to tell you that this is a film that I simply did not like (and I really thought I was going to). Swinton (who also produced the film) plays Emma, plucked from Russia by the son of a rich Milanese industrialist and now the mother of beautiful wealthy children, living in an extraordinary house full of gorgeous things.
But it turns out that she isn't terribly happy (not always easy to tell with Swinton though, is it?) and an affair with her son's best friend, a chef, brings doom to her and the family. Director Luca Guadagnino has made three films with Swinton now and he appears to be captivated by her, as he is by the magnificent architecture and the beautifully presented food.
The problem here is the plot. As in Kristin Scott Thomas's version of the Lady Chatterly story earlier this year (Partir), the characters behave to fit a theory rather than any grounded, believable psychology. They are clichés playing out clichéd scenarios and Guadagnino and Swinton never once make it credible. Also, I'm sorry to say that I am now familiar with rather more of Ms Swinton's anatomy than I am comfortable with.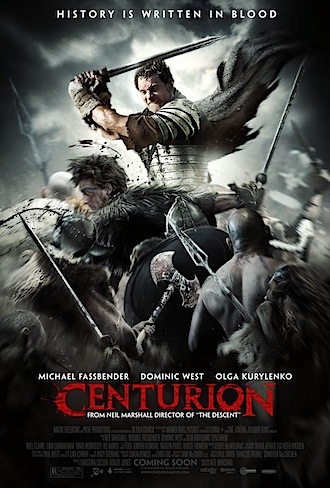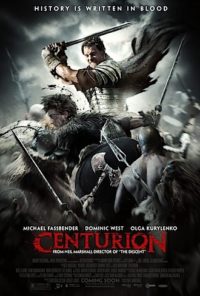 In Neil Marshall's Centurion, we get a bloody parable about empire and insurgency in the form of Roman legions trying to hold down the native Picts of (what is now) Northern England and Scotland. It's the farthest outpost of the Roman Empire and the locals look like they should be throwing cans of Carling Black Label off the roofs of council flats but Dominic West (McNulty in "The Wire') follows orders and tries to keep order.
Unfortunately for him, he's captured in an ambush and a handful of remaining legionnaires, led by Michael Fassbender (Bobby Sands in last year's Hunger), find themselves trapped behind enemy lines trying to get him back. Marshall is a very capable director (The Descent was about as scary as they come) and I appreciated the fact that all the locations were actually British rather than Romanian. I should also add that almost all the blood (of which there is a great deal) appeared to be genuinely liquid rather than the digital sploshing and spurting which you see so much of these days.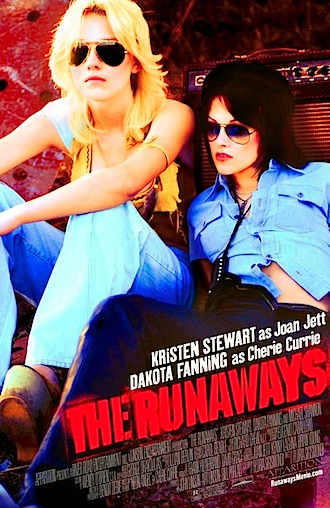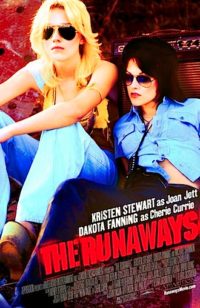 While watching The Runaways I wondered how many of the great leaps forward in popular music could be put down to inadequate parenting. Wannabe High School rock stars Joan Jett and Cherie Currie are both left to their own devices in mid-70s Los Angeles, Jett (Kristen Stewart) wandering around with a guitar in a case but not much idea how to play it and Currie lip-synching to Bowie at the talent show. At Rodney Bingenheimer's English Disco on Sunset they are spotted by svengali record producing legend Kim Fowley (the great Michael Shannon) and the world's first all-girl rock band is formed.
The script for The Runaways is based on Currie's own memoir and, considering she was only fifteen years old and stoned off her gourd much of the time, we'll have to take her word for most of it.
Straddling that awkward gap between glam-rock and punk, The Runaways were musically unprepossessing and the story follows the familiar rags-riches-rags-riches (for Jett at least) path, but the ghastly era is recreated with sincerity and there are performances from Stewart and Dakota Fanning (as Currie) that bode well for both their futures.
Incidentally, I'm not giving too much away by telling you that, according to the closing credits of The Runaways, Cherie Currie is now a "chainsaw artist in the San Fernando Valley." California, eh?
Printed in Wellington's Capital Times on Wednesday 15 September, 2010.
Notes on screening conditions: I am not going to own up in public to pirating an HD copy of Un prophète because the only cinema in town that was playing it was in Petone and my car was broken down. No way, not falling for that.