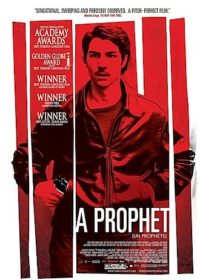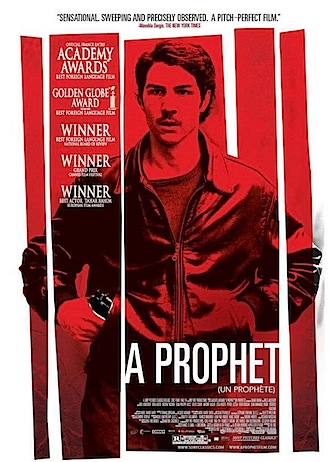 In a week when film fans are mourn­ing the passing of the French great Claude Chabrol (80 year old co-pioneer of the French New Wave) it's pleas­ing to report that there's still someone in France mak­ing watch­able movies. In fact, Jacques Audiard's last two films have been abso­lute crack­ers (Read My Lips, The Beat My Heart Skipped) and his latest is eas­ily one of the best you will see this or any year.
In Un prophète (A Prophet), Audiard has man­aged to make an intim­ate epic, a film about grand themes while (for the most part) nev­er leav­ing the con­fines of the French pris­on where our hero is incar­cer­ated. He is Malik El Djabena (new­comer Tahar Rahim) and he's a nine­teen year old petty crim­in­al inside for assault­ing a cop. In exchange for the pro­tec­tion of the Corsican mob lead­er who runs the joint (Niels Arestrup) he murders an Arab inform­er, an incid­ent that will lit­er­ally haunt him through­out the film.
Our man is a fast learner and while he is doing the Corsican dirty work he is also win­ning the trust of the muslim pris­on­ers and (when he gets his shot at day release) build­ing a nice little hash busi­ness on the side. I've heard com­par­is­ons being made with "The Wire" and they are apt (like the great tv show there were plenty of moments where I wanted to rewind so I could under­stand exactly what I just saw) but Audiard's film is explos­ively cine­mat­ic – a genu­ine big screen experience.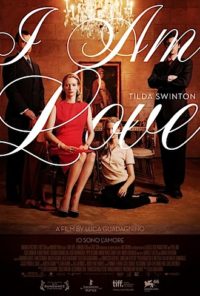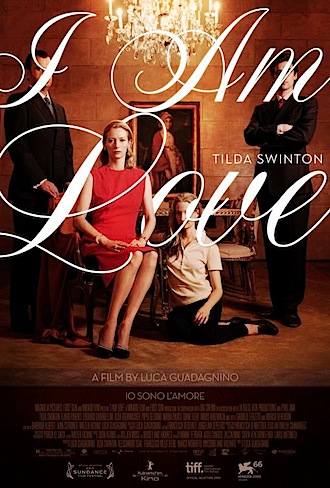 Also return­ing from this year's fest­iv­al is Tilda Swinton in I Am Love, a film gar­landed with praise by all and sun­dry, but I've got to tell you that this is a film that I simply did not like (and I really thought I was going to). Swinton (who also pro­duced the film) plays Emma, plucked from Russia by the son of a rich Milanese indus­tri­al­ist and now the moth­er of beau­ti­ful wealthy chil­dren, liv­ing in an extraordin­ary house full of gor­geous things.
But it turns out that she isn't ter­ribly happy (not always easy to tell with Swinton though, is it?) and an affair with her son's best friend, a chef, brings doom to her and the fam­ily. Director Luca Guadagnino has made three films with Swinton now and he appears to be cap­tiv­ated by her, as he is by the mag­ni­fi­cent archi­tec­ture and the beau­ti­fully presen­ted food.
The prob­lem here is the plot. As in Kristin Scott Thomas's ver­sion of the Lady Chatterly story earli­er this year (Partir), the char­ac­ters behave to fit a the­ory rather than any groun­ded, believ­able psy­cho­logy. They are clichés play­ing out clichéd scen­ari­os and Guadagnino and Swinton nev­er once make it cred­ible. Also, I'm sorry to say that I am now famil­i­ar with rather more of Ms Swinton's ana­tomy than I am com­fort­able with.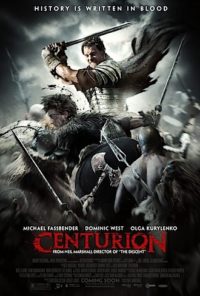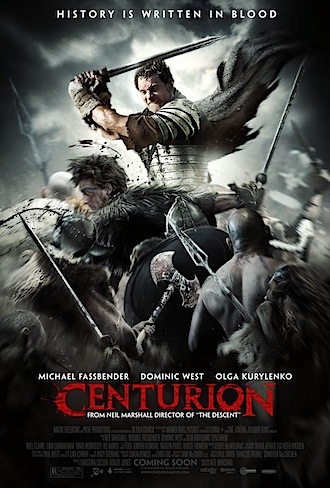 In Neil Marshall's Centurion, we get a bloody par­able about empire and insur­gency in the form of Roman legions try­ing to hold down the nat­ive Picts of (what is now) Northern England and Scotland. It's the farthest out­post of the Roman Empire and the loc­als look like they should be throw­ing cans of Carling Black Label off the roofs of coun­cil flats but Dominic West (McNulty in "The Wire') fol­lows orders and tries to keep order.
Unfortunately for him, he's cap­tured in an ambush and a hand­ful of remain­ing legion­naires, led by Michael Fassbender (Bobby Sands in last year's Hunger), find them­selves trapped behind enemy lines try­ing to get him back. Marshall is a very cap­able dir­ect­or (The Descent was about as scary as they come) and I appre­ci­ated the fact that all the loc­a­tions were actu­ally British rather than Romanian. I should also add that almost all the blood (of which there is a great deal) appeared to be genu­inely liquid rather than the digit­al splosh­ing and spurt­ing which you see so much of these days.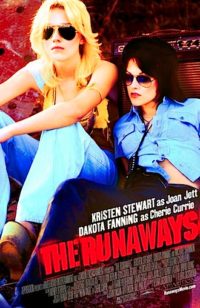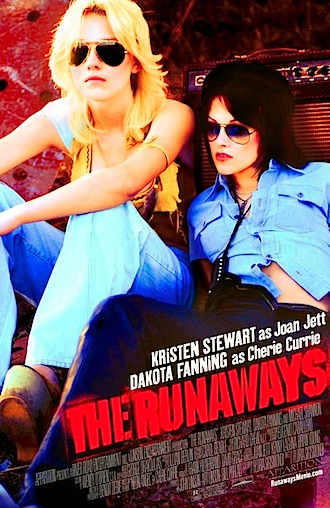 While watch­ing The Runaways I wondered how many of the great leaps for­ward in pop­u­lar music could be put down to inad­equate par­ent­ing. Wannabe High School rock stars Joan Jett and Cherie Currie are both left to their own devices in mid-70s Los Angeles, Jett (Kristen Stewart) wan­der­ing around with a gui­tar in a case but not much idea how to play it and Currie lip-synching to Bowie at the tal­ent show. At Rodney Bingenheimer's English Disco on Sunset they are spot­ted by svengali record pro­du­cing legend Kim Fowley (the great Michael Shannon) and the world's first all-girl rock band is formed.
The script for The Runaways is based on Currie's own mem­oir and, con­sid­er­ing she was only fif­teen years old and stoned off her gourd much of the time, we'll have to take her word for most of it.
Straddling that awk­ward gap between glam-rock and punk, The Runaways were music­ally unpre­pos­sess­ing and the story fol­lows the famil­i­ar rags-riches-rags-riches (for Jett at least) path, but the ghastly era is recre­ated with sin­cer­ity and there are per­form­ances from Stewart and Dakota Fanning (as Currie) that bode well for both their futures.
Incidentally, I'm not giv­ing too much away by telling you that, accord­ing to the clos­ing cred­its of The Runaways, Cherie Currie is now a "chain­saw artist in the San Fernando Valley." California, eh?
Printed in Wellington's Capital Times on Wednesday 15 September, 2010.
Notes on screen­ing con­di­tions: I am not going to own up in pub­lic to pir­at­ing an HD copy of Un prophète because the only cinema in town that was play­ing it was in Petone and my car was broken down. No way, not fall­ing for that.