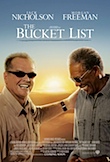 The trailer for The Bucket List has been playing for weeks now, inducing groans at every appearance. By collecting a series of Jack Nicholson's now trademark Jack-isms plus Morgan Freeman's regular, twinkly, wise old man schtick and then sprinkled with plenty of schmaltz, the trailer made me actively want to avoid a film that looked like a lame set of saccharine clichés and tired ham acting – cynical Hollywood at its worst.
I am pleased to report, however, that The Bucket List is a much more enjoyable film than I was expecting. There is some excellent work from Nicholson and Freeman who are well coached by director Rob Reiner, with the help of a script by Justin Zackham that has several decent moments. Nicholson plays misanthropic health tycoon Edward Cole who is diagnosed with brain cancer and forced, due to his own tight-fisted policies, to share a room with car mechanic and lung cancer patient Freeman. When he discovers Freeman has a wish-list of things to do before he dies, he takes it upon himself to make them come true using the billions he has accumulated in the corrupt American health care system.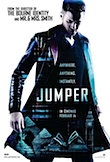 The main pleasure in The Bucket List is watching two screen legends work together: talented and charismatic they make this sort of thing look easy. Unlike poor Hayden Christensen (Attack of the Clones) who proves once again that being a movie star is a lot harder than it looks in teenage wish-fulfilment fantasy Jumper. Christensen plays a young man who discovers he has a genetic ability to teleport, so he beams himself out of his dreary small town and away from the abusive father and the school bullies that blight his life – but also away from the beautiful girl who he loves (Rachel Bilson). He tries to fill the spiritual vacancy with piles of cash effortlessly pilfered from bank vaults and brunch at the pyramids but, until Samuel L. Jackson turns up to try and kill him there was little purpose to his life. I have successfully filled in all the gaps in that plot summary and, therefore, made it sound a lot more interesting than it actually is. In fact, it is rubbish: Pointless, illogical, rubbish.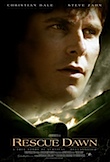 Christian Bale is a movie star I've always struggled to appreciate. One-dimensional, yet physically fearless, he has never successfully indicated any kind of inner life for any of his characters. Either that or he continues to be cast as people without much of an inner life and he just hits it out of the park every time. Perhaps. In Werner Herzog's Rescue Dawn, Bale plays Dieter Dengler, German-born pilot in the US Navy, shot down in a classified mission over Laos in 1965. There he spent more than 6 months in a hellish Viet Cong prison camp before escaping in to the jungle. It's a ripping yarn, well told by Herzog whose hand-held camera keeps us engaged even when Bale doesn't quite manage to.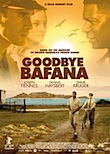 A prisoner of a different kind is the focus of Goodbye Bafana, as Joseph Fiennes plays South African Prison Officer James Gregory who guarded Nelson Mandela (Dennis Haysbert) for more than 20 years. The Mandela story can be told over and over again as far as I am concerned and this is an interesting and affecting way in. Recommended.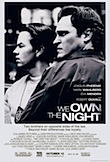 To New York, briefly, and We Own The Night: puffy Joaquin Phoenix plays the black sheep from a family of cops who finds his true calling when he goes undercover to catch the drug dealer who shot his brother (Mark Wahlberg). Arresting, but overblown.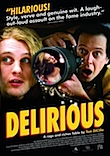 Steve Buscemi plays a deadbeat paparazzi in Delirious, from dedicated indie stalwart Tom DiCillo. Sadly, there's very little that's original in the story or the characters and the film fails to justify it's own existence beyond some lovely images of DiCillo's real New York.
Printed in Wellington's Capital Times on Wed 27 February, 2008.
Nature of Conflict: Delirious is released in New Zealand by Arkles Entertainment who I occasionally do some work for.