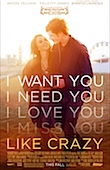 Three films this week point the way towards pos­sible futures for cinema – and if two of them are right then we should all find anoth­er hobby. Like Crazy is a mostly-improvised romance shot on one of those pro-am stills cam­er­as that can also shoot hi-def video (the Canon 7D in this case). These devices are afford­able and highly port­able but the look that they have, while effect­ive in music videos and short sequences, doesn't keep your interest over the length of a full fea­ture. And, just because your cam­era lets you shoot a lot of foot­age of people nood­ling around mak­ing stuff up, that doesn't mean you shouldn't still have an actu­al plan.
Actually, the pho­to­graphy is less of a prob­lem in Like Crazy than the story: two young lov­ers not so much star-crossed as US Department of Immigration-crossed, have to decide how much they care for each oth­er when their efforts to be togeth­er are thwarted by the pesky Atlantic ocean and their own shal­low­ness. Felicity Jones (Chalet Girl ) is the Brit who over­stays her stu­dent visa so she can be with Californian fur­niture design­er Anton Yelchin (Fright Night), set­ting the wheels in motion that will actu­ally keep them apart for years.
Self-absorbed, self-entitled and selfish, both these char­ac­ters are very hard to warm to and the act­ors' efforts at impro­visa­tion only reveal that they don't have very much to say and no inter­est­ing way to say it. Like Crazy won the big prize at Sundance last year and if this is the future it's a very dull one.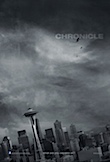 Another kind of digit­al cinema pro­ject is the found-footage genre where our fea­ture film is made up of art­fully recre­ated han­dic­am, secur­ity cam, you­tube, cell­phone, etc mater­i­al assembled after the fact to tell a – usu­ally creepy – story. The Blair Witch Project star­ted this off years ago and at its worst you get Paranormal Activity and its best you find a sur­prise like Chronicle. In it, three high school pals dis­cov­er a mys­ter­i­ous bur­ied met­eor­ite that gives them super powers.
After fool­ing around with their telekin­es­is for a bit, things turn sour when repressed young Andrew (Dane DeHaan) starts tak­ing his frus­tra­tion out on his many tor­ment­ors. The plot reminds me of De Palma's clas­sic Carrie but Chronicle is less creepy and more propuls­ive. Some of the set-pieces are bril­liant – par­tic­u­larly the unex­pec­ted arrival of a pas­sen­ger jet while the chums are prac­ti­cing their fly­ing – but the found foot­age device seems to require con­stant explanana­tions which dropped me out of a story which was work­ing. I won­der wheth­er it was really neces­sary or would Chronicle have worked just as well told straight?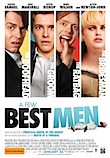 The oth­er trend I wish to see no more of is the gra­tu­it­ous and repuls­ive boor­ish lads on hol­i­day film. The first Hangover was ter­rif­ic but the returns have been poor since then and A Few Best Men is right down there with The Inbetweeners Movie in por­tend­ing the decline of Western civil­isa­tion. Three imbe­ciles vis­it Australia for their friend's wed­ding and ugly ste­reo­types and cheap non-jokes ensue. If you sit through A Few Best Men until the end then we can't be friends.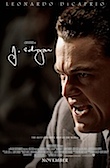 The amount of interest you might have for Clint Eastwood's sol­id biop­ic of J. Edgar Hoover will entirely depend on how much interest you have for the sub­ject mat­ter – the film doesn't man­age to tran­scend it des­pite the obvi­ous care and atten­tion that went in. Leonardo DiCaprio plays the fam­ous G‑Man through all stages of his life which means he spends almost half the movie smothered in that latex old man makeup which – while the best I've seen – is almost impossible to act under. His voice isn't that of an old man either, which doesn't help.
Several oth­er fine per­formers are wasted in sup­port­ing roles, par­tic­u­larly the thank­less women in his life – Judi Dench plays a dom­in­eer­ing moth­er and Naomi Watts is his self-sacrificing life-long sec­ret­ary. The biggest issue with J. Edgar, to my mind, is that it has to choose wheth­er it is a polit­ic­al bio­graphy or a per­son­al one – and it makes the less inter­est­ing choice.
Hoover was clearly a well-closeted and prob­ably unac­know­ledged homo­sexu­al but he was also one of the most power­ful men in America. The real world impact of his med­dling in affairs of state is glossed over in favour of a more intim­ate por­trait of a private life that wasn't so unusu­al for the peri­od. The film is also fairly sym­path­et­ic to the author­it­ari­an old brute.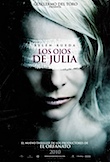 Spanish genre pics are always worth a look and Julia's Eyes is a fine example. It's a Guillermo Del Toro-pro­duced hor­ror flick about twin sis­ters (Belén Rueda) with the same deteri­or­at­ing eye con­di­tion. Sara carks it mys­ter­i­ous cir­cum­stances before the cred­its have even rolled, and it's up to Julia to solve the puzzle before her own sight dis­ap­pears. The truth turns out to be fairly con­vo­luted but by the time it is revealed you should be hooked by Guillem Morales tense dir­ec­tion which is spoiled only by a couple of gross moments that I don't think the film needed.
Printed in Wellington's Capital Times on Wednesday 8 February, 2012.