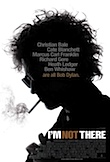 Many years ago English comedian Ben Elton cracked a joke about Bob Dylan: "For all you young people in the audience he was the one who couldn't sing on the end of the We Are The World video." Nowadays we have to explain to young people what We Are The World was and Dylan has travelled even further away from relevance. So why is I'm Not There. (the full stop is part of the title) such essential viewing if Dylan seems so irrelevant?
Because unlike every other 20th Century icon Dylan never cared what you think — he just followed his instincts and his interests and the film is an endlessly fascinating portrait of that battle to avoid becoming what his audience and his industry wanted him to become. Portrayed by six different actors including Cate Blanchett and Heath Ledger, Dylan's many personas still keep you at arms length. I think the key to Dylan is that he is less complicated (and at the same time more complex) than the world would have you believe and he fully deserves a work of art as fine as this one in his name.
I should also point out that I was lucky enough to see I'm not There. in that most musical of locations, the Paramount and it sounded superb. A keeper.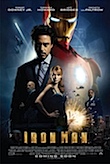 Robert Downey Jr. is one of those movie brats who seems to have been born in front of a camera (check out his almost perfect performance as Chaplin for Richard Attenborough in 1992). He hasn't been getting the lead roles he deserves (Kiss Kiss Bang Bang was the last one) but Iron Man is surely going to change that. Downey Jr.'s effortless screen charisma is the foundation of a highly entertaining action movie that is only let down by a not-quite-big-enough set-piece at the end. Billionaire and playboy arms manufacturer Tony Stark has his eyes opened to the evils his products enable when he is kidnapped in Afghanistan. After escaping, he decides to use his technology for good (while still having as much fun as possible). A good supporting cast (including Jeff Bridges looking like Daddy Warbucks) keeps things moving.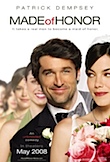 The funniest thing about Patrick Dempsey rom-com Made of Honour is that it was made by a company called Original Film. As if! Dempsey plays Tom, super-rich inventor of the coffee collar and serial-bedder of beautiful women. Too late he realises that he is actually in love with his best friend Hannah (Michelle Monaghan, this year's Sandra Bullock) just as she is about to get married to Trainspotting's Kevin McKidd in a Scottish castle. Pretty much all the characters are deeply shallow and pretty unlikeable which I'm sure wasn't the intention and, most annoying of all, director Paul Weiland gives himself the auteur credit of "A Film By". In your dreams, pal.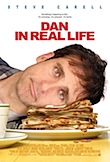 Much more successful, and not coincidentally populated with much nicer people, is Dan in Real Life starring Steve Carell as author of a popular newspaper parenting tips column who has much more difficulty parenting his actual children (alone, due to that all-too-common conceit of a widow-hood). So far, so un-promising, but Dan in Real Life really wins you over with smart writing and lovely, understated performances from a terrific ensemble. Lonely Dan is taking his brood of daughters to a multi-generational family get together in rugged Rhode Island. He meets beautiful and alluring Juliette Binoche and they fall in love, just before finding out that she is his brother's new girlfriend. Testing times around the dinner table ensue, mostly comic but never far away from deeply heartfelt. Frankly, more films should be like this.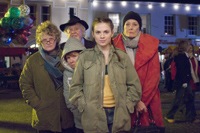 How About You is one of those films where, I confess, my taste and the taste of mainstream New Zealanders diverges somewhat. Ellie, played by Hayley Atwell (star of the unnecessarily forthcoming new version of Brideshead Revisited), is forced by circumstance to help her sister care for a group of unruly clients (a dream cast including Vanessa Redgrave, Brenda Fricker and Joss Ackland) in an Irish elderly residential home so beautiful it makes Malvina Major look like Alcatraz. Left alone with them at Christmas, she manages to transform all of them into saintly paragons of maturity via alcohol and non-prescribed drugs. I barely tolerated this but if you are over 70 you might get a kick out of it — the people behind me who talked all the way through certainly did.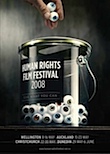 The Human Rights Film Festival kicks off it's 2008 season at the Paramount on Thursday evening. While most of these films don't really qualify as cinema per se, this is still an important opportunity to see the world as it is absolutely not portrayed through the commercial media. Highlights for me include Occupation 101, a crystal-clear examination of the reality of life in occupied Palestine, and Now The People Have Awoken, another perspective on Chavez's Venezuela which will be of particular interest if you have seen Pilger's War on Democracy. There are seven shorter items on the programme too: I'm looking forward to seeing Bowling for Zimbabwe about a young boy who needs a cricketing scholarship in order to escape the man-made atrocity of Mugabe's grinding poverty.
Printed in Wellington's Capital Times on Wednesday 7 May, 2008.
Notes on screening conditions: I already mentioned how good I'm Not There. sounded at the Paramount during the Showcase. I don't know whether it is the shape of the room or the PA speakers behind the screen but music cinema has always sounded sensational in there. Iron Man was, like Transformers last year, at a busy public screening at the Embassy which looked and sounded great. Standing ovation from a few fanboys, too. Made of Honour looked perfectly acceptable at the Empire. I am not allowed to tell you where I saw Dan in Real Life as they made me sign an NDA before they would let me in there. No shit! But it was amazing. The print had seen better days but had been given a spruce up by our hosts. How About You was ruined by it being a not very good film but the incessant talking by the old biddies behind me and the annoying hair in the gate finished me off. Penthouse.