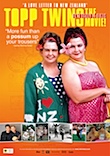 I'm not normally one to make box office predictions but I have a gut feeling that The Topp Twins: Untouchable Girls is going to be massive. It's an inspiring New Zealand story, well told with plenty of humour and music, and the literally irrepressible Topps' lust for life shines like a beacon throughout. Using plenty of archival footage and photos, Leanne Pooley's documentary follows the Twins from idyllic rural Calf Club Days, through the rough and tumble protests of the 80s, to their current status as living legends.
I recommend you take your kids so they can see how much of what's good about New Zealand (that we take for granted) was fought for by these strong and principled women, who also just happen to be beloved family entertainers.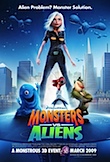 Dreamworks Animation chief Jeffrey Katzenberg has been travelling the world for the last year promoting Monsters vs. Aliens and his new digital Tru3D technology, hailing both as the saviour of cinema. After watching, and somewhat enjoying, the film I have to say that the case for both is overstated. The Dreamworks animated products have always suffered in comparison with the pure storytelling virtues of Pixar and their reliance on cheap gags and stunt casting is still in evidence here.
Ordinary Californian Susan Murphy (Reese Witherspoon) is struck by a meteorite on her wedding day and transformed into a 50ft high virtually indestructible super-woman. She's captured by the Government and taken to a secret facility to live alongside several other oddball 50s B‑movie "monsters", never to be seen again, until called on to save Earth from a threat from outer space.
More a premise than an actual movie, Monsters vs. Aliens benefits from the vibrant 3D visuals and flicker-free digital presentation but the sitcom humour and thin characterisation renders it a bit too hollow to be great.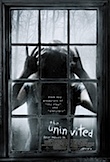 This reviewer is normally the annoying person who shushes the talkers in movies, but early on in The Uninvited, I decided to leave my neighbours alone as what they had to say was infinitely more interesting than anything on the screen. A "wicked stepmother" movie with elements drawn from other supernatural thrillers, and a twist that would thrill only the most naïve, The Uninvited is rated R13 and that's about the age group that will get the most out of it.
At the opening of the film we see troubled teen Anna (Emily Browning) released from a mental hospital, back into the care of her author father (David Strathairn) and his new girlfriend (Elizabeth Banks). Troubled by visions, Anna becomes convinced that Banks' character killed her mother and is trying to do away with her and her sister. Not so much Uninvited as Unconvincing.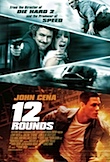 Feeling generous, I asked for nothing more from 12 Rounds than it entertain me and it came close at times. A hokey adventure-thriller about a cop forced to undergo 12 tests to save his girlfriend from a psycho terrorist, it's much larger than life plot would really benefit from larger than life protagonists – and not in the 'condom stuffed with walnuts' way that hero John Cena fills his t‑shirts. Cena, a superstar wrestler with a granite-jawed all-American quality, is well short on charisma and the villain, who looks like Wayne Coyne from The Flaming Lips, never really combusts.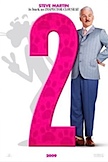 Peter Sellers was a comic genius and his Pink Panther films are beloved by many. Steve Martin is also a comic genius but his take on the role Sellers made famous is not doing his reputation much good. Maybe that's not the point. Martin is a famously intellectual comic and there are times watching Pink Panther 2 when I suspected that I was the victim of an obscure situationist prank rather than a genuine attempt at entertainment.

Finally, Ip Man is a kung fu biopic about the famous Master Ip, the guy who taught Bruce Lee the ways of wing chun. Starting off as an easy going fable about a peace-loving paragon of a man who, despite his martial arts talent, refuses to fight, Ip Man takes a dark turn when the Japanese invade Canton in 1938, brutalising and subduing the population. The Japanese in this film are so awful they make the Germans in Schindler's List look like The Wiggles – it's an ugly, stereotypical representation which leaves a sour taste.
Printed in Wellington's Capital Times on Wednesday 8 April, 2009.
Notes on screening conditions: I'm still a sucker for 3D and ever-hopeful that someone will do something really cool with it one day. (I've already seen Coraline in 3D but my opinions on it's awesome-ness are embargoed until opens in August.) Ip Man was at the Embassy, a result of Sky City Cinemas increasing attempts to generate an audience for Asian films in Wellington. The print looked like it had lost a generation when the English subtitles had been digitally added and, as a result, looked washed-out on the big Embassy screen.