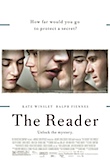 If you are on the look out for an intelligent, serious and impressively well-made drama that will stimulate and move you (and of course you are, or you wouldn't be reading this) then The Reader will fit your bill perfectly. The last of the big Oscar contenders to hit our shores, this is a version of the best-selling novel which put the German struggle to come to terms with the crimes of the Nazis centre stage. The adaptation (by British playwright and screenwriter David Hare) also does this but something else as well — it becomes a meditation on all kinds of guilt and shame as well as the complex interaction between the two.
In 1958, schoolboy Michael Berg falls ill and is helped by a stranger (the extraordinary Kate Winslet). After his recovery, three months later, he returns to thank her and they begin an affair that lasts the final summer of his childhood. Between bouts of lovemaking she demands he read to her, telling her the stories and plays he is studying at school. Several months later she disappears, breaking poor Michael's heart, only to return to his life eight years later in a Berlin courtroom, on trial for war crimes.
Flawlessly acted (by Winslet, Ralph Fiennes as the adult Berg and newcomer David Kross as the callow youth) and directed with careful precision by Stephen Daldry, The Reader carries with it an intellectual weight that acts like a kind of amplifier for the material, rather than simply adding layers of emotion. Terribly good.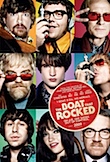 Radio was always my first love and like all first loves it's never ever died. I'm a sucker for films about radio, or set around radio stations. Do the Right Thing, Pump Up the Volume, Good Morning, Vietnam and all 90 episodes of "WKRP in Cincinnati", all provoked or prolonged the desire to talk bollocks into a microphone all day and play rock 'n' roll music all night. So The Boat That Rocked, Richard Curtis's rowdy salute to the radio pirates of the 60s is like pure catnip to me.
It's 1966 and British pop music rules the world. Meanwhile, state broadcaster, the BBC, refuses to acknowledge the existence of The Beatles or The Stones except for one 45 minute pop show each day. In the North Sea, anchored outside British waters, are a flotilla of old trawlers with radio masts playing Procol Harum, The Seekers, The Who and Smokey Robinson to a captivated nation. They were all phenomenally popular, of course, so the government had to shut them down.
It's the shutting down that provides the somewhat thin plot of the film but, while there's plenty here to annoy and frustrate unbelievers, I found myself desperately wanting to start spinning those platters that matter once again, live from my bachelor bat cave in Newtown to an unsuspecting world. So, in that sense then, job done. I loved it, despite it's sloppy sentimentality and many flat patches.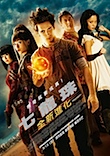 Ten years too late to really ride the wave of it's anime and manga popularity and ten years too early to be retro, Dragonball Evolution attempts to give mainstream Western audiences a taste of the phenomenally popular Japanese juvenile franchise by casting an American (Justin Chatwin) as the spiky-haired hero Goku. He's been given one of seven magic glowing globes for his eighteenth birthday but before his wise old grandfather (Randall Duk Kim) can explain why it is so important the evil Lord Piccolo (James Marsters) kills him in an attempt to reunite the seven balls and enslave the Earth. Got it? It doesn't matter, it's all balderdash and a classic 21st century 20th Century Fox attempt to cover their risk by appealing to global markets despite a palpably ludicrous product. Someone should tell them that Evolution is something that moves very, very slowly.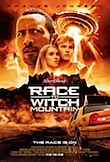 Much better family fun can be had at Disney's new version of Race to Witch Mountain. Like the original (Escape to Witch Mountain), this one features two mysterious alien kids who are trying to retrieve their crashed spaceship and return home. Unlike the original, in this one they are helped by the former Rock, Dwayne Johnson, who plays an ex-con trying to make it on the straight and narrow driving a taxi in Las Vegas. It rips along with good humour (and some surprisingly effective schmaltz) and I enjoyed it a lot more than Transformers, even though it cost about 1/10th of that film's budget.
Printed in Wellington's Capital Times on Wednesday 15 April, 2009.
Extra thoughts: It was an extra sadness to see the names of Anthony Minghella and Sydney Pollack roll past in The Reader credits for one last time. And Kenneth Branagh (once the enfant terrible of British theatre and cinema) appears to have turned into Captain Mainwaring from "Dad's Army". That is all.