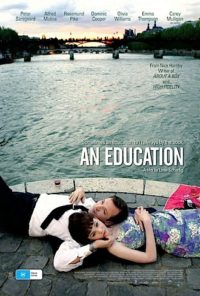 Twickenham in 1961 might well have been the most bor­ing place on Earth. The 60s haven't star­ted yet (accord­ing to Philip Larkin the dec­ade wouldn't start until 1963 "between the end of the Chatterley Ban/and The Beatles first LP") but the train was already on the tracks and could be heard approach­ing from a dis­tance if you listened closely enough. Middle-class teen­ager Jenny is study­ing hard for Oxford but long­ing for some­thing else – free­dom and French cigar­ettes, love and liberation.
In Lone Scherfig's An Education (from a script by Nick Hornby; adap­ted from Lynn Barber's mem­oir), Jenny is lumin­ously por­trayed by new­comer Carey Mulligan (so ador­able that if she's ever in a film with Juno's Ellen Page we'll have to recal­ib­rate the cute­ness scale to accom­mod­ate them both) and she gets a hint of a way out of sub­urb­an English drudgery when she meets cool busi­ness­man David (Peter Sarsgaard) and he whisks her off her feet, to the West End and to Paris.
When her teach­ers (Olivia Williams and Emma Thompson) aren't able to sell a vis­ion of the future that can com­pete with her dreams, Jenny finds that the grown-up world is even harder to read than the Latin home­work she tries to leave behind.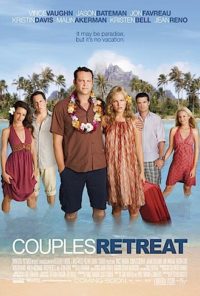 While An Education is sens­it­ive and astute, neither word applies to Couples Retreat the new coarse com­edy star­ring Vince Vaughan that is stink­ing up the mul­ti­plexes at the moment.
So slap­dash that they man­age to spell Tem Morrison's name wrong in the Opening cred­its ("Temeura"), this film feels as long as a mini-series and is embar­rass­ingly self-indulgent. Four ordin­ary couples head to a trop­ic­al resort for good times but find that ther­apy from a slum­ming Jean Reno is what's really on the agenda. The big dra­mat­ic set-piece face-off is a doubles game of Guitar Hero – the least cine­mat­ic cli­max I can pos­sible ima­gine – and while Couples Retreat isn't the worst film this year I had to think about it for a while before deciding.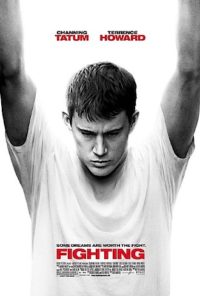 Even the title is lazy, although not as lazy as Fighting, a kind of Rocky for the UFC crowd star­ring square-jawed Channing Tatum and a phoning-it-in Terrence Howard. Tatum is a Southern boy try­ing to make it in New York and not hav­ing much luck. Howard is the hust­ler who spots his fist­icuff tal­ent and gets him some back­street bare-knuckle bouts that might be his tick­et out. So far, so clichéd but when Tatum's nemes­is from his col­lege wrest­ling team turns up with a secret from his past the film veers totally into melo­drama. Tatum has the poten­tial to be a Steve McQueen for the gen­er­a­tion whose under­pants are fall­ing out of the top of their trousers but that's all it is at the moment – potential.
Printed in Wellington's Capital Times on Wednesday 14 October, 2009.
Added thoughts on Couples Retreat: Arguably the most indul­gent product I've come across in a long time, it's as if Vince Vaughan has just assembled a whole lot of people he thinks are cool and fun to work with and then assumed that, by point­ing a cam­era in front of them, magic will hap­pen. I mean, the score is by the great A.R. Rahman, for pete's sake, and it just sounds like gen­er­ic calypso music. For some of the best of A.R. Rahman, I pos­ted a sampler back in February, here.