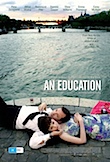 Twickenham in 1961 might well have been the most boring place on Earth. The 60s haven't started yet (according to Philip Larkin the decade wouldn't start until 1963 "between the end of the Chatterley Ban/and The Beatles first LP") but the train was already on the tracks and could be heard approaching from a distance if you listened closely enough. Middle-class teenager Jenny is studying hard for Oxford but longing for something else – freedom and French cigarettes, love and liberation.
In Lone Scherfig's An Education (from a script by Nick Hornby; adapted from Lynn Barber's memoir), Jenny is luminously portrayed by newcomer Carey Mulligan (so adorable that if she's ever in a film with Juno's Ellen Page we'll have to recalibrate the cuteness scale to accommodate them both) and she gets a hint of a way out of suburban English drudgery when she meets cool businessman David (Peter Sarsgaard) and he whisks her off her feet, to the West End and to Paris.
When her teachers (Olivia Williams and Emma Thompson) aren't able to sell a vision of the future that can compete with her dreams, Jenny finds that the grown-up world is even harder to read than the Latin homework she tries to leave behind.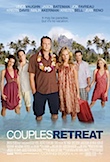 While An Education is sensitive and astute, neither word applies to Couples Retreat the new coarse comedy starring Vince Vaughan that is stinking up the multiplexes at the moment.
So slapdash that they manage to spell Tem Morrison's name wrong in the Opening credits ("Temeura"), this film feels as long as a mini-series and is embarrassingly self-indulgent. Four ordinary couples head to a tropical resort for good times but find that therapy from a slumming Jean Reno is what's really on the agenda. The big dramatic set-piece face-off is a doubles game of Guitar Hero – the least cinematic climax I can possible imagine – and while Couples Retreat isn't the worst film this year I had to think about it for a while before deciding.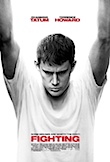 Even the title is lazy, although not as lazy as Fighting, a kind of Rocky for the UFC crowd starring square-jawed Channing Tatum and a phoning-it-in Terrence Howard. Tatum is a Southern boy trying to make it in New York and not having much luck. Howard is the hustler who spots his fisticuff talent and gets him some backstreet bare-knuckle bouts that might be his ticket out. So far, so clichéd but when Tatum's nemesis from his college wrestling team turns up with a secret from his past the film veers totally into melodrama. Tatum has the potential to be a Steve McQueen for the generation whose underpants are falling out of the top of their trousers but that's all it is at the moment – potential.
Printed in Wellington's Capital Times on Wednesday 14 October, 2009.
Added thoughts on Couples Retreat: Arguably the most indulgent product I've come across in a long time, it's as if Vince Vaughan has just assembled a whole lot of people he thinks are cool and fun to work with and then assumed that, by pointing a camera in front of them, magic will happen. I mean, the score is by the great A.R. Rahman, for pete's sake, and it just sounds like generic calypso music. For some of the best of A.R. Rahman, I posted a sampler back in February, here.