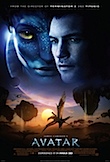 There have only been asked two ques­tions that any­body has been ask­ing me this week: "Have you seen Avatar?" and "Is it any good?" Thanks to the help­ful people at Readings I can say "Yes" to the first one and thanks to James Cameron I can say "Whoah" to the second.
Like many Wellingtonians, I have been fol­low­ing Avatar's pro­gress since pro­duc­tion star­ted in 2007 and it's almost impossible to be genu­inely object­ive. It's only nat­ur­al for loc­als to try and claim some own­er­ship of a pro­ject like this and we are all a tiny bit inves­ted in its suc­cess. The hype has cer­tainly been hard to avoid so I was slightly pleased when the fif­teen minute extract on "Avatar Day" didn't fill me with delighted anti­cip­a­tion. I couldn't quite my head around the char­ac­ter design of the Na'vi (the indi­gen­ous race peace­fully pop­u­lat­ing the beau­ti­ful but deadly plan­et of Pandora). The blue – the tails – the ears. I couldn't for the life of me work out how these char­ac­ters were going to be cool and I thought that *cool* was going to be important.
Well, I'll hold my hand up and admit that Cameron was right and I was wrong. Avatar is the finest example of com­mer­cial block­buster enter­tain­ment in years but still con­tain­ing more than enough subtle sur­prises to sat­is­fy the film nerds.
Paraplegic Marine Sam Worthington (described by this report­er as an "Aussie boof­head" in the review of Terminator Salvation, a com­ment which prob­ably should be grace­fully with­drawn about now) is sent to Pandora to take his dead brother's place in an exper­i­ment­al anthro­po­lo­gic­al team attempt­ing to bond with the nat­ives before the min­ing com­pany starts rip­ping the heart out of their home. His DNA will be fused with the Na'vi and the he'll be able to remotely con­trol the res­ult­ing creature – an avatar – learn their ways and get them to trust us. The evil cap­it­al­ists in charge of the pro­ject have oth­er ideas, how­ever, and it is up to big Sam (along with his new Na'vi chums) to save the plan­et of Pandora from exploit­a­tion and genocide.
There's noth­ing start­ling about the story. Given how long Cameron has been gest­at­ing this, I sus­pect that he has been recyc­ling char­ac­ters and ele­ments for his earli­er films (like the Paul Reiser char­ac­ter in Aliens) rather than the oth­er way around but it's the tech­no­logy, and Cameron's supremely con­fid­ent use of it, that really makes Avatar soar. It's easy to for­get when watch­ing the end­less line of for­get­table dull product passing through mul­ti­plexes that cinema has always been as much about the ride as any­thing else, and when the ride is excit­ing you really can leave your own life behind for a while.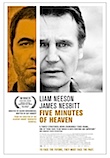 Pity the cinemas that have oth­er product open­ing in "Avatar Week". The rest of the options run the full gamut between good, indif­fer­ent and down­right ter­rible. The best of the rest of them is Five Minutes of Heaven, a tight little drama set in post-Peace-Process Northern Ireland. Former ter­ror­ist Liam Neeson and vic­tim James Nesbitt are brought togeth­er for a tele­vi­sion pro­gramme to show the recon­cili­ation in action, except revenge is still very much on the agenda.
Evidently, the real-life Northern Ireland truth and recon­cili­ation pro­gramme was con­duc­ted much less pub­licly, and much more suc­cess­fully, by the newly recon­struc­ted Police Service who quietly went about invest­ig­at­ing and clos­ing the many thou­sands of unsolved murders from the peri­od of the Troubles, so the fam­il­ies can close the book on loved ones. While the film, by neces­sity, over-dramatises that situ­ation, it skil­fully por­trays the inner con­flicts of people forced to con­front a his­tory in which all sides were often less than human.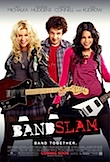 Bandslam is a tooth­less family-friendly com­edy about a group of nerdy, out­cast High School stu­dents find­ing some self-esteem via an old-fashioned rock­quest. The "old man" music is so dreary that it can­not enliven the lumpy story and (apart from the under-utilised Lisa Kudrow) there are no decent act­ors on dis­play either. And David Bowie should be ashamed of him­self for let­ting him­self get any­where near it.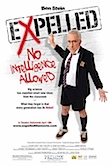 Finally, and some­what refresh­ingly, Expelled: No Intelligence Allowed – refresh­ing because I haven't hated any­thing as much as this in a long while and I thought I was going soft. A dis­hon­est doc­u­ment­ary about the non-inclusion of Intelligent Design in classrooms and uni­ver­sit­ies, it sets up straw man after straw man, mis­rep­res­ents the per­fectly ration­al oppos­ing argu­ments and, frankly, it's a scan­dal that the Paramount, for 90 years the home of cine­mat­ic enlight­en­ment, should be giv­ing a show­case to this small-minded fraud­u­lent horseshit.
Printed in Wellington's Capital Times on Wednesday 23 December, 2009.
Notes on screen­ing con­di­tions: Avatar was the first pub­lic screen­ing at Readings Courtenay Central, 9pm Wednesday 18 December; Bandslam was a (lit­er­ally) empty pub­lic screen­ing at Readings early on Saturday morn­ing; Five Minutes of Heaven was a distributor-supplied water­marked screen­er DVD and Expelled (due to time pres­sure and awk­ward schedul­ing at the Paramount) was a tor­ren­ted down­load watched on my iPhone. The future, eh?