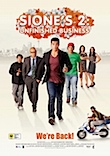 The first Sione's movie arrived in cinemas in 2006 — before I commenced this weekly catalogue of hits and misses — so I have to plead ignorance about the Duck Rockers and their earlier hijinks. I didn't even try and download it. How lame! So, Sione's 2: Unfinished Business has to stand on its own two feet and I'm pleased to report that it does just that.
It's five years on from Sione's wedding and the boys have been brought back together for a different kind of family gathering but one of them has gone missing. The minister (the great Nat Lees) gives them a mission: find Bolo (the great David Fane) and bring him back before he does something he will regret. So commences a mad dash around central Auckland in a commandeered taxi — from my memory of Ponsonby/Grey Lynn most of those journeys would have been faster on foot — trying to locate Bolo before all Hell breaks loose.
Sione's 2 isn't so much a Kiwi movie as an Auckland one. I don't think I've ever been more aware of the cultural differences between Auckalofa and the rest of New Zealand and the film — much like the city itself — doesn't bother to acknowledge that there is a rest of the country to acknowledge. Jokes about Glenfield and Grey Lynn abound — and I can't imagine anywhere other than Auckland having a Maori gourmet fast food oufit called Chur Burger — so my laughs were often one step removed.
The pace flags a little in the final third — due the need to give all of the boys an arc — but the climax in yet another Auckland bar is satisfying and ties up the loose ends nicely. Heart always trumps head for me at the pictures and Sione's 2 has a decent one.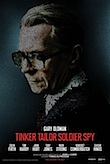 Tomas Alfredson's adapatation of John Le Carré's labyrinthine Cold War thriller Tinker Tailor Soldier Spy requires more brain than anything else I've seen recently. Don't doze off whatever you do or you'll be lost. Gary Oldman — underplaying for perhaps the first time in his career — is the misunderestimated master spy George Smiley, brought out of retirement to find the mole the Soviets have been running inside British intelligence. There are four suspects — Smiley himself having been earlier counted out for not being interesting enough — and any false move would reveal the investigation and spook the spooks.
Cutting over 300 pages of dense tradecraft down to just over two hours of screen time — it took more than seven for the famous 1979 BBC adaptation — means plenty of streamlining and at least one trim makes things harder to understand than the opposite. Alfredson and his design team do a magnificent job of making the 1970s — the decade that taste forgot — watchable and British actors seem to be genetically predisposed to the supressed emotionalism that this sort of cloak and dagger material demands.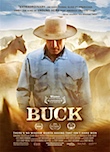 After the success of Bill Cunningham New York last year, there seems to be a welcome new trend in documentary — good films about nice men. This year's entry is Buck, an observant little film about ace horse trainer Buck Brannaman. He spends most of his life travelling the world helping people with horse problems — or as he puts it "helping horses with people problems". He grew up in an terrifyingly abusive household and — like a lot of abused children — he learned to be extremely sensitive to the world around him. That sensitivity is now less about self-preservation and more about consideration — listening to horses rather than whispering to them.
A brilliantly wise individual who carefully rations out his terrific smile, Buck is a great subject who has an enormous reservoir of understanding to share with the world. You won't regret spending 90 minutes in his company.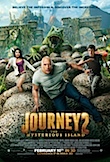 In the new sequel to Journey to the Center of the Earth — Journey 2: The Mysterious Island — young Josh Hutcherson (Bridge to Terabithia, The Kids Are All Right) gets a new father-figure: Brendan Fraser is replaced by the much more box office friendly Dwayne "The Rock" Johnson and to add insult to injury his non-appearance goes completely unexplained. Now, it's a faint radio message from Grandpa Anderson (Michael Caine) that kickstarts their Verne-ian adventure with the Rockster coming along for the ride with helicopter pilot Luis Guzmán and pretty daughter Vanessa Hudgens.
The plot is lightweight, serving only to get our crew to the island as fast as possible and then off it even quicker. It's a good job Guzmán, Caine and Johnson are around because Hutcherson and Hudgens are fairly charmless and you wouldn't want either of them to carry a film alone.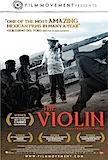 Finally, is this the longest delay between a Festival screening and a local release? Francisco Vargas' El violin was made in 2005, screened in the 2007 International Film Festival and now has a short season at the Paramount. A tense drama in moody black and white about a Latin American rebellion that isn't going well. The brutal regime are closing in on the freedom fighters and elderly Don Plutarco (Ángel Tavira) is the only one who can cross the enemy lines to retrieve ammunition buried in the corn fields.
He smuggles it out hidden in his violin case but when the local commandant asks for music lessons things get pretty stressful pretty quickly. The opening scene sets a violent tone and it's the memory of that sequence that helps emphasise the stakes and keep the stress levels high. Worth a look if you can seek it out.
The first half of this article was printed in Wellington's Capital Times on Wednesday 25 January, 2012.