Wellington's first Roxy Cinema was either notorious or legendary depending on your point of view. Originally the Britannia on Manners Street, it was renamed the Roxy in 1935 and ran as an idiosyncratic independent until demolition in 1974. Old school projectionists would tell you that the Roxy was a genuine fleapit, running continuous sessions (no cleaning) and providing a central city hideout for people skipping work or school.
According to "The Celluloid Circus", Wayne Brittenden's wonderful history of cinemas in New Zealand, owner Harry Griffith was once asked by a cashier if she should call the truant officer to apprehend some young miscreant. "Let him buy his ticket first," snapped Griffith, "then report him."
Griffith took a showman's approach to programming, once risking the wrath of 20th Century Fox by scheduling an impromptu double feature of Elizabeth Taylor's Cleopatra and Kenneth Williams in Carry On Cleo. That's the kind of spirited whimsy we tried to encourage at the Paramount in my day and I do miss it.
And now, we have a new Roxy in town. Actually not in town — in suburban Miramar where the movies get made. Now the good burghers of the Eastern Suburbs get a picture palace of their own on the site of (and incorporating the frontage of) the old Capitol — a Kerridge cinema for years until the arrival of television kept people in their homes. So which Roxy are we going to get? The glamourous and opulent original New York version (that gave all the other Roxies their name) or the dubiously dingy Wellington one?
That was a stupid question of course as the project is co-owned by Wellywood/Weta/Wingnut luminaries Jamie Selkirk and Tania Rodger and one thing we know about those guys is that they don't do things by halves. If you've ever been lucky enough to have a look around the Park Road Post facility you'll see arguably the only construction project in New Zealand history where money was definitely no object and the Roxy has a similar vibe.
High ceilings, top quality detailing (including Weta-sculptured door handles for Pete's sake) and a proper box office are signs that a visit to the Roxy is going to be something out of the ordinary. The downstairs café/bar (Coco it's called) space is huge — any other cinema operator would have stuck a couple more screens in but the Roxy only has the two. I was deeply impressed by the larger auditorium at the first public screening (Peter Jackson's King Kong, edited by Mr. Selkirk) and can see the Roxy becoming a firm favourite for fans of big screen entertainment.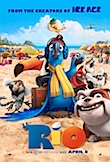 That is, if the films themselves don't turn us off. This week we have two under-imagined, over-sugared, animated movies for kids to be bored by: Rio (2D and 3D) about a blue macaw with the voice of Jesse Eisenberg who learns how to fly and Hop (2D only) about a bunny rabbit with the voice of Russell Brand who wants to be a rock drummer.
He's actually the next Easter Bunny (a 4,000 year tradition according to his dad, Hugh Laurie, which might come as some surprise to Jesus flippin' Christ whose demise 2,000 years ago gave the weekend its point) and he lives underground in Easter Island. Hop appears to be trying to give Easter the same sort of commercial kick we get from October every year with, what's it called, Christmas, but I'm not sure anyone needs it or wants it.

Rio is no more essential, although the voice work from Wellingtonian Jemaine Clement as villainous cockatoo Nigel is first rate. Frankly, if you are a parent and want to take your kids to the cinema this school holidays, take them to see Oceans and blow their minds. A French documentary (voiced by Pierce Brosnan) featuring some of the most stunning underwater photography ever, Oceans does something very special: it restores a sense of miracle and wonder in our planet even if, at the same time, it questions whether human beings even belong here any more.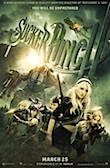 Finally, Zack Snyder's Sucker Punch. For some reason this film has been provoking spirited debate online and generating plenty of heat far beyond anything it deserves. Snyder seems to have become an auteur despite a cv that consists of remakes and comic book adaptations (actually I know that's no impediment to auteur-status — thanks Film 101 students) but Sucker Punch is all him and I think he wants us to take it terribly seriously even though close examination reveals no great insight.
Baby Doll (Emily Browning) rebels against her brutal stepfather and is shipped off to the tautologically questionable Lennox House for the Mentally Insane. There she retreats into a kind of video game dream state to cope with the abuse she receives, has some amusingly inventive adventures with other, similarly lightly clad, inmates and attempts to win her freedom (even if only in her own head).
Suffering from an over-reliance on Snyder's trademark visual styles (several shots are lifted wholesale from his earlier films) and not even getting close to being as clever as it thinks it is, the only thing I can say for Sucker Punch is that it expresses the nature of dreams far better than Inception (right down to walking around with no strides on) but that doesn't really count for much.
Printed in Wellington's Capital Times on Wednesday 13 April, 2011.