I watch a lot of movies in this job and this week I'd like to start with a couple of import­ant tips that will help keep your cinema-going exper­i­ence in top shape. Firstly, ice cream. Avoid tubs of ice cream if pos­sible because you have to look down every scoop to make sure you're not scoop­ing ice cream into your lap and every time you look down you miss some­thing import­ant on the screen. This is par­tic­u­larly import­ant for sub­titled films.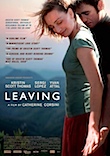 Secondly, when your loc­al cinema sched­ules an art­house film that hasn't been pre­vi­ously pro­grammed by the Film Festival, ask your­self why that might be before com­mit­ting to a tick­et. Case in point: Leaving (aka Partir) a mod­ern day updat­ing of the Lady Chatterley story star­ring Kristin Scott Thomas. She plays a well-off mar­ried woman named Suzanne who makes the tra­gic mis­take of fall­ing for the Spanish build­er who is work­ing on her house. In short order she real­ises that her mar­riage (though mater­i­ally suc­cess­ful) is love­less, leaves her snobby sur­geon hus­band (Yvan Attal) and the kids to shack up with her new lov­er (Sergi López) and tries to start a new life without all the bour­geois home comforts.
It seems to me that every French film that makes it to New Zealand is about the same thing: the clash of cul­tures between the well-off, cul­tur­ally soph­ist­ic­ated but some­how not quite real, middle-class and the salt-of-the-earth work­ing people, and the dangers of the two mix­ing. Sometimes those dangers play them­selves out comed­ic­ally (The Valet, Welcome to the Sticks), some­times dra­mat­ic­ally (Conversations with My Gardener) and some­times tra­gic­ally as we have here. And Leaving is tra­gic in more ways than one.
Scott Thomas is des­per­ately mis­cast as a pas­sion­ate woman, driv­en by desire. Her char­ac­ter is com­pletely unbe­liev­able and frus­trat­ingly unworldly – all her prob­lems are rel­at­ively eas­ily solved and yet she con­tin­ues (at the behest of screenwriter-director Catherine Corsini) to dig her­self in more deeply in every scene. It gets more and more pre­pos­ter­ous with every scene to the extent that I couldn't wait for the lights to go up so I could escape.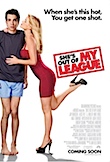 I had a major prob­lem, too, with the premise behind She's Out of My League, a risqué rom-com in the style of Knocked Up. You see, I am a skinny, nerdy guy with a smokin' hot girl­friend and, frankly, neither of us have ever con­sidered that situ­ation ripe for much com­edy. Jay Baruchel (cur­rently the voice of the nerdy Viking in How to Train Your Dragon) meets the beau­ti­ful blonde Alice Eve while work­ing as an air­port secur­ity guard. A lost cell­phone means they get to meet again and (to his sur­prise) fall in love while their awful friends and fam­il­ies do their best to sab­ot­age the sweet rela­tion­ship because… well just because it ain't right. It also ain't that funny and the tone lurches between romantic and juven­ile in a very uncon­vin­cing fash­ion. If it was any more obsessed with status it would be French.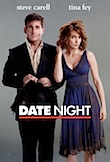 Tina Fey is one of the fun­ni­est women on tele­vi­sion but we're going to have to wait a little longer for that tal­ent to really blos­som on the big screen. Baby Mama was a well-intentioned mis­fire and her new com­edy Date Night still falls short of what it could be. Fey plays sub­urb­an work­ing mom Claire Foster whose account­ant hus­band Phil (Steve Carell) tries to spark some life into their mar­riage by tak­ing her to Manhattan for a glam­or­ous din­ner. They pinch a reser­va­tion belong­ing to the mys­ter­i­ous Tripplehorns and find them­selves embroiled in a crazy extor­tion caper involving crooked cops, a well-muscled secret agent (Mark Wahlberg phoning everything in), cor­rupt politi­cians and a USB stick full of evid­ence. Why oh why are screen­writers still pre­tend­ing that digit­al files are some­how unique. All it would take to stop this film in its tracks is for someone to make a quick copy of the drive, burn a CD, upload to a web site, whatever. But we treat these things like they're they Ark of the Covenant or something.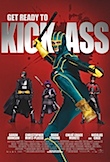 Kick-Ass is draw­ing big crowds, and it deserves some atten­tion as a witty com­ic book adapt­a­tion with some big bangs. I felt pretty weirded out by it, how­ever, by the fact that one of the key prot­ag­on­ists is a 13 year-old girl with a propensity for insane mar­tial arts, very sharp knives, high cal­ibre bal­list­ics and very foul lan­guage. She takes out a lot of bad guys in some quite grue­some ways and, more unnerv­ingly, takes a hell of a beat­ing too. All of this is inten­ded to be a source of some amuse­ment – and so it proved (at least to the audi­ence I was with).
She's not Kick-Ass, though. He is (anoth­er) nerdy kid with dreams of some­thing bet­ter. English act­or Aaron Johnson (who I com­pletely didn't recog­nise from his excel­lent imper­son­a­tion of John Lennon in Nowhere Boy) plays young com­ic book fan Dave who orders a green wet suit online and goes out on the streets of New York as a crime fight­ing super hero. After get­ting yet anoth­er beat­ing he meets a pair of genu­ine super-heroes (our teen­age death machine played by Chloe Moretz) and her fath­er (Nic Cage – odd) and gets embroiled in their ugly revenge fantasy.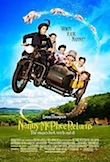 Finally (and appear­ing too late in this column for the remainder of the school hol­i­days), Nanny McPhee and the Big Bang is excel­lent fod­der for the under tens. Paced per­fectly, with just the right amount of cuddly anim­als, clumsy adults and poo jokes this instal­ment will keep most kids happy – either at the movies or in a DVD col­lec­tion later on. Previous Nanny McPhee expos­ure import­ant but not essential.
Printed in Wellington's Capital Times on Wednesday 14 April, 2010.