I watch a lot of movies in this job and this week I'd like to start with a couple of important tips that will help keep your cinema-going experience in top shape. Firstly, ice cream. Avoid tubs of ice cream if possible because you have to look down every scoop to make sure you're not scooping ice cream into your lap and every time you look down you miss something important on the screen. This is particularly important for subtitled films.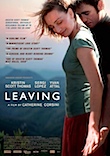 Secondly, when your local cinema schedules an arthouse film that hasn't been previously programmed by the Film Festival, ask yourself why that might be before committing to a ticket. Case in point: Leaving (aka Partir) a modern day updating of the Lady Chatterley story starring Kristin Scott Thomas. She plays a well-off married woman named Suzanne who makes the tragic mistake of falling for the Spanish builder who is working on her house. In short order she realises that her marriage (though materially successful) is loveless, leaves her snobby surgeon husband (Yvan Attal) and the kids to shack up with her new lover (Sergi López) and tries to start a new life without all the bourgeois home comforts.
It seems to me that every French film that makes it to New Zealand is about the same thing: the clash of cultures between the well-off, culturally sophisticated but somehow not quite real, middle-class and the salt-of-the-earth working people, and the dangers of the two mixing. Sometimes those dangers play themselves out comedically (The Valet, Welcome to the Sticks), sometimes dramatically (Conversations with My Gardener) and sometimes tragically as we have here. And Leaving is tragic in more ways than one.
Scott Thomas is desperately miscast as a passionate woman, driven by desire. Her character is completely unbelievable and frustratingly unworldly – all her problems are relatively easily solved and yet she continues (at the behest of screenwriter-director Catherine Corsini) to dig herself in more deeply in every scene. It gets more and more preposterous with every scene to the extent that I couldn't wait for the lights to go up so I could escape.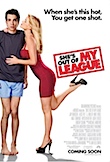 I had a major problem, too, with the premise behind She's Out of My League, a risqué rom-com in the style of Knocked Up. You see, I am a skinny, nerdy guy with a smokin' hot girlfriend and, frankly, neither of us have ever considered that situation ripe for much comedy. Jay Baruchel (currently the voice of the nerdy Viking in How to Train Your Dragon) meets the beautiful blonde Alice Eve while working as an airport security guard. A lost cellphone means they get to meet again and (to his surprise) fall in love while their awful friends and families do their best to sabotage the sweet relationship because… well just because it ain't right. It also ain't that funny and the tone lurches between romantic and juvenile in a very unconvincing fashion. If it was any more obsessed with status it would be French.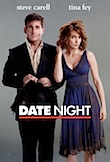 Tina Fey is one of the funniest women on television but we're going to have to wait a little longer for that talent to really blossom on the big screen. Baby Mama was a well-intentioned misfire and her new comedy Date Night still falls short of what it could be. Fey plays suburban working mom Claire Foster whose accountant husband Phil (Steve Carell) tries to spark some life into their marriage by taking her to Manhattan for a glamorous dinner. They pinch a reservation belonging to the mysterious Tripplehorns and find themselves embroiled in a crazy extortion caper involving crooked cops, a well-muscled secret agent (Mark Wahlberg phoning everything in), corrupt politicians and a USB stick full of evidence. Why oh why are screenwriters still pretending that digital files are somehow unique. All it would take to stop this film in its tracks is for someone to make a quick copy of the drive, burn a CD, upload to a web site, whatever. But we treat these things like they're they Ark of the Covenant or something.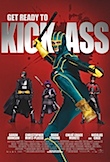 Kick-Ass is drawing big crowds, and it deserves some attention as a witty comic book adaptation with some big bangs. I felt pretty weirded out by it, however, by the fact that one of the key protagonists is a 13 year-old girl with a propensity for insane martial arts, very sharp knives, high calibre ballistics and very foul language. She takes out a lot of bad guys in some quite gruesome ways and, more unnervingly, takes a hell of a beating too. All of this is intended to be a source of some amusement – and so it proved (at least to the audience I was with).
She's not Kick-Ass, though. He is (another) nerdy kid with dreams of something better. English actor Aaron Johnson (who I completely didn't recognise from his excellent impersonation of John Lennon in Nowhere Boy) plays young comic book fan Dave who orders a green wet suit online and goes out on the streets of New York as a crime fighting super hero. After getting yet another beating he meets a pair of genuine super-heroes (our teenage death machine played by Chloe Moretz) and her father (Nic Cage – odd) and gets embroiled in their ugly revenge fantasy.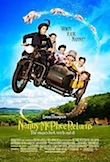 Finally (and appearing too late in this column for the remainder of the school holidays), Nanny McPhee and the Big Bang is excellent fodder for the under tens. Paced perfectly, with just the right amount of cuddly animals, clumsy adults and poo jokes this instalment will keep most kids happy – either at the movies or in a DVD collection later on. Previous Nanny McPhee exposure important but not essential.
Printed in Wellington's Capital Times on Wednesday 14 April, 2010.