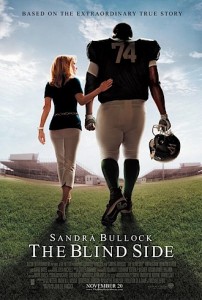 God is in the house this week. He turns up in the val­ues of a wealthy Tennessee fam­ily who adopt a poor black kid and turn him into a cham­pi­on, He fea­tures in a big leath­er book car­ried across a post-apocalyptic America by enig­mat­ic Denzel Washington, and He is not­able for His absence in a Lars von Trier shock­er that is unlike any­thing you will have seen before or see since.
First, the good ver­sion. Based on a best selling book by Michael Lewis, The Blind Side would not have made it New Zealand screens if it wasn't for Sandra Bullock's sur­prise Oscar win earli­er this year and it's easy to see why dis­trib­ut­ors might have left it on the shelf. Personally, I'm glad they didn't. My com­pan­ion had no know­ledge of, or affin­ity for, American Football or the com­plex and baff­ling col­lege sports struc­ture and was, there­fore, a bit left out of a story that man­aged to push all my but­tons fairly effortlessly.
Bullock plays Leigh Anne Tuohy, a wealthy interi­or design­er in Memphis much of whose wealth derives from nearly a hun­dred fast food res­taur­ants owned and oper­ated by her hus­band Sean (coun­try star Tim McGraw). Driving her kids home from school one night she sees the massive sil­hou­ette of "Big Mike" Oher, a fel­low stu­dent at their Christian school and a product of the most broken of homes. Michael is shuff­ling quietly towards the school gym, the warmest place he can find, as he is almost home­less and Leigh Anne instinct­ively reaches out to offer him shel­ter. One night turns into a month which turns into a life­time as Michael lit­er­ally becomes one of the family.
Why does this story of Christian char­ity and res­cue stand out? Because Michael turned out to have a tal­ent for foot­ball, a very spe­cif­ic (and very valu­able tal­ent) for defend­ing the quar­ter­back. Mike Oher has since gone on the fame and for­tune with the NFL team the Baltimore Ravens but his (and Leigh Anne's) story is old-fashioned inspir­a­tion­al and I was often genu­inely moved. Similar in theme to Precious earli­er this year, but without the cine­mat­ic fire­works, I found The Blind Side to be a most sat­is­fy­ing even­ing at the pictures.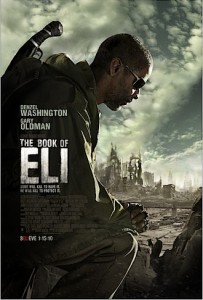 A baff­ling after­noon at the pic­tures is what you'll prob­ably get if you ven­ture in to The Book of Eli, star­ring a very cool Denzel Washington. Wandering the same bar­ren, broken land­scape that Viggo wandered in The Road earli­er this year (Viggo had rain to deal with, Denzel's world has a not­able absence of water), our hero is head­ing West with a very import­ant book and a mis­sion. He can look after him­self, as vari­ous ban­dits dis­cov­er to their cost, and he really doesn't want to give up this book even though town chief­tain Gary Oldman recog­nises the power of the world's only sur­viv­ing Bible and is determ­ined to get it. Stylish and often quite potent, I must have dozed off or closed my eyes at some inop­por­tune point as I couldn't for the life of me work out what the end­ing meant.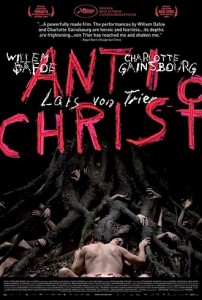 I'm not going to recom­mend von Trier's Antichrist, des­pite it being the most impress­ive, thought­ful, demen­ted, debil­it­at­ing drama in any recent year. I can't recom­mend it because audi­ence mem­bers need to seek it out and be reas­on­ably pre­pared for what it con­tains. Unsuspecting view­ers will almost cer­tainly be trau­mat­ised by the con­tent but when you are braced the hor­ror loses some of its power which I think is a good and neces­sary thing.
Willem Dafoe and Charlotte Gainsbourg lose their young son to an awful acci­dent that might have been pre­vent­able but prob­ably wasn't. Gainsbourg loses the plot in a way that at first seems com­pletely over the top but is slowly revealed to be some­thing more than just grief. Dafoe is a ther­ap­ist and coun­sel­lor who makes the tra­gic mis­take of try­ing to treat his own fam­ily. They head to their remote cab­in in the woods to heal but instead tear each oth­er apart in the most bru­tal and demon­ic way pos­sible. Like Gaspar Noé's mas­ter­piece Irréversible from 2002, Antichrist is going to have a repu­ta­tion for the bound­ar­ies it shat­ters rather than the intel­lec­tu­al and emo­tion­al bravery it dis­plays and that's a shame. Talking of bravery, Gainsbourg and Dafoe deserve awards (and a cup of tea) for their aston­ish­ing work.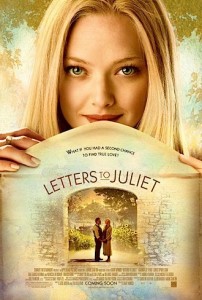 English act­or Vanessa Redgrave needs our sym­pathy too, at the moment. She's lost both her sib­lings (sis­ter Lynn and broth­er Corin) with­in a month, her daugh­ter Natasha Richardson died just over a year ago, and now she returns to the screen in a lead­ing role in a film so beneath her com­mand­ing tal­ents that one is simply embar­rassed for her. In Letters to Juliet she plays a doughty grand­moth­er whose hand­writ­ten con­fes­sion to Juliet (Capulet, of Verona and Shakespeare fame) is dis­covered 50 years later hid­den in a wall at Juliet's house. Budding New Yorker journ­al­ist Amanda Seyfried (Mamma Mia and last week's Dear John) is the dis­cover­er and, with the help of Juliet's sec­ret­ar­ies (like Father Christmas Juliet answers all her mail) she replies. This prompts Redgrave to head to Italy to find the love of her life who she jilted all those years ago.
Luckily, after many false starts, she finds the right one and he turns out to be played by her real-life hus­band Franco Nero, the Italian act­or who was once the most hand­some man in cinema (check out the spa­ghetti west­ern Django from 1966) and based on his cameo in this film may still be.
Printed in Wellington's Capital Times on Wednesday 12 May, 2010.