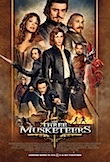 I don't know what the French did to be so roundly insul­ted at the movies this week but I'd advise them to steer clear of Wellington cinemas for a while – per­haps until their film fest­iv­al gets under way again next year. Firstly, crass action auteur Paul W.S. Anderson (Resident Evil) attempts to reboot a fran­chise from one of France's most cher­ished pieces of lit­er­at­ure but then makes The Three Musketeers without a single French per­son appear­ing on screen.
Actually, I'm teas­ing a little as neither the 1993 Charlie Sheen ver­sion or the 1973 Oliver Reed one had any sig­ni­fic­ant French involve­ment, but to pop­u­late the latest film with Danes (Mads Mikkelsen), Austrians (Christoph Waltz), Germans (Til Schweiger) and Ukrainians (Milla Jovovich) does seem a bit on the nose.
Anderson takes the bones of Dumas' ori­gin­al clas­sic story – hon­our­able swords­men fight­ing to pro­tect a king so naïve he barely com­pre­hends the threats against him – and adds some mon­strous science-fiction ele­ments like giant air­ships duelling in the skies over Paris. In fact, there is con­sid­er­able reli­ance on fire­arms rather than sword­play which I sus­pect is because Anderson isn't quite good enough as a dir­ect­or to bring it to life. He's much more com­fort­able with explosions.
The movie chooses not to rely on star power for its mar­ket­ing which is for the best as the Musketeers are a fairly bland bunch – I once described Matthew McFadyen (In My Father's Den) as "doughy" in these pages and he doesn't appear to have been doing much work in the gym sub­sequently. If you abso­lutely must go and see The Three Musketeers then trade up to the 3D ver­sion. Anderson gets the medi­um bet­ter than most action dir­ect­ors and there are moments when he uses it well here.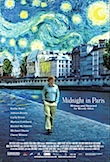 While Paris is abused in The Three Musketeers (one of Anderson's air­ships is impaled on the fam­ous La Saint-Chapelle), Woody Allen attempts to write it a love let­ter in the latest chapter of his European adven­tures, Midnight in Paris. Owen Wilson plays a dis­con­ten­ted screen­writer on hol­i­day with his fiancée (Rachel McAdams) and her par­ents. He wants to live and write in the inspir­a­tion­al city and be a ser­i­ous nov­el­ist but she would rather he con­tin­ue his Hollywood hack­work and build their dream house on the Malibu beach.
At a loose end one night he goes for a walk, gets lost and through some kind of magic­al time portal (or a bump on the head) he finds him­self in the middle of Paris in the 20s – full of bon­homie, joie de vivre and artists and writers soak­ing up the scene. None of whom are French. Still, thanks to Papa Hemingway he meets Gertrude Stein who gives him some tips for his book and intro­duces him to a fledgling fash­ion design­er (and Picasso-muse) played by Marion Cotillard.
If late-period Woody Allen films seem effort­less it's prob­ably because not much effort actu­ally goes in to them – like Eastwood he has been around movie sets long enough to know how to fin­ish on time every day – but Midnight in Paris has more charm than most while con­tinu­ing to indulge Allen's usu­al obses­sions. Of all the Allen-proxies we have seen (most recently Larry David in Whatever Works) Wilson is the most nat­ur­al – mer­ging his affable per­sona with Allen's stut­tery cynicism.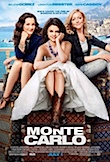 The greatest insult that befalls the French this week, though, is the truly awful teen-girl-wish-fulfilment-fantasy Monte Carlo in which a young Texan (Selena Gomez) gets a trip to Paris as a high school gradu­ation present and her grumpy step-sister and blousy BFF tag along for the ride. There we get to see the same Parisian tour­ist traps as Allen pho­to­graphed for Midnight in Paris, before Gomez gets mis­taken for a wealthy British society-gal and is spir­ited down to Monaco to live the high life for a few days.
There are actu­ally French char­ac­ters in Monte Carlo but they are almost all either snobs, slobs or buf­foons. I expect the makers got away with this by shoot­ing most of the film in Hungary (a com­mon 20th Century Fox money sav­ing approach). Like a teen ver­sion of Sex and the City, Monte Carlo man­ages to insult everything it touches – includ­ing my eyeballs.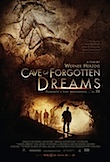 Cave of Forgotten Dreams is this week's oppor­tun­ity to exper­i­ence some­thing genu­inely life-affirming – geni­us Werner Herzog at his idio­syn­crat­ic best. Buried deep inside the hills of the Ardèche are the earli­est human cave paint­ings yet dis­covered, a record of the birth of human con­scious­ness, self-awareness and spritu­al­ity from more than 30,000 years ago. So pre­cious that they are only opened up to sci­ent­ists for a couple of weeks a year, Herzog took a tiny crew under­ground to film these extraordin­ary art­works with mod­ern, hand-held 3D cameras.
But, like any Herzog film, what it's about isn't really what it's about. He's inter­ested in the paint­ings, of course, but he's also fas­cin­ated by the people who study them and wheth­er their par­tic­u­lar obses­sions mir­ror those of the artists from mil­len­nia ago. And those of the unknow­able future. For this con­firmed athe­ist, to watch Cave of Forgotten Dreams was to feel the pres­ence of some­thing big­ger than us. Not a God that doesn't exist of course but … some­thing. Something that I can't quite, and not sure I want to, put my fin­ger on.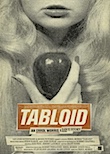 Finally, from essence to tri­vi­al­ity: Errol Morris' new doc­u­ment­ary Tabloid about the eccent­ric former mod­el and mormon-missionary-kidnapper Joyce McKinney. In the past, Morris has used his superb inter­view­ing skills to uncov­er some astound­ing truths about our recent his­tory (The Fog of War in 2003 and Standard Operating Procedure in 2008) but for all the pruri­ent interest there might be in Ms McKinney's strange and fairly self-obsessed life Morris fails to tran­scend the sad and sor­did ori­gin­al mater­i­al and ends up doing not much more than exploit­ing the poor woman – just like the British tabloids he's sup­posed to be exposing.
Printed in Wellington's Capital Times on Wednesday 19 octo­ber, 2011.
Notes on screen­ing con­di­tions: The Three Musketeers looked good in 3D at Wellington's new Roxy Cinema in Miramar; Midnight in Paris was a tired look­ing 35mm in Cinema 3 at the Lighthouse in Petone, Monte Carlo was an even tire­der 35mm print at Readings, Cave of Forgotten Dreams was the gala open­ing night screen­ing at this year's Wellington Film Festival; Tabloid was a slightly-less-than-HD digit­al file in the Bergman screen­ing room at the Paramount.