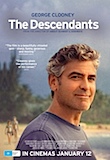 I really enjoyed Alexander Payne's The Descendants — at least while I was watching it. Some films will do that to you, though. They push all sorts of groovy buttons while you are in the room but they diminish as you re-examine them. Connections that you thought were there turn out to be illusory, a series of satisfying emotional moments don't cohere into something complete and you realise that you were enjoying it so much you wished it into something profound.
I blame Clooney. He's such a watchable presence, always combining that Cary Grant movie star-ness with an underlying emotional frailty. His characters carry that square-jawed aspirational male solidity but rarely do they actually know what is going on or what to do. He specialises in people who are making it up as they go along and that has tremendous appeal — if George Clooney doesn't know what he's doing then none of us do.
In The Descendants, Clooney's performance papers over the cracks in a story of a privileged Hawai'i lawyer forced to confront some big human issues. His wife is in a coma from a jet-ski accident, he can't seem to get through to his two daughters and — to make matters worse from his point of view — he was being cuckolded by a real estate agent.
Individual scenes provide enough surprises and wry observations to seem fresh, the non-Clooney performances range from fine (Shailene Woodley as the teenage daughter) to terrific (Robert Forster as the father-in-law) and the screenplay by Payne and Nat Faxon has some wonderful moments. I think my main problem is a resolution that sees Clooney's character having made a decision and learnt something — but it's not clear exactly what.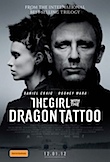 David Fincher's US remake of The Girl With the Dragon Tattoo is spirited and stylish commercial filmmaking in service of some fairly objectionable subject matter. Daniel Craig plays embattled crusading publisher Mikael Blomqvist, given a way out of his financial hole via an offer from Christopher Plummer's wealthy industrialist patriarch. He enlists the help of goth hacker Lisbeth Salander (Rooney Mara from The Social Network) and between them they turn into a 21st century Batman and Robin, fighting villains who aren't only serial killers but are also Nazis. Sheesh.
I hated the original version. I thought it had no redeeming features that could compensate for the unpleasantness. This version — screenplay by Steven Zaillian — tells the story more clearly, sets up the context for Blomqvist's troubles and renders the "romance" between Blomqvist and Salander as credible. I've come to really respect Fincher's work as a director, elevating average source material and really nailing the good stuff like The Social Network. I just wish he had better taste in projects.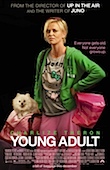 Young Adult is the second in — what I hope will be — Jason Reitman's trilogy of films about the emptiness of modern American life. Despite the presence of Diablo Cody as screenwriter it feels much more like Up In the Air than Juno, as a central character realises that all of the assumptions they had made to get them through life were not just false but actively not helping.
Charlize Theron, who won an Oscar for serial killer Aileen Wuornos in Monster, plays another monster: Mavis Gary is a moderately successful author on the skids, returning to her dead-end small town home to try and win back her High School sweetheart (Patrick Wilson) and return to the glory days when she was Queen of All She Surveyed. But Wilson is happily married with a new baby and the only guy actually listening to Mavis is the former High School geek Patton Oswalt who has his own reasons for getting blotto every night.
Cody's verbal virtuosity is largely held in check here but the characters are rich and their lives portrayed with sincerity. Theron proves that he still has the chops despite not having a leading role since the awful Hancock nearly four years ago. Young Adult also has the added quality of only being 94 minutes long — just enough to tell the story and get the heck out. If only more films heeded that lesson.
Printed in Wellington's Capital Times on Wednesday 25 January, 2012.
Postscript: After I sent this off to the paper I remembered that Jason Reitman's first feature was Thank You For Smoking which would make Young Adult the third in that trilogy. So, as you were.