For years now I've been fight­ing a single-handed defence of the later career of Robert De Niro (no defence, of course, being neces­sary for the early career which fea­tured Mean Streets, Taxi Driver and The Deer Hunter). This defence has sev­er­al argu­ments. Firstly, his decline hasn't been nearly as pro­nounced – or as strange – as Al Pacino's. Secondly, he was mak­ing some unusu­al decisions even dur­ing the eighties and, frankly, one Harry Tuttle – the reneg­ade cent­ral heat­ing engin­eer in Brazil – or foul-mouthed bail bonds­man Jack Walsh (Midnight Run) will get you a free pass for an awful lot of We're No Angels.
In the nineties, too, he would make choices that fans of Raging Bull and King of Comedy would think were beneath him – Mad Dog and Glory, Frankenstein – but also pull out Wag the Dog and Jackie Brown. It's been clear for a while now that De Niro is some­thing of a work­ahol­ic – and an act­or who waits for pro­jects as good as Goodfellas is an act­or who doesn't work all that often.
Plus – and I'm spec­u­lat­ing as Mr De Niro doesn't speak of such mat­ters – he would appear to enjoy send­ing him­self and his image up rather more than his fans would expect. Hence his pir­ate in drag in Stardust and Fearless Leader in Rocky and Bullwinkle – not to men­tion the Focker pic­tures which he now owns. Through all of these chapters – right up until recent films like Machete and What Just Happened – regard­less of what was going on around him you could always believe a De Niro char­ac­ter to be who he says he is. The tal­ent – and the craft – was intact.
Until now.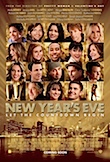 I can't defend him any­more, I'm afraid. New Year's Eve is just so far beneath him – and his per­form­ance is so lazy – that I don't know if any­thing can bring him back. NYE is a follow-up/cash-in on last last year's sur­prise smash hit Valentine's Day in which an ensemble of stars por­tray ordin­ary people in sev­er­al linked romantic (or maudlin) stor­ies tak­ing place around the tit­u­lar event.
Director Garry Marshall (Pretty Woman) has struck a for­mula here that can run and run. Unfortunately. Katherine Heigl plays a cater­er work­ing an event where her rock star ex-boyfriend (Jon Bön Jovi) will be play­ing. Meanwhile Hilary Swank plays the boss of the Times Square Business Alliance respons­ible for that inex­plic­able "drop­ping the ball" ritu­al which mes­mer­ises Americans every year.
De Niro is a lonely dying man, nursed by Halle Berry and doctored by a porky Cary Elwes. His final wish is to see the ball drop for the last time. Yes, the ball drop. That man­u­fac­tured tra­di­tion, paid for by cor­por­ate America, fron­ted by tal­ent­less man­u­fac­tured celebrit­ies like Dick Clark and Ryan Seacrest, is what a dying man wants more than anything.
Like most dis­pos­able Hollywood arti­facts these days it's paid for by product place­ment and the most insult­ing would have to be the giant close-up of an ad for the new Sherlock Holmes, pro­duced by the same com­pany and open­ing in less than a month. If you've paid money to watch New Year's Eve you've been suckered.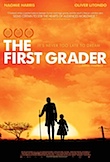 The First Grader is more down to earth. Based on the true story of an eld­erly man who takes the Kenyan government's offer of free eductaion for all lit­er­ally, it's also a quick his­tory of post-WWII colo­ni­al­ism and its leg­acy. Oliver Litondo plays the 84 year old Maruge, tor­tured and imprisoned by the British in the 1950s for (jus­ti­fied) insurrection.
Flashbacks to that ter­rible time bal­ance the cute­ness of the school scenes, but there's a shad­ow over the present too. Tribal rival­ries still dic­tate polit­ic­al influ­ence and not every­one sees Maruge as a benign sym­bol of recon­cili­ation. Not only is The First Grader a sol­id drama with a pos­it­ive mes­sage, Kenya looks beau­ti­ful throughout.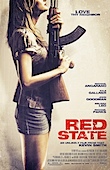 Right now I should prob­ably thank God for bring­ing me Kevin Smith's Red State and Alex Kendrick's Courageous in the same week. What did I do to be so blessed? There's poten­tially a decent-sized thes­is to be writ­ten com­par­ing the two but I only have a couple of hun­dred words left. In one a rogue church led by a cha­ris­mat­ic but malevol­ent pas­tor (Michael Parks) leads his flock full of loony tunes against the Feds – in the form of John Goodman's Alcohol, Tobacco and Firearms agents.
Smith's pro­gress­ive polit­ic­al sym­path­ies are right there in the title but his human sym­path­ies are fairly non-existent. Red State is a fairly bru­tal exper­i­ence, leavened only by moments of cyn­ic­al humour.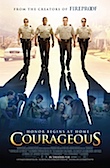 Courageous, on the oth­er hand, is equally one-eyed and paints an equally unlikely por­trait of America – one of mowed lawns, pick­et fences, no curs­ing and where the only trouble comes from black gang-bangers and their clichéd drug deal­ing. It's a rare for a product of the faith-based sec­tor of the industry to get a cinema release here but it's big busi­ness in the US, so much so that Sony has a whole divi­sion devoted to min­ing it.
Four small town cops (and their token work­ing class latino friend) make a pact to become bet­ter fath­ers which, you know, no one could pos­sibly have a prob­lem with if it didn't come with so much old-fashioned scripture-based miso­gyn­ist­ic small-minded bag­gage. There's a good film to be made about fath­er­hood and tak­ing respons­ib­il­ity but Courageous demands and expects a theo­lo­gic­ally pure world view that leaves no room for oth­er exper­i­ences of the world.
Printed in Wellington's Capital Times on Wednesday14 December, 2011.