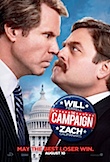 It's American elec­tion year and those mealy-mouthed Hollywood lib­er­als have fired the first shot in their attempt to influ­ence the res­ult. In The Campaign, Will Ferrell plays Will Ferrell play­ing a four-term US con­gress­man from a dis­trict so safe dis­trict no one will run against him. The mys­ter­i­ous Moch broth­ers – John Lithgow and Dan Aykroyd – are bil­lion­aire indus­tri­al­ists (loosely and lazily based on the nefar­i­ous real-life Koch Brothers) who decide to bank­roll anoth­er can­did­ate, one who will be more eas­ily influ­enced by their money and power. It's hard to ima­gine any­one more eas­ily bought than Ferrell's Cam Brady but evid­ently it's time for a change and they place their bets on lov­able loc­al tour­ism boss Zach Galifianakis, play­ing anoth­er of his trade­marked limp-wristed-but-heterosexual naifs.
With the help of Dylan McDermott's take-no-prisoners cam­paign man­age­ment, Galifianakis turns into a genu­ine con­tender and the pres­sure starts to tell on Ferrell's incum­bent who stumbles from dis­aster to dis­aster. Notably – and poin­tedly – miss­ing from all this is any dis­cus­sion of policy or any kind of val­ues bey­ond "America! Jesus! Freedom!" and "Support the Troops". The two can­did­ates are essen­tially the same which is why the Moch's can change horses in the middle of the race so eas­ily. It's only at the very end that the film comes close to tak­ing any kind of stand – American jobs are good, Chinese jobs are bad, and politi­cians should tell the truth about where their money comes from.
So, not a ter­ribly soph­ist­ic­ated ana­lys­is then – which shouldn't be a sur­prise when dis­cuss­ing a Ferrell vehicle – but dir­ect­or Jay Roach should get this stuff bet­ter than he does here. His most recent work was the Sarah Palin mini-series "Game Change", which starred Julianne Moore, and he won an Emmy for dir­ect­ing "Recount", about the 2000 pres­id­en­tial elec­tion and the hanging chads. Maybe tele­vi­sion is smarter than cinema these days…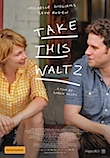 Even more dis­ap­point­ing is Sarah Polley's follow-up to the sub­lime Away From Her which broke hearts every­where as Julie Christie slowly lost her marbles in a snowy Canadian rest home. Her new film is called Take This Waltz (from the Leonard Cohen song) and it stars Michelle Williams as a young woman temp­ted out of her mar­riage by a hand­some neigh­bour (Luke Kirby). In the kind of coin­cid­ence that really only hap­pens in movies, they first meet hun­dreds of miles away from their homes in Toronto – at some kind of touristy his­tor­ic­al re-enactment show where Williams is encour­aged to "flog" an adulter­er in the stocks.
This is the first of many clunky moments where Polley the writer and Polley the dir­ect­or col­lab­or­ate to make sure the audi­ence don't miss any of the points they are try­ing to make. Where Away From Her was subtle and care­ful, Take This Waltz is often heavy-handed and un-confident. It takes a brave stab at under­min­ing tra­di­tion­al rom-com tech­niques in the ser­vice of drama and some of it works well. Seth Rogen plays the decent hus­band and in a neat role-reversal he's a cook­book writer – usu­ally in rom-coms the female is a cater­er or pastry chef – and comedi­an Sarah Silverman bright­ens up pro­ceed­ings as the funny best friend (although her arc is sig­nalled way too early and too often).
Audiences will be divided about Williams' dilemma. Should she stay with the funny and devoted – but unex­cit­ing – Rogen or take the leap with the intense (and very fit) object of tempta­tion? Whatever she chooses, Hollywood usu­ally dic­tates that she should be pun­ished for her trans­gres­sions by at least feel­ing guilty and miser­able – that's a con­ven­tion that Take This Waltz can't avoid – and the "will she/won't she" seems to take an age to resolve.
Alternately insight­ful and excru­ci­at­ing – and fea­tur­ing anoth­er example of why Williams is the best act­or of her gen­er­a­tion – Take This Waltz has too many mis­steps to really flow. More frus­trat­ing than reward­ing, at least it does man­age to make you care enough to want to argue about it afterwards.
Printed in Wellington's Capital Times on Wednesday 15 August, 2012.