Cinema and fine food have been getting along rather well in recent times. This year El Bulli showcased the amazing molecular creations of Spanish genius Ferran Adrià and the painstaking seafood creations in Jiro Dreams of Sushi are still on select screens here in Wellington. Films like those honour the creativity, training, hard work and experience of some remarkable people. Meanwhile, Daniel Cohen's The Chef takes a different path and mercilessly — and humourlessly — satirises their pretensions.
The great Jean Reno (The Big Blue, The Professional) is Alexandre Lagarde, still head chef and creative force behind the Paris restaurant that bears his name but long since sold out to corporate interests that pimp him out for tv cooking shows and frozen supermarket ready-meals. Jacky Bonnot (Michaël Youn) is Lagarde's biggest fan — a talented young chef whose talents are unrecognised by the bistros and roadside cafés that regularly fire him.
When Lagarde's philistine masters find a clause in his contract allowing them to remove him if he loses one of his three Michelin stars, they see an opportunity to replace him with a fashionable young gastronomic hotshot. Lagarde and Bonnot discover each other and an odd-couple kitchen relationship begins that may just allow the old man to keep his reputation — and give the younger one a kitchen of his own.
Reno has never been unwatchable in his life, and he's fine enough here even though his character — like the rest of them — seems undeveloped. The plot is predictable and the dramatic tension is as difficult to locate as the comedy. The French have a word for this — soufflé. Actually, they also have another — fromage.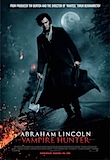 Abraham Lincoln: Vampire Hunter is a one joke idea with no actual jokes. Rushed into production to cash in on the success of Seth Grahame-Smith's bestselling novel, the film is tonally inconsistent as if it isn't quite sure what it wants to be. When young Abe Lincoln's beloved mother is murdered by a vampire as punishment for the family's unpaid debt, he resolves to not rest until he has his revenge. A mysterious stranger (Dominic Cooper) teaches the young man the ways of the undead, schools him in silver-tipped axe-craft and sends him into the world to defend it against the bloodsucking menace.
The vampire population is — for the most part — confined to the south, feeding on slaves and occasionally leeching into the northern states. When idealistic Lincoln (Benjamin Walker) decides to free the slaves, he provokes a mighty civil war as the vampires see their opportunity to rule over the entire country.
Director Timur Bekmambetov made Wanted in 2008, about a team of mysterious weaver/assassins receiving instructions from a magic loom, so his stupid idea filter is obviously non-functional. Visually, he and cinematographer Caleb Deschanel have bravely chosen a hyper-saturated look with each scene dominated by a single colour and — while I respect the experimentation — it is extremely un-beautiful.
Populated by relatively cheap British actors — or relatively unknown US ones — it's nice to see Toi Whakaari and Shortland Street graduate Marton Csokas chewing big screen scenery again. When he meets his demise, all local interest in this film ceases.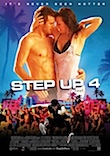 The first Step Up film in 2006 launched beefcake Channing Tatum on an unsuspecting world. Step Up 4: Miami Heat (also known as Step Up Revolution) looks to have no such impact as the returns have now dimished beyond normal measurement. A bunch of "talented" kids — I'd credit them except you'll never hear from them again — have formed a flash-mob crew to go for a prestigious and lucrative YouTube prize. They turn up unannounced at events, dance their little asses off and then pimp their videos to try and be the first channel to 10 million hits.
When a local developer (Peter Gallagher, still best known in this house for Sex, Lies, and Videotape) announces that a new hotel is going to destroy the wrong side of the tracks where the kids live and work, they decide to use their internet fame to stick it to "the man". Like Abraham Lincoln: Vampire Killer, this is also in 3D and it's also butt-ugly although it seems more accidental than deliberate in this case. The DoP goes by the name of "Crash" but perhaps that should be "Train Crash" because there's nothing about the look of this film that works.
These dance movies still make pots of money in New Zealand but I'll be following the box office performance closely, hoping that audiences have finally exercised some discretion about a film so cynical it even ends with a Coldplay ballad.
Printed in Wellington's Capital Times on Wednesday 8 August, 2012.