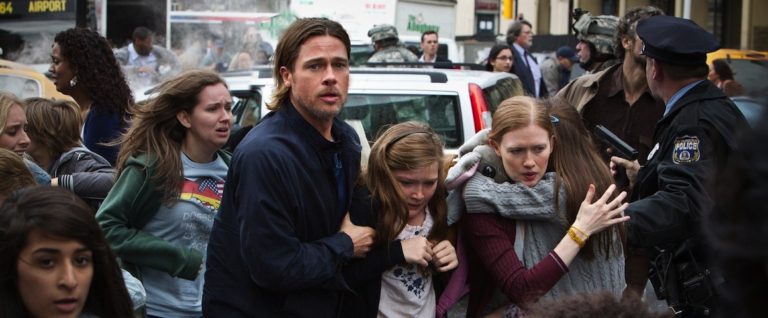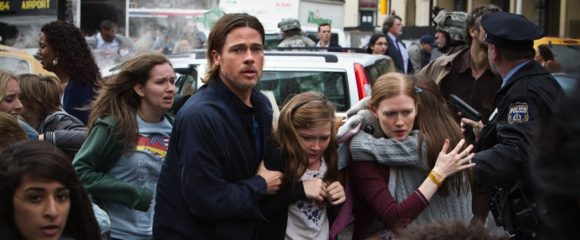 Bloodless zom­bies would appear to be that latest trend if April's Warm Bodies and this week's World War Z are any­thing to go by. No blood means stu­di­os get a lower cen­sor­ship clas­si­fic­a­tion and – hope­fully – a big­ger audi­ence. But the absence of vis­cera also appears to bring with it a loss of meta­phor­ic power. These zom­bies don't mean any­thing very much; they cer­tainly don't have any­thing to say about the world we inhab­it, or the fears we share. They are vehicles for jumps, scares and gotcha moments (or in the case of Warm Bodies, not even that).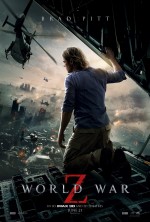 In World War Z, co-producer Brad Pitt plays Gerry Lane, not a Beatles song but a dis­il­lu­sioned former UN troubleshoot­er try­ing to start a quiet life with his young fam­ily in Philadelphia. A rap­idly spread­ing out­break of a mys­tery rabies-like dis­ease turns his – and every­one else's – life on its head. In a mat­ter of seconds the bite vic­tims become almost unstop­pable pred­at­ors, hunt­ing the healthy in grow­ing packs.
[pullquote]
The Hunt
felt like a beat-up in more ways than one[/pullquote] Lane and his fam­ily are evac­u­ated to an air­craft car­ri­er where the last remain­ing evid­ence of author­ity attempts to restore order. There he unwill­ingly sub­mits to his old boss (Fana Mokoena) and agrees to help trace the source of the dis­ease and maybe find a cure. With the help of a hand­ful of Navy SEALS and a bright young endo­crino­lo­gist (Elyes Gabel) he travels to South Korea where the first reports of the out­break only to find on his travels that things are far worse than any­one can imagine.
I haven't read the suc­cess­ful book that World War Z was – appar­ently very loosely – based on and I'm not much inter­ested in the evid­ently troubled pro­duc­tion his­tory that required much reshoot­ing. What I can report is that the set-pieces are impress­ive in scale and the vis­ion of civilisation's rap­id ruin­a­tion is more effect­ive than almost every oth­er CGI-disaster movie of recent times.
Pitt, him­self, is a sol­id lead, com­ing in to his own in the final act – a sur­pris­ingly low-key and per­son­al battle to save the plan­et from a bunch of very British-looking zom­bie sci­ent­ists: white coats, crooked teeth, pal­lid skin; you have to look pretty close to con­firm that they do, actu­ally, want to eat you and are not just on their way out the back for a smoke.
But Paramount Pictures spent upwards of $200 mil­lion on WWZ and to what end? It's effect­ive enough but entirely lack­ing in sub­text. I can't ima­gine I'll be remem­ber­ing it for long and I'm not in any hurry to watch it again.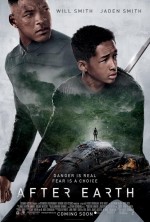 The same is true for M. Night Shyamalan's After Earth, a sci­ence fic­tion vehicle for the bud­ding career of Will Smith's son Jaden (The Karate Kid). I can't ima­gine ever watch­ing it again, found most of it laugh­able while I was watch­ing it, can't really recom­mend it as enter­tain­ment, but – you know – it did try and be about some­thing, even if that some­thing is read­ily decoded as an advert for the val­ues of Scientology.
I tried to put that know­ledge out of my mind while watch­ing the tale of young Jaden learn­ing to bond with his wounded fath­er (Will Smith) and over­come his fear as he loc­ates the spe­cial inter­stel­lar beacon (shaped like a pizza cut­ter) that will bring a res­cue party and save them both from an ali­en creature genet­ic­ally engin­eered to smell fear – although not engin­eered to have par­tic­u­larly impress­ive eyesight.
Taken at face value, After Earth is a flawed attempt at a teen-centred adven­ture, fea­tur­ing fam­ily val­ues and derring-do. The prob­lem, though, is that you can't really take it at face value, once you know what's being propagandised.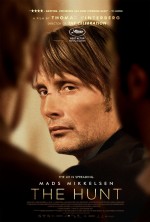 In The Hunt, the great Danish act­or Mads Mikkelsen plays a small town kinder­garten teach­er. This, in itself, takes some get­ting used to, as he is bet­ter known for por­tray­ing the tor­men­ted or the demen­ted in films such as Pusher and Casino Royale. His char­ac­ter, Lucas, is a gentle man, the kind that should be teach­ing our lit­tlies. He's divorced, a little lonely, but quiet and decent. The kids adore him.
His life unravels, though, the moment one of the chil­dren – daugh­ter of his best friend and hunt­ing buddy Tio (Thomas Bo Larsen) – unwit­tingly accuses him of mis­be­ha­viour and the lead­ing ques­tions from an inex­per­i­enced prin­cip­al dig Lucas a hole that his hon­esty and good heart can't get him out of.
The com­munity turns on him and he loses his friends, his job and – nearly – his son. Beaten up and ostra­cised, there would seem to be no way out for Lucas, whose life has been ruined by a narrow-minded witch hunt pro­pelled by gos­sip, fear and ignorance.
Except, all of this might eas­ily have been solved in reel one had any­one – even Lucas him­self – used basic com­mon sense and exer­cised some self-protection. There's no sign of law­yers, invest­ig­at­ing author­it­ies or social work­ers and the film makes it seem as if the vil­lage eld­ers are the only law.
This might have worked bet­ter if the film was set in more inno­cent or naïve times – like the early 1990s of the Peter Ellis case in Christchurch – but it seems unfathom­able to me that a male kinder­garten teach­er in this day and age wouldn't know how to pro­tect him­self from this kind of accusation.
The Hunt is a power­ful story, and dir­ect­or Thomas Vinterberg col­lab­or­ates with Mikkelsen to deliv­er some elec­tric scenes, but it felt like a beat-up in more ways than one.
[Portions of this review first appeared in Wellington's
FishHead magazine
.]