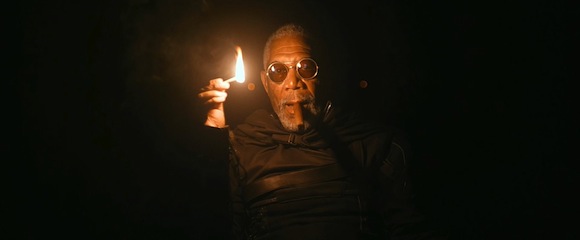 Last time we saw Tom Cruise he was known as Jack Reacher. Now, in Oblivion, his name is Jack Harper. What range! What diversity! You'd hardly recog­nise him. Harper is a main­ten­ance guy, repair­ing the drones that pro­tect giant machines that suck Earth's oceans up to an enorm­ous space sta­tion orbit­ing above us, a space sta­tion that is going to take the few remain­ing sur­viv­ors of our pyrrhic vic­tory over invad­ing ali­ens on a final jour­ney away from a dev­ast­ated plan­et to a new life on Titan.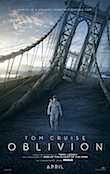 Assisting Mr. Cruise with his mech­an­ic­al defence duties is Victoria (Andrea Riseborough), life and work part­ner, keep­ing him in con­tact with the super­visors float­ing above them and keep­ing an eye on the strag­gling rem­nants of the ali­ens who tried to con­quer us. Traditional gender roles are very much still intact in the future – even though the Moon isn't – and Ms. Riseborough's char­ac­ter seems con­tent to nev­er leave the spot­less mod­ern kit­chen while Cruise gets his hands dirty on the sur­face. Neither of them seem too bothered by the fact that they had their memor­ies wiped six years pre­vi­ously, although he has been hav­ing some strange dreams recently.
Oblivion has sev­er­al strengths, not­ably Joseph (Tron) Kosinski's exe­cu­tion of the post-apocalyptic look of the thing – try as I might I nev­er got the sense that all of this was being per­formed in front of giant green screens. Morgan Freeman is always good value – though you can almost see him count­ing his pay pack­et behind his mir­ror shades – and Riseborough is a prop­er act­or as we know from little British films like Brighton Rock and Shadow Dancer.
For film­go­ers of a cer­tain age, though, the main weak­nesses of Oblivion are that we have seen it all before. Imagine if you took some blank index cards, wrote a mem­or­able sci-fi ele­ment on each one – "open the pod bay door HAL"; ruined NYC land­marks bur­ied in sand; lone main­ten­ance guy col­lect­ing mem­or­ab­il­ia of a past epoch; big black ali­en creatures with what look like dread­locks; canyon dog­fights – and threw them all in the air, the ones that land face up might make you a cool film. When they all land face up, you get Oblivion.
But, as I've said before in a dif­fer­ent con­text, every gen­er­a­tion needs its own Jane Eyre. You can't make the kids watch clas­sic old movies but you can tempt them to a glossy rehash like this. It's the eco­nomy, stu­pid. It's just not very interesting.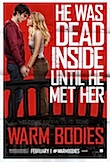 Big les­son from this weekend's movie-going is that FM-friendly 70s rock vinyl will make a big comeback after the apo­ca­lypse. Cruise's col­lec­tion fea­tures A Whiter Shade of Pale (1967) and teen­age zom­bie "R" (Nicholas Hoult) in Warm Bodies grooves to scav­enged Dylan and Springsteen LPs. If Mr. Bieber and Ms. Perry really want some longev­ity in their careers, vinyl would appear to be the way to go.
I'm quite a fan of the ori­gin­al nov­el that Warm Bodies is based on and can report that the film main­tains the off­beat voice of the nar­rat­or. Also, thank­fully, it returns the zom­bie movie to the world of allegory and meta­phor and the anti­cip­ated viol­ence and gore is toned down so far it might as well be switched off entirely. Hoult's long dead "R" dis­cov­ers some flick­er­ings of a heart­beat when he meets – and then res­cues – pretty Julie (Teresa Palmer) but not before he devours her boy­friend. Is it pos­sible that a hint of romance might get his curse reversed? It's a sat­is­fy­ing film that shows writer/director Jonathan Levine (The Wackness, 50/50) to be a name worth look­ing out for.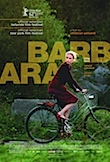 Christian Petzold's Barbara is oft-compared with anoth­er great film about life in East Germany, The Lives of Others, but deserves to stand on its own two feet. Nina Hoss plays the title char­ac­ter, a doc­tor sent to the provinces as pun­ish­ment for mix­ing with the wrong crowd. Wary of inform­ers every­where, she keeps her­self to her­self but can't help being drawn in to the human dra­mas around her – risk­ing her own free­dom and the res­ist­ance she sup­ports. As a show­case for the bril­liant Hoss, it can't be faulted.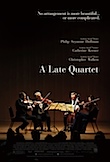 Several years ago I went to a string quar­tet con­cert fea­tur­ing the legendary Pinchas Zukerman. A‑maz-ing. New favour­ite thing. After I raved for a bit, the pub­li­cist said to me, "it's not all as good as that, you know." And I haven't been back. Performance (aka A Late Quartet) reminded me of that gig – the strange­ness and form­al­ity of the envir­on­ment, the con­cen­tra­tion, the detail.
In Yaron Zilberman's film, novices like myself can get a sense of the focus and ded­ic­a­tion required to main­tain a clas­sic­al music career at the highest level as the fic­tion­al Fugue Quartet deals with the impend­ing retire­ment of cel­list Christopher Walken and the rela­tion­ship dif­fi­culties of the 2nd viol­in­ist and cel­list – played by Philip Seymour Hoffman and Catherine Keener respectively.
This is a film about how dif­fi­cult it is to remain in har­mony, even when har­mony is your pro­fes­sion. The strands of love that bind us togeth­er – par­ents and chil­dren, hus­bands and wives, teach­ers and stu­dents – are con­tinu­ally knot­ting and unrav­el­ling, trip­ping us up. It's also nice to be reminded how beau­ti­ful a man Walken is when he's not play­ing kooks and weirdos.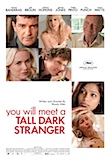 You Will Meet a Tall Dark Stranger isn't so much a ser­i­ous Woody Allen film as a funny one without any jokes. An ensemble of fine act­ors (includ­ing Anthony Hopkins, Naomi Watts and Antonio Banderas) stumble through a series of scenes with only a tenu­ous con­nec­tion to each oth­er. The greatest achieve­ment from all of this amaz­ing tal­ent is that – for the most part – they remem­ber all the words. Better that we nev­er talk of it again, pre­tend you don't see it when you're brows­ing IMDb.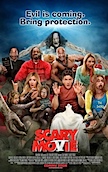 I've almost imme­di­ately erased Scary Movie 5 from my own memory so those scars should heal reas­on­ably well, but when the worst movie fran­chise in the world is par­od­ied by the second worst, where can I hide? Desperately unfunny from begin­ning to end – and chooses oddly antique films to par­ody like Inception and Black Swan – SM5 made me nos­tal­gic for Identity Thief. That bad.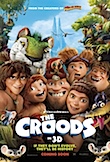 It looks like The Croods will have the school hol­i­day anim­ated fam­ily movie slot to itself and should do good busi­ness. It's from the Kung Fu Panda/Madagascar stable rather than Pixar but none the worse for that. Nicolas Cage is a neander­th­al fath­er try­ing to pro­tect his brood from the dangers of a stone age world. Daughter Emma Stone wants inde­pend­ence and finds it when she meets Ryan Reynolds' Guy on an unli­censed exped­i­tion out of the cave. In evol­u­tion­ary terms he's the next big thing and he intro­duces the whole fam­ily to the dangers and excite­ment of "out­side".
I've chosen to men­tion the cast by act­or rather than char­ac­ter name as their work through­out is exem­plary. The Croods deliv­ers fun to all audi­ence seg­ments and kept the mob I was with enter­tained through­out – no mat­ter what age they star­ted out as.