As they say in the movies, "It's quiet… too quiet." Yeah, sorry about that but I've had a lot on recently.
Here's the deal. In October last year (2013 if you are vis­it­ing here via Google and the date is not oth­er­wise obvi­ous) I had to stop edit­ing ONFILM magazine due to the incon­veni­ence of not being paid and had to find anoth­er gig. Cinematica was tak­ing up a lot of also-not-being-paid time and, even though it was an enorm­ous amount of fun and enjoyed by many people, it was impossible to jus­ti­fy fin­an­cially the amount of time it took every week. Kailey leav­ing was prob­ably the final straw.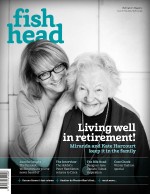 Since Christmas I have been work­ing as edit­or of FishHead magazine in Wellington, firstly as inter­im, then as former, and finally appoin­ted to the per­man­ent pos­i­tion in March. Learning a new magazine and a new mar­ket as well as get­ting a handle on the busi­ness side of things has meant that I haven't had any time to keep these pages up. This may shock you but I haven't even been able to watch as many films as I used to.
Anyway, FishHead is almost under con­trol, Nine to Noon is chug­ging along and the private life is in the best shape ever, so it's time to rein­vig­or­ate my per­son­al expres­sion engine — Funerals & Snakes. In June you will see a new look here and a return to reg­u­lar review­ing. Subscribers to the email news­let­ters will also get their weekly updates once again.
Most import­antly I will be launch­ing a new weekly pod­cast to replace Cinematica. There were a few things I wanted to do in the pod­cast­ing space that I was­n't able to do with the old format and record­ing from home in the even­ings was only one of them. There's a new name, new format and new brand com­ing in June but some of the most pop­u­lar aspects of Cinematica will be stay­ing the same – not least Kailey Carruthers, news­girl and sidekick; my Ed McMahon if you like. She's con­trac­tu­ally restric­ted from review­ing any films for a bit but her pres­ence will be awe­some and fun as always.
In order to get this show on the road (lit­er­ally in some ways) I need to gen­er­ate some funds. We need gear (the Cinematica stu­dio kit belongs to Simon and the Light House) includ­ing a small mix­er that can accept a Skype feed, some micro­phones, head­phones, etc. We also need fund­ing to allow us to go to Auckland to inter­view fest­iv­al guests who won't be com­ing to Wellington and to gen­er­ate some brand­ing and design work. I want this to be a first class piece of work, some­thing that all involved can be proud of, and I want pro­fes­sion­al stand­ards to be main­tained throughout.
To this end I have cre­ated a PledgeMe cam­paign for a small por­tion of the star­tup fund­ing required. You can find it here: http://www.pledgeme.co.nz/projects/2118.
Under nor­mal cir­cum­stances I would­n't hes­it­ate to fund this myself but the $10,000 hit I took this year on the whole ONFILM adven­ture – in case you were won­der­ing pub­lish­er Mediaweb have gone into receiv­er­ship leav­ing a trail of debts across New Zealand – means I don't have the spare capa­city that I once had. Those of you who were sym­path­et­ic to my plight earli­er this year might con­sider a dona­tion to "New Movie Podcast" to be a way to help me out of that jam as well as ensure that I can con­tin­ue to express my per­spic­a­cious­ness to a world wait­ing with breath baited.
Regular listen­ers, read­ers and exper­i­en­cers of my work might also con­sider a small dona­tion as a kind of 'pay it back­wards' ges­ture of thanks for the sev­en years of free movie reviews that I have birthed here. You might think that, I could­n't pos­sibly comment.
I'd love to keep pro­du­cing words about film for people who appre­ci­ate them. I've loved doing it all this time and want to keep on doing it for as long as I can sus­tain it. Thanks in advance for your help.