I don't have much room this week and I want to spend most of it gushing over Slumdog Millionaire so let's get started.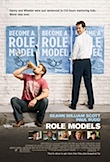 Back in 2003, when the Incredibly Strange Film Festival was still its own bumptious stand-alone anarchic self, we opened the Festival with the summer camp spoof Wet Hot American Summer and goodness me, wasn't that a time? Written and directed by David Wain, WHAS was a pitch-perfect tribute to teen comedies of the 80s and his new film Role Models attempts to ride the current wave of sexually frank grown-up comedies but he doesn't seem to really have the heart for it. The gross-out bits are uncomfortably gross, the boobies seem like afterthoughts and the film really doesn't hit its straps until it starts cheering for the underdog late in the day.
Paul Rudd and Seann William Scott play salesman peddling energy drink to high school kids. After an unfortunate (stationary) road rage incident their jail time is converted to community service at Sturdy Wings — a 'big brother' outfit matching misfit kids up with responsible male adults. This kind of material has proved outstandingly popular recently when produced by Judd Apatow (Knocked Up, Superbad, Forgetting Sarah Marshall) and I can't help thinking that if he had gotten his hands on Role Models it would have about 20% more jokes in 16% shorter running time — he really is that much of a machine.