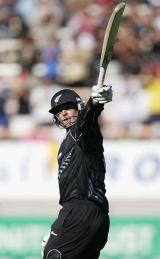 Nathan Astle called a 9am press conference this morning (West Australia time) to announce his retirement from international cricket.
While many words are going to be written about Astle's personal achievements I want to think about the intangibles he brings to the Black Cap side; factors that are going to be sorely missed in a couple of months when this team tries to win the World Cup in the West Indies.
Astle made his ODI debut in 1995, one year after his flatmate Stephen Fleming. When Fleming was elevated to the captaincy in the 96/97 season it was Astle who became his go-to guy. Whenever New Zealand struggled in the field Fleming would turn to Astle to bring some dignity and accuracy back in to the proceedings, often at the expense of bowlers who Fleming didn't trust like Paul Wiseman.
I'd like to tell you how many times they opened the batting together for New Zealand in ODI's but that data seems to be buried pretty deep inside Cricinfo — suffice to say that it is "a lot" (even more if you add the number of times Astle's other opening partners were out cheaply bringing Fleming to the wicket early).
So, my immediate concern now is for Fleming. If, and most likely "when", our bowling falls apart or we need to doggedly defend in the middle overs who will Fleming turn to? Of that perennial domestic trophy winning Canterbury side of the 90's that formed the Black Cap backbone for so long Cairns and Harris are gone and McMillan is hanging on by the skin of his teeth.
It was always likely that this World Cup was going to be a year or two too far for many of the Black Caps and so it has proved for Astle.