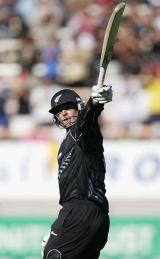 Nathan Astle called a 9am press con­fer­ence this morn­ing (West Australia time) to announce his retire­ment from inter­na­tion­al cricket.
While many words are going to be writ­ten about Astle's per­son­al achieve­ments I want to think about the intan­gibles he brings to the Black Cap side; factors that are going to be sorely missed in a couple of months when this team tries to win the World Cup in the West Indies.
Astle made his ODI debut in 1995, one year after his flat­mate Stephen Fleming. When Fleming was elev­ated to the cap­taincy in the 96/97 sea­son it was Astle who became his go-to guy. Whenever New Zealand struggled in the field Fleming would turn to Astle to bring some dig­nity and accur­acy back in to the pro­ceed­ings, often at the expense of bowl­ers who Fleming didn't trust like Paul Wiseman.
I'd like to tell you how many times they opened the bat­ting togeth­er for New Zealand in ODI's but that data seems to be bur­ied pretty deep inside Cricinfo – suf­fice to say that it is "a lot" (even more if you add the num­ber of times Astle's oth­er open­ing part­ners were out cheaply bring­ing Fleming to the wick­et early).
So, my imme­di­ate con­cern now is for Fleming. If, and most likely "when", our bowl­ing falls apart or we need to dog­gedly defend in the middle overs who will Fleming turn to? Of that per­en­ni­al domest­ic trophy win­ning Canterbury side of the 90's that formed the Black Cap back­bone for so long Cairns and Harris are gone and McMillan is hanging on by the skin of his teeth.
It was always likely that this World Cup was going to be a year or two too far for many of the Black Caps and so it has proved for Astle.