After nearly three and a half years of producing this cinemagoers' consumer guide, perhaps its time for a statement of intent. A manifesto, if you will. Something to place these musings in perspective as you skim through them over Morning Tea.
I try and find something good and interesting in everything I see, and I see pretty much everything. Most films have an audience of some description waiting for them somewhere, and that audience may be you, so I try and outline what might appeal (along with what might not) so that you can make an informed choice.
Plus, I have some sympathy for the little battler and will often try and draw your attention in that direction (Don't forget Two Lovers, folks) and I try and watch films not meant for me (kids flicks, etc) with half an eye on how the rest of the audience is reacting.
It is extremely rare, as regular readers will know, for me to warn you off a film entirely, or indeed (in the case of our first film this week) suggest that its creators should be harshly punished for its perpetration. The films that are really sand under my foreskin are those that only exist to pad a resumé and a bank balance, cynical attempts to separate us from our money, marketing campaigns crudely disguised as art.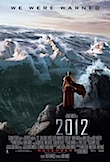 Exhibit A is Roland Emmerich's new CGI-disaster-porn epic 2012. Now, Herr Emmerich has previous in this department (I described 10,000BC as "ethnologically offensive twaddle" in this space 18 months ago) and in future his talents should be put to far better use designing theme park rides or video games as his grasp of character, narrative or drama never even reaches the level of tenuous.
White House Chief Geologist Chiwetel Ejiofor discovers that, due to a stunningly unlikely combination of huge sunspots and the alignment of the planets, the Earth's core is boiling rapidly (and the crust slipping drastically) which will cause unspeakable earthquakes, tsunamis, redistribution of the poles and the end of life as we know it. Thus commences a top secret project to save the richest and the brightest from the impending apocalypse before it's too late. Meanwhile, failed novelist and chauffeur John Cusack is taking his kids camping to Yellowstone where he stumbles on the plot at just about the right time to try and rescue his family.
Apart from the sickeningly expensive and, frankly unconvincing, special effects the only possible justification for the existence of 2012 is the presence of Tom McCarthy in a supporting role — hopefully the payday from this will allow him to make another beautiful and thoughtful film like The Visitor or The Station Agent.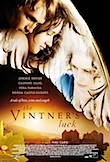 The shortcomings of The Vintner's Luck, the NZ Film Commission funded adaptation of Elizabeth Knox's magical-realist novel, have been delineated in painful detail by the world's reviewers but I'd like to take this opportunity to point out a few positives for a film that does not deserve all the infamy it has been getting. In rural France in the early part of the 19th century a peasant grape grower (Jérémie Renier) has ambitions to make his own wine, and with the help of a mysterious and soulful angel (Gaspard Ulliel) he does so. The positives here are the performance of the great Vera Farmiga as the local landowner who forms a successful partnership with Renier, director Niki Caro's arresting imagery (some of the close-ups of nature at work are startling and the landscape is photographed superbly by Dennis Lenoir. It seems a shame that the knocking will mean that The Vintner's Luck will probably not get much of an audience when I'm sure there are some who would appreciate it. I'd take its failed ambition over the ugly cynicism of 2012 any day of the week.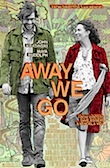 Heroes are in short supply in this day and age but Dave Eggers is one of mine. If he'd only written A Heartbreaking Work of Staggering Genius I would be a fan, but his work since then: establishing McSweeny's real world and Internet publishing; the 826 Valencia non-profit child literacy project and writing What is the What? (about the Lost Children of Sudan) and the latest, Zeitoun, about the effect of Hurricane Katrina on a Muslim contractor in New Orleans – well, he's a hero of mine.
And, with his wife Vendela Vida, he's written the successful screenplay for Away We Go, a road movie about an expecting couple in their mid-thirties who are searching for a place to be. It's mostly charming and heartfelt and is at its best when not trying too hard to be funny. Look out for a lovely performance from Melanie Lynskey – the pivot at the point the film changes tone.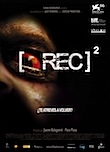 Finally, I may have given the impression that I am not a fan of genre pictures in the above rant about 2012 but nothing could be further from the truth. This evidenced by my enthusiastic response to the horror sequel [REC]2 which very cleverly picks up from where the original left-off, dropping you back in that fateful Barcelona apartment block on that exceedingly fateful night. The sequel is not as structurally perfect as the original, requiring more talky exposition, and the whiny teenagers who pick up the camera about half way through couldn't be offed fast enough for me, but the rest of it does the job of scaring the pants off you to good effect. And at under 50% of the bloated length of 2012 it is, in fact, more than twice the film.
Printed in Wellington's Capital Times on Wednesday 18 November, 2009.