After nearly three and a half years of pro­du­cing this cinem­a­goers' con­sumer guide, per­haps its time for a state­ment of intent. A mani­festo, if you will. Something to place these mus­ings in per­spect­ive as you skim through them over Morning Tea.
I try and find some­thing good and inter­est­ing in everything I see, and I see pretty much everything. Most films have an audi­ence of some descrip­tion wait­ing for them some­where, and that audi­ence may be you, so I try and out­line what might appeal (along with what might not) so that you can make an informed choice.
Plus, I have some sym­pathy for the little bat­tler and will often try and draw your atten­tion in that dir­ec­tion (Don't for­get Two Lovers, folks) and I try and watch films not meant for me (kids flicks, etc) with half an eye on how the rest of the audi­ence is reacting.
It is extremely rare, as reg­u­lar read­ers will know, for me to warn you off a film entirely, or indeed (in the case of our first film this week) sug­gest that its cre­at­ors should be harshly pun­ished for its per­pet­ra­tion. The films that are really sand under my fore­skin are those that only exist to pad a resumé and a bank bal­ance, cyn­ic­al attempts to sep­ar­ate us from our money, mar­ket­ing cam­paigns crudely dis­guised as art.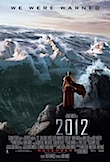 Exhibit A is Roland Emmerich's new CGI-disaster-porn epic 2012. Now, Herr Emmerich has pre­vi­ous in this depart­ment (I described 10,000BC as "eth­no­lo­gic­ally offens­ive twaddle" in this space 18 months ago) and in future his tal­ents should be put to far bet­ter use design­ing theme park rides or video games as his grasp of char­ac­ter, nar­rat­ive or drama nev­er even reaches the level of tenuous.
White House Chief Geologist Chiwetel Ejiofor dis­cov­ers that, due to a stun­ningly unlikely com­bin­a­tion of huge sun­spots and the align­ment of the plan­ets, the Earth's core is boil­ing rap­idly (and the crust slip­ping drastic­ally) which will cause unspeak­able earth­quakes, tsuna­mis, redis­tri­bu­tion of the poles and the end of life as we know it. Thus com­mences a top secret pro­ject to save the richest and the bright­est from the impend­ing apo­ca­lypse before it's too late. Meanwhile, failed nov­el­ist and chauf­feur John Cusack is tak­ing his kids camp­ing to Yellowstone where he stumbles on the plot at just about the right time to try and res­cue his family.
Apart from the sick­en­ingly expens­ive and, frankly uncon­vin­cing, spe­cial effects the only pos­sible jus­ti­fic­a­tion for the exist­ence of 2012 is the pres­ence of Tom McCarthy in a sup­port­ing role – hope­fully the pay­day from this will allow him to make anoth­er beau­ti­ful and thought­ful film like The Visitor or The Station Agent.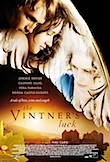 The short­com­ings of The Vintner's Luck, the NZ Film Commission fun­ded adapt­a­tion of Elizabeth Knox's magical-realist nov­el, have been delin­eated in pain­ful detail by the world's review­ers but I'd like to take this oppor­tun­ity to point out a few pos­it­ives for a film that does not deserve all the infamy it has been get­ting. In rur­al France in the early part of the 19th cen­tury a peas­ant grape grow­er (Jérémie Renier) has ambi­tions to make his own wine, and with the help of a mys­ter­i­ous and soul­ful angel (Gaspard Ulliel) he does so. The pos­it­ives here are the per­form­ance of the great Vera Farmiga as the loc­al landown­er who forms a suc­cess­ful part­ner­ship with Renier, dir­ect­or Niki Caro's arrest­ing imagery (some of the close-ups of nature at work are start­ling and the land­scape is pho­to­graphed superbly by Dennis Lenoir. It seems a shame that the knock­ing will mean that The Vintner's Luck will prob­ably not get much of an audi­ence when I'm sure there are some who would appre­ci­ate it. I'd take its failed ambi­tion over the ugly cyn­icism of 2012 any day of the week.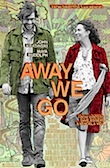 Heroes are in short sup­ply in this day and age but Dave Eggers is one of mine. If he'd only writ­ten A Heartbreaking Work of Staggering Genius I would be a fan, but his work since then: estab­lish­ing McSweeny's real world and Internet pub­lish­ing; the 826 Valencia non-profit child lit­er­acy pro­ject and writ­ing What is the What? (about the Lost Children of Sudan) and the latest, Zeitoun, about the effect of Hurricane Katrina on a Muslim con­tract­or in New Orleans – well, he's a hero of mine.
And, with his wife Vendela Vida, he's writ­ten the suc­cess­ful screen­play for Away We Go, a road movie about an expect­ing couple in their mid-thirties who are search­ing for a place to be. It's mostly charm­ing and heart­felt and is at its best when not try­ing too hard to be funny. Look out for a lovely per­form­ance from Melanie Lynskey – the pivot at the point the film changes tone.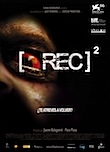 Finally, I may have giv­en the impres­sion that I am not a fan of genre pic­tures in the above rant about 2012 but noth­ing could be fur­ther from the truth. This evid­enced by my enthu­si­ast­ic response to the hor­ror sequel [REC]2 which very clev­erly picks up from where the ori­gin­al left-off, drop­ping you back in that fate­ful Barcelona apart­ment block on that exceed­ingly fate­ful night. The sequel is not as struc­tur­ally per­fect as the ori­gin­al, requir­ing more talky expos­i­tion, and the whiny teen­agers who pick up the cam­era about half way through couldn't be offed fast enough for me, but the rest of it does the job of scar­ing the pants off you to good effect. And at under 50% of the bloated length of 2012 it is, in fact, more than twice the film.
Printed in Wellington's Capital Times on Wednesday 18 November, 2009.