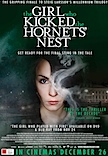 The irony of watching a film in which shadowy figures from the Swedish government lie, steal and murder in order to discredit a journalist trying to reveal embarrassing secrets, in the same week that Wikileaks founder Julian Assange was accused of rape by a Swedish prosecutor wasn't lost on this reviewer. Sadly, that was the only pleasure to be found watching The Girl Who Kicked the Hornets' Nest, number three in the Millenium trilogy that started in 2009 with The Girl With the Dragon Tattoo.
This film picks up almost immediately after the previous episode finished and you may be surprised to discover that pretty much everyone you thought was dead turns out to be still alive and making mischief. Feisty Lisbeth Salander (Noomi Rapace) is stuck in hospital recovering from her injuries while dour journalist Blomkvist (Michael Nyqvist) and his mates do their investigatin'.
And there's your first problem, right there. The most interesting character doesn't do anything in this film and is barely an agent in her own redemption — unsatisfying storytelling plus mechanical plot resolutions and altogether too much talking make Hornets' Nest a big disappointment.
The opening night film of the recent Italian Film Festival, Many Kisses Later by Fausto Brizzi, has returned for a limited release and big sooks could do a lot worse than shed a soppy tear at this portmanteau of various inter-connected romances — it's manipulative but effective if you're in the right mood. There were a few cheers at the Festival screening when a central character moved to Wellington ("Middle Earth!") only for cheers to be replaced by stunned silence when our fair city was portrayed in unlikely fashion by Cape Town. Bizarre.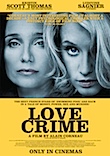 Kristin Scott Thomas refines her icy persona a little in the French thriller Love Crime, written and directed by Alain Corneau and completed just before his untimely death from lung cancer. Scott Thomas plays a top executive of a French subsidiary of an American multi-national. What they make or sell is not important though, because the boardroom setting is only there to provide the set-up for a murder mystery in which supposedly mousy 2IC Ludovine Sagnier (Swimming Pool) takes her revenge after years of humiliation.
Not a whodunnit then, more like a willshegetawaywithit. Preposterous plotting, poor work by Sagnier and understandably distracted direction from Corneau mar Love Crime. You can do better than this if you look hard enough.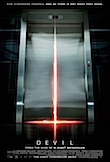 And if horror is your thing you can do a lot worse than Devil, the first of a new series springing "from the mind of M. Night Shyamalan". It's a pity that after recent fiascos like The Happening Shyamalan's personal brand is in such disarray because former fans of his will find a lot to enjoy here. Devil is very capably directed by John Erick Dowdle (who made the US remake of [REC] last year) and a simple idea is executed with welcome lack of pretension. Six strangers are trapped together in a broken elevator. One by one they each meet a grisly demise and the question is: why them?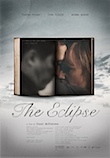 If you look hard enough you can find a supernatural story of a different kind at the Penthouse: Irish ghost story The Eclipse is set during a local literary festival. Widower Michael Farr (Ciarán Hinds) is a high school woodwork teacher, a volunteer at the Festival and may just be losing his mind. When he meets the author of a well-known ghost story (Iben Hjelle) a tentative romance begins but so does the weirdness. Good character work from Hinds, most often the second banana in films like There Will Be Blood, plus a concentration on character from writer-director Conor McPherson raise The Eclipse above the ordinary.
Incidentally, Conor McPherson made one of my favourite unsung films — The Actors (2003) which starred Michael Caine and Dylan Moran as hopeless Dublin thespians pretending to be organised criminals. Seek it out.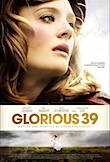 Stephen Poliakoff's Glorious 39 is also very hard to find. I tracked it down at the second attempt, screening in the Lighthouse's cute little ten seat theatre. If I was ever building a home cinema for myself it might look a lot like Lighthouse Cinema 5, but I digress. Glorious 39 takes a roundabout way of looking at the British ruling classes resistance to the idea of war with Hitler — either because they had lived through WWI and wanted no repeat of the horror, or for more sinister reasons.
Imagine if the Mitford sisters hadn't just been slightly delusional Nazi sympathisers but were as powerful as Bond villains and you get an idea about Poliakoff's conspiracy tale. For an interesting story, though, it just takes too long to get where it is going and the two hours running time felt an awful lot longer.

Leaving the best until last, I hope you are still reading: Frederick Wiseman is a legendary documentary maker who made his name back in 1967 with Titicut Follies, a lacerating exposure of conditions at the Massachusetts Institution for the Criminally Insane. His perceptive eye and understated editing are unmatched in modern documentary and he has now turned his attention to another kind of madness, the world of ballet.
La Danse is about a year in the life of the Paris Opera Ballet, reputed to be the finest in the world and I don't doubt it. Extended scenes of incredibly gifted people rehearsing and performing, intercut with vignettes of administration and company life, are often extraordinarily beautiful but at two and a half hours one or two of the sequences might have been saved for the DVD extras. While the primary subject is the creation of the art, Wiseman's undiminished social awareness allows him to quietly (and devastatingly) observe that the only non-white faces you see in the entire company are cleaning theatres, painting walls or serving food.
Printed in Wellington's Capital Times on Wednesday 15 December, 2010.