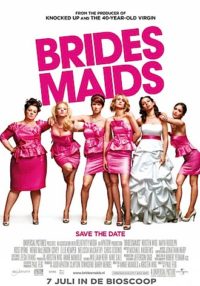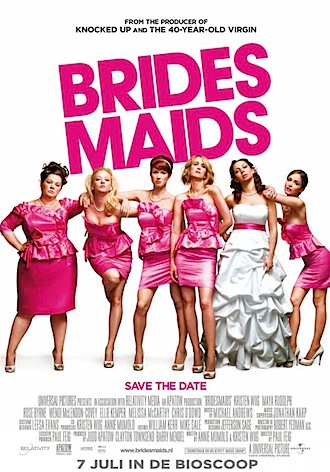 After years of auteur the­ory we have become con­di­tioned to describe films as products of their dir­ect­or and so in my first draft of this review I star­ted off talk­ing about Paul Feig's Bridesmaids. But it isn't really Paul Feig's Bridesmaids, it's Kristen Wiig's Bridesmaids. She co-wrote it (with Annie Mumolo), co-produced it and stars in it as Annie, a thirty-something single woman liv­ing in Milwaukee, hav­ing a hard time of things (but a com­edy hard time of things, this isn't Down to the Bone or some­thing from Romania).
Still, she's lost all her money in a failed bak­ing busi­ness (blamed on the eco­nomy not her mar­vel­lous cakes), she's flat­ting with two awful English sib­lings who have no idea of bound­ar­ies and her best friend (Maya Rudolph from Away We Go) is get­ting mar­ried while she is in an entirely unsat­is­fact­ory 'friends with bene­fits' arrange­ment with douche Jon Hamm.
This is all just set up though for a pre­dict­able but amus­ing romp through wed­ding pre­par­a­tions, bridal showers, bach­el­or­ette parties, etc along with the arrival of a laid back Irish traffic cop (Chris O'Dowd) who might have romantic poten­tial if only Annie could see past her own nose.
Wiig has always been an appeal­ing pres­ence in oth­er people's films (most recently Paul with Simon Pegg) and totally jus­ti­fies her top billing here, but the film as a whole could've done with some more ruth­less­ness at the edit­ing work­sta­tion and relies too much on low-brow bio­lo­gic­al humour for my del­ic­ate sensibilities.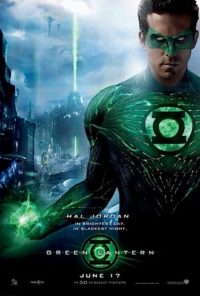 I was unaware of the Green Lantern com­ic book uni­verse before sit­ting down to enjoy the Martin Campbell's 3D ver­sion at the Embassy the oth­er night – and I did enjoy it. Test pilot Hal Jordan (Ryan Reynolds) is giv­en a glow­ing green ring by a dying purple ali­en (Tem Morrison) and told that he's now an inter­galactic peace­keep­er, part of an élite unit, best of the best, etc.
With the ring, and the green lan­tern that powers it, Jordan can man­u­fac­ture any­thing he ima­gines out of pure green energy giv­ing the digit­al anim­at­ors plenty of pos­sib­il­it­ies to work with dur­ing fight scenes. Whisked to the Lanterns' base plan­et of Oa for train­ing he pikes when he thinks he's not up to the job. Redemption comes when he is almost imme­di­ately asked to defend Earth from a plan­et sized smog mon­ster called Parallax.
Refreshingly unpre­ten­tious, Green Lantern also has a set of mod­estly decent val­ues to pro­mote: if I was about ten years old I'd think Green Lantern was pretty cool and want to see anoth­er one. Oh, what the heck! I'm not ten years old and I'd like to see anoth­er one.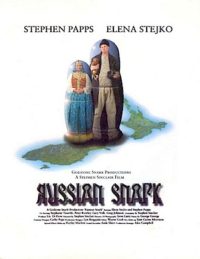 One of the occu­pa­tion­al haz­ards of this gig is review­ing films that have been made by mates and I think it's only fair that I own up to that here. I've known act­or Stephen Papps for some­thing like 20 years and I'm pleased to report that he has finally got a lead­ing role worthy of his tall, angu­lar and lugubri­ous talents.
In Stephen Sinclair's Russian Snark, Pappsy plays Misha, a naïve and single-minded Russian art­house film­maker who arrives in Auckland by boat to start a new life with part­ner and muse Nadia (Elena Stejko). As you might expect, New Zealand fund­ing bod­ies are not par­tic­u­larly recept­ive to his brand of cine­mat­ic mag­ni­lo­quence (although his 'nudes in land­scapes' style would surely have found an audi­ence some­where…) and Nadia is forced into some uncom­fort­able com­prom­ises to keep their heads above water.
Sinclair's script is at its most inter­est­ing dur­ing Papps' voi­ceover mus­ings on the nature of art, though less so in the day to day scenes. I wish Russian Snark had more of the cour­age of its con­vic­tions – the title itself is an unne­ces­sary and not par­tic­u­larly apt pun.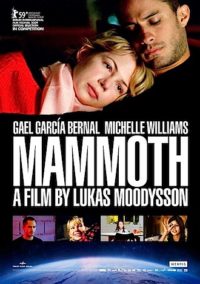 Lukas Moodysson's Mammoth is a beau­ti­ful and import­ant film and as it is only play­ing week­day ses­sions at the Roxy in Miramar it's almost impossible to actu­ally see. A wealthy video game design­er (Gael García Bernal) vis­its Thailand to sign an import­ant con­tract leav­ing his trauma sur­geon wife (Michelle Williams), their daugh­ter and her Filipino nanny (Marife Necesito) behind in their huge New York loft apartment.
While he is away all the char­ac­ters suf­fer some form of crisis, forced to con­front their priv­ileged (or oth­er­wise) lives and the unfore­seen con­sequences of the choices they have made. I'll take Moodysson's human­ist rage at the injustices borne by the chil­dren of the world over Iñárritu's over­bear­ing meta­phys­ics any day.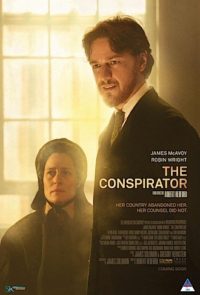 With The Conspirator, Robert Redford makes anoth­er attempt to weave mod­ern day allegory out of his­tory with mixed dra­mat­ic res­ults. Following President Lincoln's assas­sin­a­tion, the US Government tried all of the con­spir­at­ors in a mil­it­ary tribunal rather than a civil­ian court, includ­ing Mary Surratt (Robin Wright), the moth­er of one of the (I sup­pose) ter­ror­ists des­pite hav­ing no evid­ence against her.
Short of clad­ding all of the accused in orange jump-suits I'm not sure what else Mr Redford could have done to make his point – that sus­pend­ing nat­ur­al justice in favour of nation­al secur­ity is The American Way and always has been.
Printed in Wellington's Capital Times on Wednesday 24 June, 2011.