With The Devil's Rock, Wellingtonian Paul Campion has cre­ated an effect­ive slice of pulp cinema, per­fectly pitched to fly off video store shelves around the world. A fiendishly simple idea – Nazi Devil-worshippers – is executed with a pan­ache that belies the tiny (vir­tu­ally) self-funded shoot­ing budget. Despite being some dis­tance from everyone's cup of tea, The Devil's Rock knows its inten­ded audi­ence and shouldn't dis­ap­point them.
Just before D‑Day in 1944 a pair of NZ com­mandos (Craig Hall and Karlos Drinkwater) silently beach them­selves on a remote Channel Island. Their mis­sion is to dis­able the German guns, and fool the enemy into think­ing the Allied attack will be more than 150 km fur­ther west than the real plans to land at Normandy. As they make their way inside the spooky for­ti­fic­a­tions an unholy scream from the depths below raises the hair on the back of their necks and intro­duces them to a ter­ror more … ter­ri­fy­ing than any­thing in their ori­gin­al mission.
Inside the bunker, Drinkwater and Hall – still mourn­ing for his wife, lost in the Blitz – find strangely mutil­ated German corpses and, even­tu­ally, a single German officer (played by the always inter­est­ing Matthew Sunderland). With the help of a mys­ter­i­ous book of witch­craft, and on the orders of the Führer, he has summoned a demon to help them win the war – but things haven't gone accord­ing to plan and if the hungry fiend gets loose it will be more than the war that is lost.
Set in a suit­ably claus­tro­phobic two rooms beneath the gun emplace­ment, can the German and the Kiwis bury their dif­fer­ences and make the world safe for both sets of armies? That would be reveal­ing too much – suf­fice to say that the twists and turns won't sur­prise genre affi­cion­ados but are handled decently enough, at least until an end­ing that seems a bit rushed.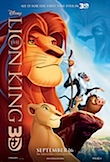 For a work of almost unsur­passed Hollywood crafts­man­ship, you should get your­self along to the re-release of The Lion King. Only 90 minutes long, the storytelling (cred­ited to 29 dif­fer­ent writers accord­ing to IMDb but really a product of the ruth­lessly effi­cient Disney machine) is impec­cable with every scene and every line con­trib­ut­ing to the grand themes while mak­ing excel­lent use of some archetyp­al story types. Tested and true, The Lion King con­tin­ues to deliv­er to all ages and belongs in every home.
Maybe not in 3D though – which is the only way you can see it on the big screen this time around. The old-fashioned hand-drawn anim­a­tion had a per­fectly accept­able 2D feel and, unlike mod­ern com­puter anim­a­tion, there are no tex­tures that 3D can bring to life. It looks like paint on can­vas and that's kind of the point. The Lion King doesn't lose any­thing with the addi­tion of 3D but it's pretty redund­ant all the same.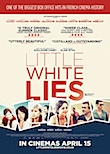 It's nice to be able to report on a recent com­mer­cial French movie that isn't destined for a US remake but only because the Hollywood ver­sion of Little White Lies already exists – it's called The Big Chill. A group of friends gath­er togeth­er in the coun­try to catch up and renew old rela­tion­ships but there's a cloud hov­er­ing over them all – an absence that none of them are able to confront.
Like The Big Chill, the strength of Little White Lies is in the char­ac­ters, dif­fer­ent enough that you can tell them apart but sim­il­ar enough that you can believe that they actu­ally would be old friends. And, like The Big Chill the soundtrack is full of audience-friendly FM hits. The ensemble – guided by writer-director Guillaume Canet – is ter­rif­ic but spe­cial men­tion must go to tough-on-the-outside but lonely-on-the-inside eth­no­graph­er Marion Cottillard (La Vie en Rose) and vul­ner­able hard-ass François Cluzet (from Canet's thrill­er Tell No One) who is very funny throughout.
This is still the same French film that they are always mak­ing, though, self-involved bour­geois city-dwellers get­ting les­son about liv­ing from a real down-to-earth hard-working coun­try per­son – the French even call it la France pro­fonde – but it's handled so well by the entire ensemble that it's really only a minor quibble. And it's not as if they're going to stop mak­ing them on my account. Word of warn­ing – don't arrive late. The begin­ning is cru­cial to an appre­ci­ation of the rest, more so than usual.
Printed in Wellington's Capital Times on Wednesday 31 September, 2011.