The Rugby World Cup was sup­posed to be a boon for the whole eco­nomy, the thou­sands of excited guests soak­ing up our food, wine, cul­ture and hos­pit­al­ity. Ask any cinema (or theatre) own­er what's really hap­pen­ing and you'll get the incon­veni­ent truth – the Rugby World Cup itself is soak­ing up all the atten­tion and most of the dol­lars. For at least one cinema own­er num­bers are down 30–40% on this time last year. This shouldn't be news – even in my day run­ning the Paramount we knew that a Saturday night All Black game meant it was hardly worth open­ing – a 7.30 kick-off killed your two best two sessions.
Night rugby has been a dis­aster for every­body except Sky TV and the bars that show it. At least in the days of after­noon games people could watch their team and go out for din­ner and a movie after­wards – the interests of whole fam­il­ies could be accom­mod­ated. Those days appear to be long gone.
This week we see that New Zealand's film dis­trib­ut­ors have thrown in the tow­el and dumped the year's worst product in a week no one was going to the pic­tures any­way. For my sins I sat (mostly) alone in pic­ture theatres all over the city to help you decide how best to (cine­mat­ic­ally) escape Dan Carter's groin.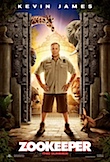 To be fair to Zookeeper, I was far from alone at the Saturday mat­inée screen­ing – it seems portly comedi­an Kevin James (Paul Blart: Mall Cop) is a pop­u­lar fig­ure here in New Zealand. In The Dilemma he showed that there's some nas­cent dra­mat­ic tal­ent lurk­ing beneath the lazy choices he's been mak­ing but there's no sign of it here. James plays a lonely but caring Boston zoo­keep­er who thinks that his smelly occu­pa­tion is hold­ing him back, romantically-speaking.
When he threatens to leave to pur­sue the girl of his dreams the zoo anim­als decide to start giv­ing him some advice – verbally. Hilarious hijinks ensue (NB "hijinks" may not actu­ally be "hil­ari­ous"). Despite James' name on the script and as a pro­du­cer, make no mis­take, Zookeeper is an Adam Sandler film. He voices one of the anim­als, his wife has a bit part and his com­pany, Happy Madison, is bank­ing the rewards.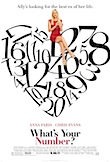 Lazy as it is, Zookeeper isn't as depress­ing as the Anna Faris vehicle What's Your Number? which is the ugli­est film I've seen all year. Faris mugs relent­lessly as Ally Darling, a Boston (again) 30-something single woman who makes the mis­take of believ­ing some­thing she reads in a woman's magazine. Evidently, women who have had more than 20 sexu­al part­ners before mar­riage don't get mar­ried – some­thing like that. She counts back, real­ises that she's on the verge of etern­al spin­ster­hood and begins a search for her pre­vi­ous encoun­ters in the vain hope that one of them will now prove mar­riage mater­i­al. Faris, like James, is an exec­ut­ive pro­du­cer of her own film and she's obvi­ously inor­din­ately proud of her ass because we get to see an awful lot of it.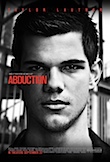 Imagine for a moment that you are the star of one one of the most suc­cess­ful movie fran­chises in his­tory, but when you signed on it was paid at mod­est Danish industry rates rather than the "never-work-again" money you prob­ably deserve. Well, if you are Michael Nyqvist from the The Girl With the Dragon Tattoo films, if you bide your time long enough you get to sleep­walk through the dumb and deriv­at­ive Abduction for real Hollywood wages.
Nyqvist, play­ing Russian vil­lain Koslow, isn't the only decent act­or slum­ming it for an easy pay cheque in a film that's sole pur­pose is to give the eye­brows of Taylor (Twilight) Lautner a film of their own and sep­ar­ate a few gull­ible teen­age girls from their pock­et money. Sigourney Weaver phones her per­form­ance in but at least Alfred Molina and Jason Isaacs have to main­tain an accent.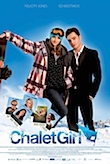 Plenty of oth­er decent British thesps can be found slum­ming it in Chalet Girl, an unam­bi­tious rom-com set on the Austrian slopes. Oh dear God, I prom­ised I'd nev­er use the word "thesps" in a review but it's too late now… Bill Nighy and Bill Bailey are agree­able enough pres­ences, I sup­pose, but the film itself nev­er comes close to jus­ti­fy­ing why it should take up space on a New Zealand cinema screen.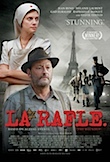 For more than 50 years the French failed to come to terms with their con­tri­bu­tion to the Holocaust but it seems like in the last year (cine­mat­ic­ally at least) they've done noth­ing else. Earlier this year in Sarah's Key, Kristin Scott Thomas played a journ­al­ist dis­cov­er­ing the truth about the shame­ful purge of more than 10,000 French jews from Paris in 1941. That film viewed those events through a mod­ern lens but Rose Bosch's new film The Round Up sup­posedly tells us the story as straight his­tor­ic recreation.
It starts with the fam­ous news­reel foot­age of Hitler in front of the Eiffel Tower and soon goes on to explain how the French author­it­ies, with vary­ing degrees of enthu­si­asm but no short­age of dis­in­terest, com­plied in the Nazi drive to rid Western Europe of it's Jewish pop­u­la­tion. Bosch tells the Jewish side of the story mostly through the eyes of the chil­dren, with Protestant nurse Mélanie Laurent (Inglourious Basterds) as the only decent French wit­ness to the vile events.
It's hardly con­ceiv­able that those awful exper­i­ences could be laid on too thick and yet some­how The Round Up man­ages to do just that, pil­ing on the pathos and linger­ing too long on every heart­break­ing little face. It's a tough watch – as it should be – but in the end it tried so hard to move me that it couldn't help but fail.
Printed in Wellington's Capital Times on Wednesday 5 October, 2011.