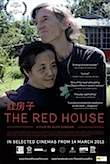 Alyx Duncan's The Red House is a lovely example of how ideas that evolve, adjust, transform over time can produce work that is just as coherent and complete as if it arrived fully formed. Originally conceived several years ago as a documentary about her ageing parents who were thinking about leaving the house she grew up in and starting again overseas, her film is now a poetic and impressionistic — as well as fictional — meditation on place and belonging.
In the finished film — unlike real life — Lee (Lee Stuart) follows Jia (Meng Jia Stuart), his wife of 20 years, to Beijing where she has travelled to care for her own frail parents. He packs up the few belongings he is able to take with him from the years of assembled mementos, books and treasures, burning much of what is left over. Voiceover from both characters lets the audience know how difficult this transition is, as well as telling the backstory of an unlikely — and lovely — relationship.
I was fascinated by the many contrasts that the film offered during its 75 minute duration — between rural New Zealand and urban China; watching a character who has dedicated his whole professional life to fighting unnecessary development in his backyard move to a street where the neighbouring buildings are demolished and replaced every ten years or so; there are many subtle riches in this quiet and impressive little film.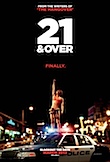 More contrasts next — two alternative views of American college life. 21 & Over is a fantasy about the non-stop partying life of the modern undergrad. Miller (Miles Teller) and Casey (Skylar Astin) are visiting their best friend Jeff Chang (Justin Chon) at his university so they can celebrate his 21st and he can get trolleyed legally in bars for the first time. We are told often that they are all best friends so it must be true, but the way they always refer to Chang as "JeffChang" — like his name is just one word — sounds more like a playground bully.
Anyhow, Jeff demurs as the following day he has a very important interview for medical school and his overbearing father is in town. His buddies insist, some alcohol is imbibed, best intentions fly out the window and hijinks ensue. 21 & Over is written and directed by the two dudes who came up with the idea for The Hangover and here they prove that lightning can strike twice — particularly if you don't mind recycling your one good idea.
This is faint praise, truly it is, but 21 & Over is a lot more of a film than last year's gross-out teen comedy Project X. There is some character development, some nicely connected plot strands and the theme of male friendship often failing to stand the test of time actually gets an airing in the final act. None of that may be enough to overcome all the episodic and idiotic sequences of privileged young people behaving badly.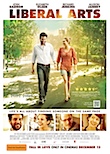 Just as much a fairy tale — although arguably more benign — Josh Radnor's Liberal Arts follows a Radnor-like 35-year-old on an odyssey back to his alma mater where he meets a pretty young freshman (Elizabeth Olsen) who helps restore his zest for life and love of the romantic poets. Liberal Arts is — in fact — extremely romantic. It romanticises just about everything it touches. Thankfully, Radnor has cast his film extremely well — except perhaps for himself — and superb performers like Richard Jenkins (as Radnor's retiring mentor), Allison Janney (an ice-queen professor) and Olsen go some way towards fleshing out what might have been clichéd characters. Olsen in particular confirms the promise she showed in Martha Marcy May Marlene. Her character is still too good to be true but Olsen at least gives her a heartbeat of her own.
The biggest problem I have with the generally affable Liberal Arts is the conservative conclusion. I wish the film had been braver but I suspect that may not be Radnor's thing.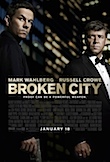 Mark Wahlberg is a frustrating performer. Well-directed — and inside his fairly narrow range — he can be an affecting presence as he was in David O. Russell's The Fighter, or the Seth MacFarlane's Ted. When he is given no meat to work with and — apparently — left to his own devices in pulpy rubbish like Contraband he is pretty much unwatchable. His latest, Broken City, is almost totally disposable and he is given no support from either Brian Tucker's script or Allen Hughes' direction. Even Russell Crowe as a New York City mayor with a Donald Trump haircut can't ignite this limp political thriller.
Wahlberg is a former cop, driven out of the force by a scandal seven years befor and now a private eye. Mayor Crowe is up for reelection to his third term and questions about corruption are dogging him. When the Mayor hires the dick to tail his wife Catherine Zeta-Jones) to get evidence of an affair, the evidence that he uncovers isn't about romantic infidelity at all. The biggest problems here are everything. Wahlberg's banter with his pretty assistant (Alona Tal) is supposed to remind you of other flirtatious private detectives, which it does but not in a good way. His relationship with his actor girlfriend (Natalie Martinez) doesn't ring true when they are together or when they are breaking up.
But the subtext here is what's so ugly. It's all macho posturing: real men versus effete intellectuals and artists. The rich and the educated fall apart under stress but heroes like Wahlberg know when to shoot first, when to torture innocents and when to take the law into their own hands. Not even fun.
Printed in Wellington's Capital Times on Wednesday 20 March, 2013.