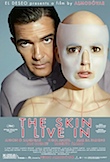 Anyone wondering whether the great Pedro Almodóvar had lost some of his edge at the ripe old age of 62 should immediately check out his new film The Skin I Live In which is as deranged as anything else he has produced in more than thirty years of feature film making. Puss In Boots himself, Antonio Banderas, plays a successful plastic surgeon with a dark secret. Many of his greatest medical achievements are a result of the experiments he conducts on a beautiful woman (Elena Anaya) held captive in his mansion.
Who is she? Why is she there? These questions are answered in the film but have to be skirted around here for even the tiniest hint at spoilers will wreck some of the twistiest (in all senses of the word except perhaps confectionary) surprises you will experience all year. It's enough to say that if this film had been made in the 1950s then Banderas' character would have been played by Vincent Price (think House of Wax) and that everyone involved would have been run out of town by the authorities.
Happily, The Skin I Live In is more than just an incredibly bizarre premise taken to outrageous conclusions, more than just a campy homage to gothic horror. It's a beautifully constructed film, elegant, colourful, controlled, flawless. It's Almodóvar back in the finest of form, making the unbelievable not just credible but desirable. His last film, Broken Embraces, was a disappointment. Unfocused and self-referential, it seemed like the work of someone distracted. I'm pleased to report that The Skin I Live In is a triumph.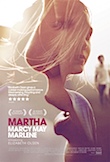 If The Skin I Live In is a horror film without any overt horror, Martha Marcy May Marlene is a drama made in the style of a horror film. Newcomer Elizabeth Olsen plays Martha, an escapee from a cult-like commune somewhere in the country. She's living with her estranged sister (Sarah Paulsen) and her husband (Hugh Dancy), unable or unwilling to explain what she's been through and increasingly paranoid that cult leader John Hawkes (Winter's Bone) is coming to get her back.
Switching effortlessly between the present and a flashback past, writer-director Sean Durkin slowly reveals Martha's trauma, building tension until a perfect ending leaves the audience with just the right amount of space to fill with our own conclusions. Olsen (younger sister of famous child stars the Olsen Twins) is the real deal and delivers a superb central performance, tough and brittle by turns.
Like We Need to Talk About Kevin, Martha Marcy May Marlene presents us with us a (probably) unreliable central character. What we are seeing on screen isn't always objective truth recorded by a neutral camera. It's an impressionistic view of reality as seen through the eyes of a damaged psyche. This means an extra layer of decoding has to be done by the viewer — and is all the better for it.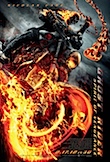 After two exceptionally well-constructed films it was a not-unpleasant experience to wallow in the good humoured and shambolic Ghost Rider sequel Spirit of Vengeance. The original was made in Australia and this time the producers have found somewhere even cheaper — Romania and Turkey, where some wonderful (probably world heritage) locations provide some much-needed additional visual interest. Also on the plus side of the ledger, The Wire's Idris Elba (dodgy French accent) and Highlander Christopher Lambert (real French accent).
Once again Nicolas Cage is Johnny Blaze, former motorcycle stunt man turned possessed tool of the Devil, now running from his past somewhere in Eastern Europe. Throwing out Peter Fonda's Mephistopheles from the original film, we're now asked to believe that Blaze did his deal with a character called Roarke (Ciarán Hinds) who wants to replace his dying human form with 12-year-old Fergus Riordan who is already half-Devil (according some cockamamie prophecy) and just needs some finishing off. Elba's character enlists Blaze/Ghost Rider, offering him the chance to reverse his curse if he can protect the boy.
This film is all over the place. Cage seems to do whatever he damn well pleases nowadays and the script has had a lot of lame jokes added that might have helped sell the film at a trailer level but stick out like dog's balls in the finished product. Directing team Neveldine/Taylor (the completely brilliant Crank) enlist their customary hyperactive camera technique which doesn't suit the conversion to 3D. Ghost Rider: Spirit of Vengeance is a bad film but not a hateful one.
Printed in Wellington's Capital Times on Wednesday 21 March, 2012.