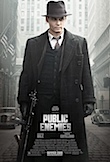 Of all dir­ect­ors cur­rently work­ing in the Hollywood main­stream Michael Mann is argu­ably the greatest styl­ist. No one at the mul­ti­plex has more con­trol of the pure aes­thet­ics of film­mak­ing, from col­our bal­ance and com­pos­i­tion through edit­ing and sound, Mann's films (from Thief in 1981 to the mis­guided rework­ing of Miami Vice in 2006) have had a European visu­al sens­ib­il­ity while remain­ing heav­ily embed­ded in the seamy world of crime and punishment.
Now Mann has turned back the clock and made a peri­od crime film, set dur­ing the last great depres­sion. Based on the true story of the legendary bank rob­ber John Dillinger, whose gang cut a swathe across the Midwest in 1933 and 1934, Mann's Public Enemies is a styl­ish and superbly craf­ted tale of a doomed hero pur­sued by a dogged law­man. Dillinger is por­trayed by Johnny Depp with his usu­al swag­ger and his nemes­is is the now sadly ubi­quit­ous Christian Bale.
Dillinger is a Robin Hood hero, a glam­or­ous media star with mat­inée idol looks, stick­ing it to the "man". The down­trod­den masses, their own lives blighted by the hubris of high fin­ance, don't see much of a prob­lem with bank rob­bery but, in the end, Dillinger's down­fall comes from a fail­ure to adapt to chan­ging times. As the crime syn­dic­ates get increas­ingly soph­ist­ic­ated, mak­ing their money from gambling and rack­et­eer­ing rather than rob­bery and kid­nap­ping, they refuse to shel­ter Dillinger and his gang, fear­ful of the heat their pres­ence brings.
And Heat is one of the reas­ons Public Enemies is less than the sum of its parts – the guts of this story was told by Mann in the 90s clas­sic of the same name, the film that put Al Pacino and Robert De Niro on screen togeth­er for the first time (and which was itself a remake of anoth­er Mann film LA Takedown, made for TV in 1989). Not only is the arc of the story vir­tu­ally identic­al, many of the set-pieces are the same (bank heists, shoot-outs) and he even repeats some of the same dia­logue. Sadly, Mann may be a poet of the muzzle-flash and a supremely con­fid­ent styl­ist but he does­n't have much more to say than that the justice sys­tem is nev­er as effect­ive as the bul­let of an hon­est man and I don't know how inter­est­ing that is at the end of the day.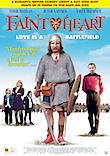 The great Eddie Marsan is the best and only reas­on to see Faintheart, a low budget British com­edy about a medi­ev­al battle re-enactor and his stum­bling attempts to live in the real world. You may not know Marsan's name, but his face will be famil­i­ar to you from dozens of excel­lent sup­port­ing per­form­ances for dir­ect­ors like Mike Leigh, Alejandro González Iñárritu and even Michael Mann (in the afore­men­tioned Miami Vice). Never less than totally com­mit­ted, Marsan's jowly coun­ten­ance and soul­ful eyes gives all of his loser char­ac­ters more depth than you find on the page which makes him per­fect for this sort of thing. His wife has dumped him, his son is embar­rassed by him and his best-friend (Trainspotting's Ewan Bremner) is a clichéd Star Trek geek who works in a com­ic shop and still lives with his Mum.
When the cocky PE teach­er takes a shine to his Ex (Jessica Hynes from "Spaced"), Marsan's Richard is forced to find the true strength of the Viking war­ri­or in order to van­quish the usurp­er and reunite the fam­ily. All cob­blers, of course, but sporad­ic­ally entertaining.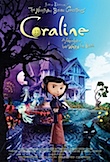 Regular read­ers will know that I have been a staunch cheer­lead­er for 3D and digit­al screen­ing tech­no­logy, wait­ing impa­tiently for an artist with vis­ion to use the format to cre­ate fresh and excit­ing works of art. Last year's 3D re-mastering of Henry Selick's The Nightmare Before Christmas gave us a hint of what he might be able to offer and he's delivered in spades with Coraline, the first great 3D movie (or at least the first movie that is great because of the use of 3D).
Selick's tra­di­tion­al stop-motion tech­niques are used here, with digit­al for­ti­fic­a­tion, to tell a spooky story about a young girl dragged away to a house in the coun­try by self-obsessed par­ents. Left to her own devices she breaks through a sealed-off cup­board in her bed­room to find a par­al­lel uni­verse that is much more excit­ing and enter­tain­ing than her own. Almost too late she dis­cov­ers that there are sac­ri­fices that must be made if she is to remain. Coraline may be a bit too scary for the young­est, but oth­er­wise is recom­men­ded as a tre­mend­ously ima­gin­at­ive piece of cinema magic.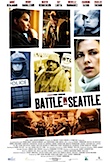 Best know to New Zealand audi­ences as the ori­gin­al Aragorn (replaced by Viggo after a week on Lord of the Rings) and to the rest of the world as Charlize Theron's hus­band, Stuart Townsend proves him­self a very able writer-director with Battle in Seattle, a ripped-from-the-headlines drama about the first great mod­ern con­flict between the forces of glob­al cap­it­al­ism and the tree­hug­gers and peacen­iks of the anti-everything move­ment at the 1999 World Trade Organisation meet­ing. Townsend skil­fully recre­ates the mood of the time and, using fic­tion­al­ised com­pos­ite char­ac­ters, man­ages to give some hints of the com­plex­it­ies sur­round­ing the vari­ous issues which is no mean feat. Bonus points for run­ning just under an hour a half too.
Printed in Wellington's Capital Times on Wednesday 5 August, 2009.
Nature of con­flict: Battle in Seattle is dis­trib­uted in New Zealand by Arkles Entertainment who I do bits and pieces of work for every now and then.
Notes on screen­ing con­di­tions: Battle in Seattle was a screen­er DVD cour­tesy of Arkles; Public Enemies was screened at the Empire in Island Bay to the pub­lic on a Saturday night; Faintheart was a DVD played to the pub­lic in the Vogue Lounge of the Penthouse – very poor present­a­tion, stand­ard defin­i­tion and you could even see the lay­er change half way through – and Coraline was screened at a spe­cial Sunday morn­ing pre­view back in March cour­tesy of Readings man­age­ment. Thanks to them for that.