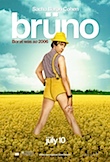 Sacha Baron Cohen is, in this reviewer's opin­ion, the most gif­ted com­ic act­or of his gen­er­a­tion – a new Peter Sellers for those of us who remem­ber who Peter Sellers was. A first-rate com­edy tech­ni­cian, a vir­tu­oso impro­vis­or and vir­tu­ally fear­less, he has stolen films like Madagascar, Talladega Nights and Sweeney Todd from much big­ger names. Why then am I left so cold by his most fam­ous cre­ations, Borat and now Austrian fash­ion report­er turned gay cul­tur­al icon Brüno?
At first I thought it must just be a ques­tion of taste. After all, a rather large group of people at the Embassy on Thursday whooped and hollered and gave Brüno a round of applause. The edit­or of this paper told me it was her favour­ite film of the year. Maybe it is just me, but I didn't laugh once – at least not at loud.
Brüno is a failed Austrian fash­ion show host who, des­per­ate for fame at any cost, travels to the home of fame (the USA, of course) for some tips. Like Borat before him his cul­tur­al illit­er­acy would not be such a han­di­cap if he didn't also suf­fer from class‑A nar­ciss­ism and abso­lute self-absorbtion ren­der­ing both his ears as tin as if they were owned by that real friend of Dorothy, the one from from The Wizard of Oz.
He gets him­self an old-style cigar chew­ing Hollywood agent, tries to make a celebrity sex tape, has a crack at Middle East peace and adopts a third world baby but every effort is sab­ot­aged by Brüno's inab­il­ity to, you know, get it. Which is the point, I under­stand that. But I don't find humi­li­at­ing people (who for the most part are decent hon­est people) to be par­tic­u­larly funny or praise­worthy and the sup­posedly anti-homophobia mes­sage comes uncom­fort­ably close to the genu­ine art­icle for my liking.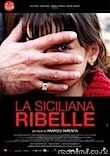 With Brüno own­ing almost every cinema in town, and the Film Festival train belt­ing along the tracks, there's only room for one oth­er loc­al release: The Sicilian Girl is a true story about the daugh­ter of a Sicilian gang­ster who, dis­gus­ted by all the viol­ence and death informs on the fam­ily and becomes an icon for the anti-organised crime cam­paigns of the 1990s. With respect to CT let­ter writer Mike Barton, I'm going to go out on a limb here and call these wiseguys Mafia (clues include the Sicilian loc­a­tion and the fact that the lead­ers don't both­er put­ting their arms through the sleeves of their coats), but the film is con­sid­er­ably more pro­sa­ic than any Mafia film I've seen before (or even the essen­tial Gomorrah which was reviewed here last month).
The Sicilian Girl is drab and wear­i­some, with repet­it­ive shout­ing matches and some clichéd sub­si­di­ary char­ac­ters. You might find it worth per­sever­ing with, though, as (if you don't know the story of Rita Atria) the end­ing is a real kick­er. Then again, there's always Wikipedia if you want to save your­self the trouble.
Printed in Wellington's Capital Times on Wednesday 15 July, 2009.
Motes on screen­ing con­di­tions: Brüno at a pub­lic Friday night screen­ing at the Embassy. Very rauc­ous. The Sicilian Girl was a screen­er DVD from the dis­trib­ut­or. Incidentally, New Zealand is one of the first ter­rit­or­ies to get The Sicilian Girl out­side Italy and per­haps it arrived too soon.