Martin Scorsese isn't just a legendary director, he is also one of the world's great enthusiasts for cinema — the definitive cineaste if you will. By heading the World Cinema Foundation, he has lent his substantial imprimatur to major works of film restoration and he also uses his influence to endorse significant new European work, helping to get films like 2007's The Golden Door wider attention and distribution. Thus, "Martin Scorsese presents" Gomorrah, which opened nationwide this week after stints at last year's film festival and the World Cinema Showcase in March.
Acclaimed around the world as a modern masterpiece, I don't have much to add to the readily available existing plaudits. Squarely in the Italian neo-realist tradition, Gomorrah is a hand-held look at the current state of mafia affairs in Naples where a brutal working class gang known the Camorra holds sway over the housing estates and the impoverished peasant classes. From protection rackets and drugs to the disposal of toxic waste, there's not much that they aren't into, making sure that all the gains are laundered swiftly into legitimate businesses that continue to operate around the world.
Gomorrah is raw stuff, to be sure, but director Matteo Garrone draws plenty of absurd humour out of the situation alongside the savage (and sadly not exactly senseless) violence. One of the best films of this, or any, year.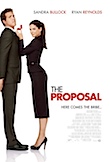 It's been a while since we've seen a Sandra Bullock romantic comedy and The Proposal is a tolerable example. Bullock plays a hard-ass New York publisher who is Canadian solely for the purposes of the film's plot. On the verge of being deported as an illegal immigrant she bullies her long-suffering Executive Assistant, played by Ryan Reynolds, into a last minute marriage of convenience. As one might expect this involves the two of them having to get to know one another rapidly and then discovering (possibly too late) that they are in fact made for each other.
Bullock (who also Executive Produces) has lost some of that girl-next-door mojo and her (suspected) face-lifts mean she looks more and more like Michael Jackson every film. Reynolds (who proved to have a talent for these things in last year's under-appreciated Definitely, Maybe) looks like he can't believe that he's working with this old trout when he's just married the real Scarlett Johansson, and only the venerable Golden Girl herself Betty White seems to be really committed to the project.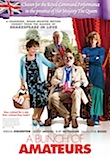 While critics fawn over Jean-Claude Van Damme's reinvention as a sensitive and self-aware thespian, another ageing action hero plays a thinly disguised version of himself among the little people in A Bunch of Amateurs. Burt Reynolds was parodying himself and his image when JCVD was in high school and he seems game enough as fading star Jefferson Steel. Following the failure of Ultimate Finality 4, and depressed by the deteriorating relationship with his daughter (Camilla Arwfedson), Steel takes up an offer to play King Lear at Stratford in England, thinking that he will be treading the boards at a Royal Shakespeare Company with Dench, Branagh and McKellen. Instead he finds himself in a Suffolk village working with the local am-dram company as they try and save their theatre-in-a-barn.
A Bunch of Amateurs flirts with being quite good on those occasions when it makes parallels with Lear's own disintegration but it mostly goes for the easy laughs and some of Britain's finest performers happily send themselves up – Sir Derek Jacobi ends up face down in a pig sty for instance. Reynolds' hips have gone and he looks like he is in serious pain most of the time but A Bunch of Amateurs will pass the time perfectly well for an un-demanding audience.
Printed in Wellington's Capital Times on Wednesday 24 June, 2009. I've just noticed that my original submission to CT called The Proposal The Proposition which would put a few people on a very different track. The error is regretted and is corrected here.