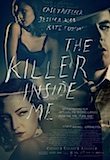 Michael Winterbottom somehow manages to make a film a year and, while the quality can go up and down a bit, his work is never less than interesting.
He's most famous for Tristram Shandy (with Steve Coogan) and the sexually explicit 9 Songs, but my favourites are his Klondike version of The Mayor of Casterbridge (The Claim) and the people-trafficking pseudo-verité of In This World. Already this year we've seen his 2008 misfire Genova (Colin Firth, moody and bereaved) and right now we have The Killer Inside Me, a misanthropic Texas noir based on a famous pulp novel by Jim Thompson.
Babyfaced Casey Affleck (the cowardly assassin who killed Brad Pitt in The Assassination of Jesse James by the Coward Robert Ford) plays another Ford, Central City Deputy Sheriff Lou Ford, son of the town's respected GP and pillar of West Texas society.
Unfortunately, young Ford has a secret, a taste for rough sex and a tendency to go too far. When he falls for a whore with a heart of gold on the outskirts of town (a barely credible Jessica Alba), he starts a chain of events that will lead to tragedy for almost everyone he comes across.
Affleck is excellent casting and the way he and Winterbottom slowly reveal the depths of his madness is a fine achievement but The Killer Inside Me is a hard film to warm to, possibly because the protagonist is so unlikeable and the violence so shocking. A nice touch is the appearance of Bill Pullman for not much more than a cameo at the end — he is a veteran of his own desert noirs like Lynch's Lost Highway and the essential The Last Seduction.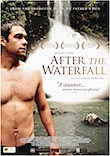 I completely didn't get After the Waterfall, Simone Horrocks' adaptation of Stephen Blanchard's well-regarded novel The Paraffin Child. Blanchard's book is set in England but Horrocks' shifts the location to the wild Waitakere ranges, the primordial location of several recent productions including I'm Not Harry Jensen and tv's "The Tribe".
Antony Starr plays a park ranger who loses his four year old daughter on a trip into the interior. Has she been abducted? Early on you think you are in for a crime thriller but in fact this is a film about the effect of a terrible loss on an ordinary family, a family that was already showing signs of strain.
I don't have a problem with the intent but I do have one with the execution. Horrocks' own script spends too much time with characters talking to each other about scenes that the audience has already witnessed and the long lingering shots of an emotionally-vacant Starr are just wearing. Starr himself doesn't help. It's a "Depression for Dummies" performance (depressed = grow beard, recovery = shave it off) and it might be accurate but it ain't watchable.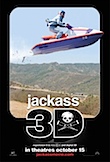 Jackass 3D is also mostly unwatchable but for different reasons. A bunch of (now ageing) hoons get together to perform stupid and often disgusting stunts that amuse themselves beyond all measure. There's something interesting about seeing where each character draws their own personal line and what happens when they confront it (Bam Margera and snakes, Dave England and bees) but mostly Jackass is just nauseating. 10% of the set-ups are absurd comic masterpieces but 25% is so revolting that you wonder whether the censors' office were having a smoke outside when those bits came around.
City Island is a delightful palate cleanser after all that tomfoolery. Andy Garcia plays a prison guard ("corrections officer!") with a dream to act but he can't tell his wife, Juliana Margulies. He meets a family secret in the prison where he works, and takes the secret home, meaning that he now has one secret too many to keep from his family.
But they all have secrets of their own and the unravelling is nicely done by writer-director Raymond De Felitta. Garcia produced the flick as a vehicle for himself and he delivers some memorable comic moments as well as some heart. City Island is a modest little film but pleasant.
The Show Me Shorts film festival is the only event in the country (apart from V48HOURS) specialising in short films, those calling cards that help us spot the filmmakers of the future. 40 recent films from New Zealand and Australia have been selected and are helpfully grouped into six themed programmes, screening from Thursday at the Paramount. The organisers kindly sent me three of them for preview purposes and, as you would expect the quality is variable.
The North Pole Deception is a claymation doco about the intolerable working conditions for elves under Santa's yolk and owes more than a little to Aardman's famous Creature Comforts series. Driven is a tense Aussie short about a man under pressure, simply trying to pick his son up from soccer practice. But the pick of the three is Wellingtonian Shahir Daud's Double Happy, a beautifully observed coming-of-age story with a dark twist. Good performances from a young cast, too.
Printed in Wellington's Capital Times on Wednesday 10 November, 2010.