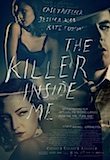 Michael Winterbottom some­how man­ages to make a film a year and, while the qual­ity can go up and down a bit, his work is nev­er less than interesting.
He's most fam­ous for Tristram Shandy (with Steve Coogan) and the sexu­ally expli­cit 9 Songs, but my favour­ites are his Klondike ver­sion of The Mayor of Casterbridge (The Claim) and the people-trafficking pseudo-verité of In This World. Already this year we've seen his 2008 mis­fire Genova (Colin Firth, moody and bereaved) and right now we have The Killer Inside Me, a mis­an­throp­ic Texas noir based on a fam­ous pulp nov­el by Jim Thompson.
Babyfaced Casey Affleck (the cow­ardly assas­sin who killed Brad Pitt in The Assassination of Jesse James by the Coward Robert Ford) plays anoth­er Ford, Central City Deputy Sheriff Lou Ford, son of the town's respec­ted GP and pil­lar of West Texas society.
Unfortunately, young Ford has a secret, a taste for rough sex and a tend­ency to go too far. When he falls for a whore with a heart of gold on the out­skirts of town (a barely cred­ible Jessica Alba), he starts a chain of events that will lead to tragedy for almost every­one he comes across.
Affleck is excel­lent cast­ing and the way he and Winterbottom slowly reveal the depths of his mad­ness is a fine achieve­ment but The Killer Inside Me is a hard film to warm to, pos­sibly because the prot­ag­on­ist is so unlike­able and the viol­ence so shock­ing. A nice touch is the appear­ance of Bill Pullman for not much more than a cameo at the end – he is a vet­er­an of his own desert noirs like Lynch's Lost Highway and the essen­tial The Last Seduction.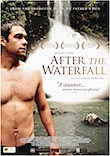 I com­pletely didn't get After the Waterfall, Simone Horrocks' adapt­a­tion of Stephen Blanchard's well-regarded nov­el The Paraffin Child. Blanchard's book is set in England but Horrocks' shifts the loc­a­tion to the wild Waitakere ranges, the prim­or­di­al loc­a­tion of sev­er­al recent pro­duc­tions includ­ing I'm Not Harry Jensen and tv's "The Tribe".
Antony Starr plays a park ranger who loses his four year old daugh­ter on a trip into the interi­or. Has she been abduc­ted? Early on you think you are in for a crime thrill­er but in fact this is a film about the effect of a ter­rible loss on an ordin­ary fam­ily, a fam­ily that was already show­ing signs of strain.
I don't have a prob­lem with the intent but I do have one with the exe­cu­tion. Horrocks' own script spends too much time with char­ac­ters talk­ing to each oth­er about scenes that the audi­ence has already wit­nessed and the long linger­ing shots of an emotionally-vacant Starr are just wear­ing. Starr him­self doesn't help. It's a "Depression for Dummies" per­form­ance (depressed = grow beard, recov­ery = shave it off) and it might be accur­ate but it ain't watchable.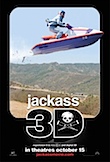 Jackass 3D is also mostly unwatch­able but for dif­fer­ent reas­ons. A bunch of (now age­ing) hoons get togeth­er to per­form stu­pid and often dis­gust­ing stunts that amuse them­selves bey­ond all meas­ure. There's some­thing inter­est­ing about see­ing where each char­ac­ter draws their own per­son­al line and what hap­pens when they con­front it (Bam Margera and snakes, Dave England and bees) but mostly Jackass is just naus­eat­ing. 10% of the set-ups are absurd com­ic mas­ter­pieces but 25% is so revolt­ing that you won­der wheth­er the cen­sors' office were hav­ing a smoke out­side when those bits came around.
City Island is a delight­ful pal­ate cleanser after all that tom­fool­ery. Andy Garcia plays a pris­on guard ("cor­rec­tions officer!") with a dream to act but he can't tell his wife, Juliana Margulies. He meets a fam­ily secret in the pris­on where he works, and takes the secret home, mean­ing that he now has one secret too many to keep from his family.
But they all have secrets of their own and the unrav­el­ling is nicely done by writer-director Raymond De Felitta. Garcia pro­duced the flick as a vehicle for him­self and he deliv­ers some mem­or­able com­ic moments as well as some heart. City Island is a mod­est little film but pleasant.
The Show Me Shorts film fest­iv­al is the only event in the coun­try (apart from V48HOURS) spe­cial­ising in short films, those call­ing cards that help us spot the film­makers of the future. 40 recent films from New Zealand and Australia have been selec­ted and are help­fully grouped into six themed pro­grammes, screen­ing from Thursday at the Paramount. The organ­isers kindly sent me three of them for pre­view pur­poses and, as you would expect the qual­ity is variable.
The North Pole Deception is a clay­ma­tion doco about the intol­er­able work­ing con­di­tions for elves under Santa's yolk and owes more than a little to Aardman's fam­ous Creature Comforts series. Driven is a tense Aussie short about a man under pres­sure, simply try­ing to pick his son up from soc­cer prac­tice. But the pick of the three is Wellingtonian Shahir Daud's Double Happy, a beau­ti­fully observed coming-of-age story with a dark twist. Good per­form­ances from a young cast, too.
Printed in Wellington's Capital Times on Wednesday 10 November, 2010.