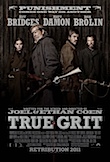 Once again the Coen Brothers set a stand­ard for every oth­er film to try and match. True Grit is every bit as bril­liant as its repu­ta­tion would sug­gest: the best west­ern since Unforgiven and a cent­ral per­form­ance from Jeff Bridges that is twice as good as the one he secured an Oscar for last year (Crazy Heart).
Bridges plays iras­cible one-eyed Deputy Marshall Rooster Cogburn, a man with a repu­ta­tion for shoot­ing first and ask­ing ques­tions later, a man with a taste for whis­key and a dis­taste for author­ity. He is hired by spunky 14 year old Mattie Ross (aston­ish­ing new­comer Hailee Steinfeld) to hunt down Tom Chaney (Josh Brolin), the man who killed her law abid­ing, decent, cit­izen fath­er. Also, hunt­ing Chaney for a huge Federal reward (that dwarfs Mattie's small bounty) is suave Texas Ranger LaBoeuf (Matt Damon) and soon the chase is on, into law­less Indian ter­rit­ory where the fugit­ive is holed up.
I said a couple of weeks ago that for a film to aspire to great­ness it has to be about more than what its about. In No Country for Old Men they asked about the pres­ence in the world of pure evil and what a good man could do about it (answer? not much). The under-appreciated A Serious Man was about reli­gion and quantum phys­ics and the dif­fer­ent kinds of faith that enable both to exist. True Grit is also about good­ness (dis­covered or redis­covered) but there is no pure evil to be encountered, just stu­pid, venal, selfish, bru­tal­ity. The Coens have been called the most mis­an­throp­ic film­makers of our time and its no coin­cid­ence that in Cogburn's Arkansas just about every­body is worth more dead than alive.
The broth­ers also give flesh to every tiny sup­port­ing char­ac­ter. Dakin Matthews, Jarlath Conroy, Ed Corbin and Candyce Hinkle may not be house­hold names but they pro­duce remark­able, mem­or­able per­form­ances and the whole exer­cise is eas­ily worth your time and your dol­lars. I'll be back to see it again.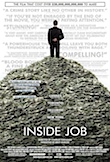 Matt Damon also fea­tures as nar­rat­or in doc­u­ment­ary Inside Job, Charles Ferguson's slow-boil invest­ig­a­tion of the bank­ing and fin­ance crisis of 2007 and the sub­sequent dam­age done to mil­lions of lives. While the irony of a multi-millionaire movie star giv­ing lec­tures on the immor­al­ity of bank­ing remu­ner­a­tion seems to have been lost on Ferguson the film as a whole is an essen­tial guide to the hand­bas­ket we are all in togeth­er and where we are going in it.
And in an elec­tion year it also behooves us to be reminded that Wall Street were sys­tem­ic­ally and cul­tur­ally defined by avarice and cor­rup­tion and that our cur­rent Prime Minister learned everything he knows there.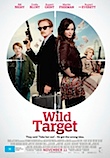 With two such strong con­tenders for your cinema dol­lar this week you can feel no remorse about swerving to avoid Wild Target, a life­less remake of a French farce from 1993 about a hit­man who dis­cov­ers he has a heart of gold. Bill Nighy plays Victor Maynard, the best of the best sup­posedly, who inex­plic­ably bails on a job to off pretty con-woman Emily Blunt. Into the mess stumbles Rupert Grint from the Harry Potter films and between them they wander around aim­lessly look­ing for jokes – and not find­ing any.
Printed in Wellington's Capital Times on Wednesday 9 February, 2011.