OK, so here's how this is sup­posed to work. I watch a whole lot of films, give you a hope­fully spoiler-free run­down of what they're about, offer you my impres­sions and then – based on what you've read of me in the past – you can decide wheth­er to drop some fold­ing on a night at the pic­tures, wait for a DVD to come out or (if you are a stu­dent with no mor­als) down­load some­thing to not watch later.
Now, my taste just so hap­pens to be impec­cable so you could do a lot worse than fol­low my every recom­mend­a­tion but this week I totally sur­prised myself and I'd be fas­cin­ated to see if many of you respond in quite the same way.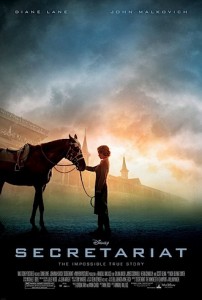 Secretariat was a race­horse – a very suc­cess­ful race­horse. In 1973 it was the first horse for 25 years to win the Triple Crown (the Kentucky Derby, the Preakness and the Belmont) and is widely acknow­ledged to be the finest Thoroughbred that ever lived. I know next to noth­ing about racing – and could care even less – and yet I watched Randall Wallace's biop­ic of the horse with tears in my eyes from start to fin­ish. I haven't been milked like that since The Pursuit of Happyness back in 2007 and frankly Secretariat had no right to do that to me. I mean, it's all been seen before and it's cer­tainly not as if you don't already know what's going to hap­pen. And yet… and yet… I adored it.
It's the exe­cu­tion that sets Secretariat head and shoulders above oth­er rags-to-riches, redemp­tion and triumph-over-adversity stor­ies. There's not even that much adversity to over­come. Secretariat was born into a vir­tu­ally bank­rupt Virginia stable in 1969. The toss of a coin decided his fate and every­one thought own­er Penny Chenery (Diane Lane) had drawn a dud. His lin­eage sug­ges­ted he would have fast pace but no stay­ing power – Chenery thought otherwise.
But to prove her instincts about the horse were cor­rect she had to find a train­er (delight­ful John Malkovich) and a jockey (real life pro­fes­sion­al Otto Thorwarth) and over­come the res­ist­ance of her own family.
After Secretariat died in 1989 vets dis­covered that (like Phar Lap) his heart was twice as big as oth­er horses and that's what gave him his remark­able stay­ing power. I could say the same about Secretariat the film, too – it's got a heart twice as big as your aver­age film.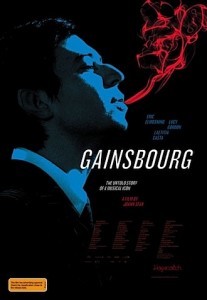 Also this week, return­ing from the Festival, is Gainsbourg a French bio­graphy of their icon­o­clast­ic pop hero of the 60s, 70s and 80s. Serge Gainsbourg was an enigma and the film, dir­ec­ted by car­toon­ist and anim­at­or Joann Sfar, does an intriguing job of open­ing up the drunk­en old rogue's psy­cho­logy but fails to make him very like­able and it ends like the final reel has been left behind somewhere.
At his 1991 funer­al, President-at-the-time Mitterand said, "He was our Baudelaire, our Apollinaire… He elev­ated the song to the level of art." The biggest fail­ing of Gainsbourg the film, it seems to me, is that it fails to jus­ti­fy that music­al judge­ment. Perhaps it's a cul­tur­al thing, but I was expect­ing to like the songs more.
While we are on the sub­ject of French cinema, I draw your atten­tion to the first fest­iv­al of the year, the French Film Festival, which kicks off at the Penthouse next Tuesday. I've been some­what scorn­ful of most of the French cinema that gets released com­mer­cially in Wellington (tooth­less for the most part) but the French industry is big and diverse and we get to see the more inter­est­ing stuff at events such as these.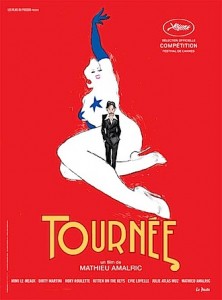 The organ­isers were kind enough to let me pre­view a hand­ful of their films in advance and they were all pretty inter­est­ing. Mathieu Almaric won the Best Director prize at Cannes last year for On Tour, the story of a dis­graced TV pro­du­cer flog­ging his way around the sea­side towns of France with a New Burlesque show he picked up in America. It reminded me of those great American indies of the 70s (like The Last Detail or The King of Marvin Gardens) with its gritty absurdity. Terrific.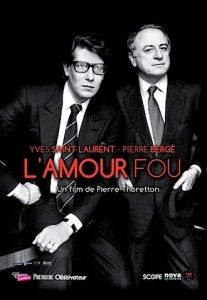 The doc­u­ment­ary about Yves Saint-Laurent and Pierre Bergé – his part­ner in life and busi­ness – L'Amour Fou was mov­ing and fas­cin­at­ing. Following Saint-Laurent's death in 2008 Bergé decided to auc­tion their entire col­lec­tion of objects – fur­niture, sculp­ture, art – enough beauty for sev­er­al life­times. The film uses the pre­par­a­tion for the auc­tion and dis­pers­al of the col­lec­tion as a struc­ture for Bergé's remin­is­cences – like one of those long and linger­ing Vanity Fair art­icles. Incidentally, the col­lec­tion sold for US$483,835,144. I'll stop here for a moment while you take that in.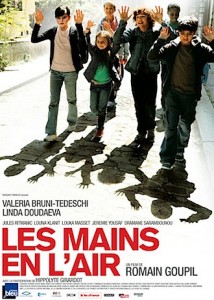 And we're back. Multi-culturalism and immig­ra­tion is a vitally import­ant top­ic in mod­ern French soci­ety but their cinema has wrestled with it inef­fect­ively for the most part. I'm giv­en some hope by a couple of films in the Festival. Hands Up fol­lows a group of kids on an estate in Paris as they plot to save one of their num­ber from being depor­ted: Excellent kids-eye-view of the world as it is.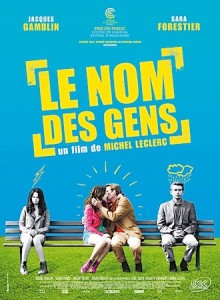 The Names of Love takes a dif­fer­ent tack. A wacky romantic com­edy with a bit of spice, it's about a Jewish sci­ent­ist who meets a daffy left-wing act­iv­ist of Algerian extrac­tion who tries to con­vert him to the cause not real­ising he's already the most inter­est­ing man in the room. "Only for­eign­ers really deserve to be French," she says which is a fairly incen­di­ary thing to say in a comedy.
The Secretariat and Gainsbourg reviews first prin­ted in Wellington's Capital Times on Wednesday 2 February, 2011. The French Film Festival pre­view was held over until Wednesday 9 February for space reasons.