OK, so here's how this is supposed to work. I watch a whole lot of films, give you a hopefully spoiler-free rundown of what they're about, offer you my impressions and then — based on what you've read of me in the past — you can decide whether to drop some folding on a night at the pictures, wait for a DVD to come out or (if you are a student with no morals) download something to not watch later.
Now, my taste just so happens to be impeccable so you could do a lot worse than follow my every recommendation but this week I totally surprised myself and I'd be fascinated to see if many of you respond in quite the same way.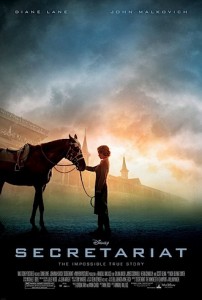 Secretariat was a racehorse — a very successful racehorse. In 1973 it was the first horse for 25 years to win the Triple Crown (the Kentucky Derby, the Preakness and the Belmont) and is widely acknowledged to be the finest Thoroughbred that ever lived. I know next to nothing about racing — and could care even less — and yet I watched Randall Wallace's biopic of the horse with tears in my eyes from start to finish. I haven't been milked like that since The Pursuit of Happyness back in 2007 and frankly Secretariat had no right to do that to me. I mean, it's all been seen before and it's certainly not as if you don't already know what's going to happen. And yet… and yet… I adored it.
It's the execution that sets Secretariat head and shoulders above other rags-to-riches, redemption and triumph-over-adversity stories. There's not even that much adversity to overcome. Secretariat was born into a virtually bankrupt Virginia stable in 1969. The toss of a coin decided his fate and everyone thought owner Penny Chenery (Diane Lane) had drawn a dud. His lineage suggested he would have fast pace but no staying power — Chenery thought otherwise.
But to prove her instincts about the horse were correct she had to find a trainer (delightful John Malkovich) and a jockey (real life professional Otto Thorwarth) and overcome the resistance of her own family.
After Secretariat died in 1989 vets discovered that (like Phar Lap) his heart was twice as big as other horses and that's what gave him his remarkable staying power. I could say the same about Secretariat the film, too — it's got a heart twice as big as your average film.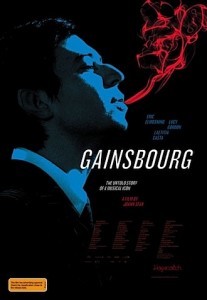 Also this week, returning from the Festival, is Gainsbourg a French biography of their iconoclastic pop hero of the 60s, 70s and 80s. Serge Gainsbourg was an enigma and the film, directed by cartoonist and animator Joann Sfar, does an intriguing job of opening up the drunken old rogue's psychology but fails to make him very likeable and it ends like the final reel has been left behind somewhere.
At his 1991 funeral, President-at-the-time Mitterand said, "He was our Baudelaire, our Apollinaire… He elevated the song to the level of art." The biggest failing of Gainsbourg the film, it seems to me, is that it fails to justify that musical judgement. Perhaps it's a cultural thing, but I was expecting to like the songs more.
While we are on the subject of French cinema, I draw your attention to the first festival of the year, the French Film Festival, which kicks off at the Penthouse next Tuesday. I've been somewhat scornful of most of the French cinema that gets released commercially in Wellington (toothless for the most part) but the French industry is big and diverse and we get to see the more interesting stuff at events such as these.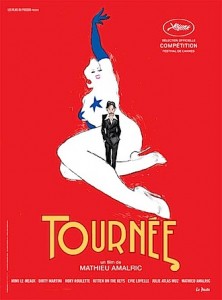 The organisers were kind enough to let me preview a handful of their films in advance and they were all pretty interesting. Mathieu Almaric won the Best Director prize at Cannes last year for On Tour, the story of a disgraced TV producer flogging his way around the seaside towns of France with a New Burlesque show he picked up in America. It reminded me of those great American indies of the 70s (like The Last Detail or The King of Marvin Gardens) with its gritty absurdity. Terrific.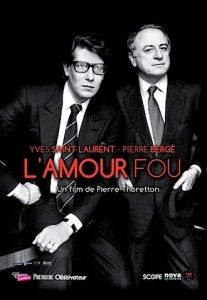 The documentary about Yves Saint-Laurent and Pierre Bergé — his partner in life and business — L'Amour Fou was moving and fascinating. Following Saint-Laurent's death in 2008 Bergé decided to auction their entire collection of objects — furniture, sculpture, art — enough beauty for several lifetimes. The film uses the preparation for the auction and dispersal of the collection as a structure for Bergé's reminiscences — like one of those long and lingering Vanity Fair articles. Incidentally, the collection sold for US$483,835,144. I'll stop here for a moment while you take that in.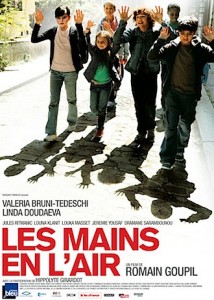 And we're back. Multi-culturalism and immigration is a vitally important topic in modern French society but their cinema has wrestled with it ineffectively for the most part. I'm given some hope by a couple of films in the Festival. Hands Up follows a group of kids on an estate in Paris as they plot to save one of their number from being deported: Excellent kids-eye-view of the world as it is.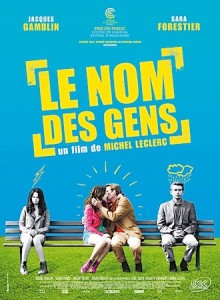 The Names of Love takes a different tack. A wacky romantic comedy with a bit of spice, it's about a Jewish scientist who meets a daffy left-wing activist of Algerian extraction who tries to convert him to the cause not realising he's already the most interesting man in the room. "Only foreigners really deserve to be French," she says which is a fairly incendiary thing to say in a comedy.
The Secretariat and Gainsbourg reviews first printed in Wellington's Capital Times on Wednesday 2 February, 2011. The French Film Festival preview was held over until Wednesday 9 February for space reasons.