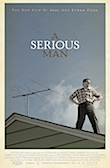 We're born alone and we die alone and in between nothing goes according to plan and the people around us are mostly unreliable and occasionally malevolent. Meanwhile, God either doesn't exist or is indifferent to our suffering. Either way, A Serious Man, the new film by the prodigiously gifted Coen Brothers, is a very serious film. It is also a very funny one.
In a mid-west University town in the late 60s, Physics Professor Larry Gopnik (Michael Stuhlbarg) has a happy family, a great career and a beautiful house in a nice neighbourhood. Actually, he has none of those things. His wife (Sari Lennick) has fallen for smooth-talking Sy Ableman (Fred Melamed) and needs a Get (a formal Jewish divorce), his daughter wants a nose job, his son is preparing for his bar mitzvah by smoking dope and listening to rock music and his unsuccessful brother (the great Richard Kind) is sleeping on the couch and draining his cyst in the bathroom. At the same time, the tenure committee at the University is receiving anonymous complaints and his white-bread, red-neck neighbours are mowing their lawns in a particularly threatening way.
It's all getting too much for mild-mannered Gopnik who seeks counsel and support from lawyers (expensive) and rabbis (empty), and yet the trials keep coming and his limits continue to be tested.
A Serious Man is a very dark comedy and a film so thorough and complete that it deserves comparison with the finest novels, let alone films and its right up there with the very best of the Coen's already magnificent canon. No Country for Old Men was about being good in a world that contains pure evil and A Serious Man asks similar existential questions but leaves us plenty of room to come up with our own answers. Mine keep changing.
It's such a pleasure to see a film in which the craft so beautifully serves the art. Every frame seems to do double or treble duty: aesthetics, narrative, humour, sub-text. Nothing wasted, everything gained.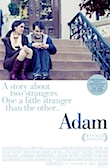 After A Serious Man, everything I saw this weekend seemed watery and weak, like tea made from recycled bags. Adam is an indie drama about a young man with Asperger's (Hugh Dancy) living in New York who falls in love with his beautiful neighbour (Rose Byrne) who writes children's books. Switching between dreary clichés and nice observations and then back again, the biggest problem with the film is Dancy's lack of grunt in the lead.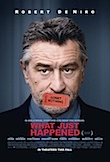 A few years ago, Hollywood producer Art Linson wrote a tell-all book about the business called "What Just Happened?" One of the stories involved the Lee Tamahori-directed film The Edge where star Alec Baldwin turned up for the shoot with a big beard barely concealing his considerable extra weight, prompting a battle-of-wills between producer, studio and star that almost derailed the production. That chapter has been turned into a feature film, directed by Diner's Barry Levinson, with the always game Bruce Willis playing himself rather than Baldwin and Robert De Niro as the Producer. It's nice to see De Niro carrying a film for the first time in a while but the end product is very modest.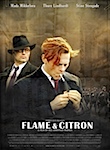 Flame & Citron is the, until now, untold story of the Danish resistance in WWII – a topic of some considerable importance if you are a Dane I would imagine but rather less so to the rest of us. Flame and Citron (Thure Lindhardt and the intense Mads Mikkelsen) are nicknames for a top team of assassins who discover that in the shambles of wartime they have been taking their orders from the wrong people. It's had a few Krona spent on it, for sure, but the end product is about half an hour too long and there's very little we haven't seen before – a few times.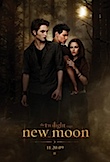 The only thing that got me through The Twilight Saga: New Moon without gouging my own eyes out was idly fantasising about what it might have been like if the Coen's had been given the gig rather than Chris Weitz (rebuilding a career badly damaged by The Golden Compass two Christmases ago). There would have been a lot less talking, that's for sure. Scenes go on endlessly as characters repeat themselves over and over again, saying nothing.
A plot summary is redundant because basically nothing happens: 109-year-old vampire Edward (Robert Pattinson) loves 17-year-old Bella (Kristen Stewart) but then breaks her heart by leaving suddenly on the pretext that they can never be together – completely contradicting the previous film). On the rebound Bella falls for the other really hot teen in town (Taylor Lautner) who turns out to be a werewolf. Just her luck, eh.
Like Celine Dion and Bryan Adams make music for people who don't really like music, New Moon is a movie for people who don't really like movies. Unforgivably tedious.
If, like me, you were disappointed to find out that the Latin American Film Festival had snuck in and out of town like a ninja in disguise you will be pleased to know that we have another bunch of films from the endlessly fascinating continent on offer this weekend. Reel Brazil focuses on the busy and diverse Brazilian industry and it's a huge programme of titles for only four days of screenings. Thanks to the organisers, I was privileged to preview a brilliant documentary called Pirinop: First Contact which lets the indigenous rainforest Ikpeng people tell their own stories of displacement and colonisation. What's interesting about their stories is that they were only "discovered" in 1964 and the First Contact was recorded for documentaries at the time. Mixing archival footage and photographs with boisterous re-enactments and moving story-telling, Pirinop: First Contact is essential viewing if you have any interest at all in these themes.
Printed in Wellington's Capital Times on Wednesday 25 November, 2009.