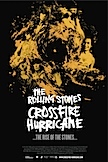 Has any rock group inspired – and paid for – as much cinema as the Rolling Stones? From Jean-Luc Godard's Sympathy for the Devil to Scorsese's gil­ded con­cert foot­age for Shine a Light in 2009, the Stones have woven them­selves into film his­tory at the same time as they became rock legends. The Maysles Brothers' Gimme Shelter is even in the Criterion Collection and foot­age from it informs a cent­ral chapter in Brett Morgen's doc­u­ment­ary (auto)biography of the band, Crossfire Hurricane.
As the 1969 Altamont free con­cert deteri­or­ates into mur­der­ous anarchy, the still-living Stones provide their own 40-year-on per­spect­ive in croaky voi­ceover and it's these audio-only remin­is­cences that provide the main nov­elty of a film that – at only two hours – struggles to con­tain the full majesty of "the greatest rock and roll band in the world". There's plenty of unseen (by me at any rate) new back­stage and behind-the-scenes foot­age too, in an intric­ately edited por­trait which is as hon­est as any band-authorised and Jagger-produced doc­u­ment­ary is likely to be.
It's easy to be temp­ted by the idea of the Sixties as an era of peace, love and har­mony but the Stones story shows it to have been a vicious clash of gen­er­a­tions where – under the shad­ow of the bomb – a nihil­ist­ic attach­ment to hedon­ist­ic good times is a totally under­stand­able path for a sens­it­ive young per­son to take. How Brian Jones became the band's only per­man­ent cas­u­alty is a med­ic­al mystery.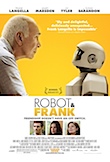 Rebellious age­ing gets a dif­fer­ent spin in Jake Schreier's Robot & Frank, set in a near future where domest­ic robots can do more for us than just the dishes. Ageing former cat burg­lar Frank Langella, liv­ing a depressed retire­ment in upstate New York, is giv­en a shiny white walk­ing, talk­ing appli­ance by his son (James Marsden). Resentful at first, his atti­tude changes when he dis­cov­ers the machine (with the sooth­ing voice of Peter Sarsgaard) has a tal­ent for pick­ing locks as well as no system-enforced leg­al bound­ar­ies. The sub­text might land a little heav­ily in the final chapters (for some at least) but in gen­er­al the film bal­ances humour, satire and drama pretty well and Langella is just right.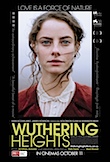 Andrea Arnold's ver­sion of Wuthering Heights is much more chal­len­ging. Arnold is one of the great new voices in British cinema and Red Road and Fish Tank have shown her to be a kind of Ken Loach with added visu­al poetry. Wuthering Heights is a brave attempt to get under the skin of a well-known story and – even though I found it mad­den­ing at times – there are some won­der­ful moments.
Arnold's ver­sion of Heathcliff is a run­away slave, a stowaway child found on the streets of Liverpool and brought up in rur­al Yorkshire by the Earnshaws where he is bru­tal­ised by jeal­ous old­est son Hindley and befriended by spir­ited daugh­ter Cathy. Despite their rel­at­ive poverty, his col­our and his back­ground mean that he will nev­er be good enough to marry Cathy and his resent­ment grows into a tra­gic obses­sion. Dialogue isn't really Arnold's strong suit, so it's good that there isn't much apart from occa­sion­al clunky expos­i­tion. What Arnold does get – to a beau­ti­ful extent – is the Moors. Misty, rain-sodden, gorse-covered, moors – the interi­or made exterior.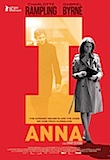 First-time fea­ture dir­ect­or Barnaby Southcombe dir­ects his moth­er, Charlotte Rampling, in the title role of I, Anna, a psy­cho­lo­gic­al thrill­er about a lonely woman embroiled in a murder mys­tery. Like Robot & Frank, the final twist lands with a thud rather than a splash but I, Anna also goes down a few blind alleys get­ting there. Gabriel Byrne is the insom­ni­ac cop who falls for the object of his invest­ig­a­tion. There's some inter­est­ing stuff going on here but the film itself screams for a bit of energy, to com­mit to it's polici­er ori­gins and let the sub­text look after itself.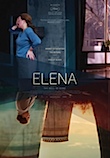 It has been six­teen months since I saw Elena at the 2011 International Film Festival so for­give me if this is a little vague on detail but I seem to recall that my con­sidered reviewer's opin­ion at the time was some­thing like, "Blimey!"
Elena (Nadezhda Markina) is mar­ried – for the second time – to a rich busi­ness­man with a heart con­di­tion. It seems like a fairly love­less arrange­ment in which she man­ages to divert a small amount of her husband's wealth to her feck­less son and grand­child. Her plans to buy the son out of his impend­ing mil­it­ary ser­vice are threatened when her hus­band changes his will to include his own – pre­vi­ously estranged – daugh­ter. What to do? The answer may sur­prise you but the cold-bloodedness of it will cer­tainly affect you.
I found Elena to be stun­ningly amor­al and the dir­ec­tion by geni­us Andrey Zvyagintsev (The Return, 2003) is chillingly anti­sep­tic. It may have taken a year and a half to reach cinemas but it has been well worth the wait.
Printed in Wellington's Capital Times on Wednesday 5 December, 2012.