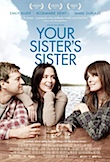 Your Sister's Sister is a lovely little film for a big screen, an intimate three-hander featuring shifting relationships, secrets revealed and a warmth and generosity towards its characters that continues to captivate even when it is testing them.
Mark Duplass's Jack has been depressed and bitter since the death of his brother and best friend Iris (Emily Blunt) offers him her family cabin for a few weeks so he can sort himself out. What she doesn't know is that her sister, Hannah (Rosemarie DeWitt), has also chosen to use the cabin to get over her own recent romantic breakup.
Jack's arrival surprises Hannah but they both get over it fairly quickly with the help of a bottle of tequila and some alcohol-encouraged mutual attraction. When Iris arrives the next day to check on things they agree to keep their drunken tryst a secret but — as they should in any well-plotted comedy — their lies grow until they are basically unsustainable and push — as they say — must come to shove.
Writer-director Lynn Shelton has a knack for this sort of intimate dilemma-driven drama. I loved Humpday (which also featured schlubby everyman Duplass) when it screened in the festival in 2009, but this film takes her handmade, mumblecore, improvised style and adds a few big screen aesthetics. It actually feels like an elegantly scripted and carefully constructed item and the only way that a largely improvised process can work that well is when the bones are really good to start with (apart from a fairly extended but probably necessary explanation of why Blunt has a British accent and her sister doesn't).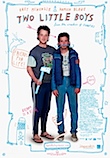 After a more than seven month wait (it premiered at the Berlin Film Festival in February) local audiences finally get to see the Sarkies brothers' Two Little Boys and Robert Sarkies joins the elite group of Kiwis who have directed three feature films. Based on brother Duncan's 2008 novel, the film may well be the blackest comedy ever produced here.
A pair of immature Invercargill flatmates — no-confidence Nige (Bret McKenzie) and cocky Deano (Hamish Blake) — are life-long friends but have had a bit of a falling out. When Nige accidentally kills a Scandinavian tourist with his car, Deano comes the rescue with several questionable plans involving body disposal, at the same time hoping that these attempts will reunite them and restore him to number one in Nige's affections. A road trip to the Catlins with Nige's new best mate Gav (Maaka Pohatu) might be the answer to all their prayers.
Robert Sarkies' direction is even more confident than the excellent Aramoana drama Out of the Blue but the film itself feels more like a product of Duncan's twisted imagination and sense of humour. There are plenty of moments where if good taste was ever an option it's thrown out the window and any viewer's response is going to depend on the amount of affection you can muster for these two hopeless galahs as they make tragic decision after tragic decision.
Me? I enjoyed it and a lot of the pleasure came from a surprising performance by Blake, an Australian actor who was previously unknown to me but who evidently has a large television following. Consistently funny throughout, Blake is ably supported by McKenzie's affectingly innocent straight man. They make a great team.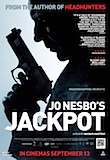 There's more humourous body disposal in Jackpot, another Scandinavian thriller from Jo Nesbø, author of last year's terrific Headhunters. Oskar (Kyrre Hellum) enters a football pool competition with some co-workers and discovers their true colours when a late equaliser hands them the jackpot. Before they can claim the huge cash prize, they insist on a few Christmas drinks. By the end of the night there are bodies everywhere as sharing loses its appeal and the Tarantino-like flashback structure keeps things interesting.
There's a whiff of early-era Tarantino to be found in the body count and the inventive execution(s) but it doesn't manage to scale those giddy heights — or the twisty level of Headhunters. To be honest, it's hard to root for any of the fairly unattractive characters which makes it hard to pay too much attention — even for a tidy 90 minutes.
It's been six years since I first picked up a pen to start producing these columns and I'd like to take the opportunity to thank all at the Capital Times for their support and to congratulate everyone who is still reading me for their fortitude. I decided very early on that I would try and cover everything that got released and for the most part I've been successful at that. This overseas trip has stymied me, though, in ways I didn't expect. The vagaries of international release strategies, combined with unfortunate flight timing, means I will miss Resident Evil: Retribution; Madagascar 3: Europe's Most Wanted; Ruby Sparks and On the Road — all of which open in the UK after I leave. So, instead today I watched ParaNorman at the cinema inside the Millenium Dome which I won't end up reviewing until it hits local screens in January.
Printed in Wellington's Capital Times on Wednesday 19 September, 2012.
Extra thought: This is the second week in a row in which Rosemarie DeWitt has played a women desperate to get pregnant.