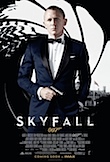 Sometimes this job can really suck all the enjoy­ment of the movies right out of you. After an extremely agree­able after­noon watch­ing the new Bond film, Skyfall – and mak­ing plans to see it again quick-smart – I remembered that before the week­end was out I was going to have to pick holes in it for your entertainment.
And to be hon­est, I don't really feel like it. Partly because it's an extremely enter­tain­ing block­buster pop­corn movie, also because it walks the fine line between hon­our­ing and rein­vent­ing Bond's 22 film myth­o­logy, but mainly because it often becomes a really good prop­er film with char­ac­ters and drama and act­ing and that.
This epis­ode opens with Daniel Craig's Bond chas­ing a hard drive around the same Istanbul rooftops graced recently by Clive Owen (The International) and Liam Neeson (Taken 2) before he – and the pro­duc­tion – makes a point of des­troy­ing half a dozen German cars – and a train – until rook­ie oper­at­ive Naomie Harris shoots him by mis­take. Missing, pre­sumed dead, he holds up in some Bosphorus beach resort wal­low­ing in alco­hol­ism and self-pity but a ter­ror­ist attack on MI6 and his pro­tect­or (M played once again by Judi Dench) wakes him from his stupor and brings him back home.
At the end of Craig's Bond-origin story, Casino Royale, it was a betray­al by the great love of his life that threatened to rob him of his powers. Here it's his pro­fes­sion­al com­pet­ence that's under threat, his phys­ic­al deteri­or­a­tion reveal­ing an under­ly­ing men­tal fra­gil­ity: the lack of con­fid­ence of a little orphan schol­ar­ship boy try­ing to play as big as pos­sible. There's no mas­ochism as out­rageous as the Casino Royale bollock-crunching but it's clear that self-hating Bond still has a bit of a death wish at times.
This is why Craig's Bond stands head and shoulders above the oth­ers for me – there are some fas­cin­at­ing psy­cho­lo­gic­al lay­ers among the fant­ast­ic­al feats – and the evolving rela­tion­ship with the now-widowed M is genu­inely mov­ing and beau­ti­fully played. Also demon­strat­ing an out­rag­ous amount of tal­ent is Javier Bardem as the campy vil­lain, Silva: superbly modulated.
So, I'm not going to pick holes in it. They're there if you want them. My only dis­ap­point­ment – and I hope this will be remedied forth­with – is that the plot of the first two Craig Bonds remains crim­in­ally unre­solved. Mr White and the Quantum organ­isa­tion are still out there mak­ing mis­chief and I, for one, want answers.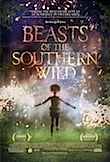 Beasts of the Southern Wild is some­thing else – a dream, a night­mare, a myth­o­logy, a fairy story. In an out-of-the-way Louisiana bay­ou known to the loc­als as the Bathtub, little Hushpuppy (Quvenzhané Wallis) lives with her emo­tion­ally all-over-the-place fath­er (Dwight Henry) and their eccent­ric neigh­bours, pets and oth­er assor­ted wild­life. An incom­ing storm threatens to over­whelm the levees but the com­munity chooses not to be evac­u­ated, and instead find a way to con­tin­ue their oddball exist­ence des­pite their lives being under water. Meanwhile, pre­his­tor­ic pig creatures called Aurochs have been thawed out of the Arctic and are on their way south to wreak havoc.
I loved this film. I loved little Hushpuppy. I love films that don't go where you expect and don't try and pander to the audi­ence. I can't wait to see it again when it opens on Thursday, but this time I'll sit a little fur­ther back. I found watch­ing Beasts from the front sec­tion of seats at the Embassy dur­ing the Film Festival to be pretty overwhelming.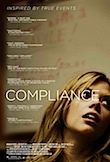 Way less chal­len­ging in form but ten times more con­front­ing in sub­ject mat­ter, Craig Zobel's Compliance has some huge remind­ers at the begin­ning and end that the film is based on sev­er­al true stor­ies. It has to – oth­er­wise you simply wouldn't believe it. In a busy fast food res­taur­ant in an Ohio small town the dis­trac­ted man­ageress (Ann Dowd) takes a call from someone claim­ing to be a police­man. He has the area man­ager on the oth­er line, he says, and they have some­thing very ser­i­ous to deal with. One of the staff (Dreama Walker) has been accused of steal­ing from a patron's purse and she must be brought to the back office so she can be inter­rog­ated. But not by him – by the man­ageress under his dir­ec­tion. And she must be strip-searched in case she's hid­ing anything.
Throughout this bril­liantly real­ised little indie, you just want to shout at the screen, at almost every­one on it. These people are so frus­trat­ing – the situ­ation so incred­ible – that it's almost unwatch­able. But Zobel's dir­ec­tion is assured and the long cut­aways to the every­day scenes at front-of-house – plus the restrained score by Heather Mcintosh – keep pulling you back in. Troubling, chal­len­ging but brilliant.
Printed in Wellington's Capital Times on Wednesday 28 November, 2012